16-year-old Taylor Nesbitt has a winning career in stock cars awaitng her. Now let's get to learn all about Taylor right here on TPF!
Sports is a lot like life, where we can be the difference makers with what happens on any given day. We can be complacent with our successes, give up, or struggle through the challenges with grace, courage, and determination that makes us champions in our right. There are also those who can be humble no matter the successes or struggles in their sport, often resorting to extremes while some are able to find that balance of overconfidence and assertiveness.
For 16-year-old Taylor Nesbitt of North Carolina, she's as humble and driven as any racer I've interviewed in my five years covering auto racing. This beautiful, sweet, competitive driver has had her shares of wins and defeats, realizing the nature of the beast that is with motorsports without being too high or low by her experiences on the track. Not only is she racing, but she's also in school, partaking in cheerleading and trying to have that normal teenager life. In ways, she's much like her contemporary Danica Patrick, who she looks up to with NASCAR racing.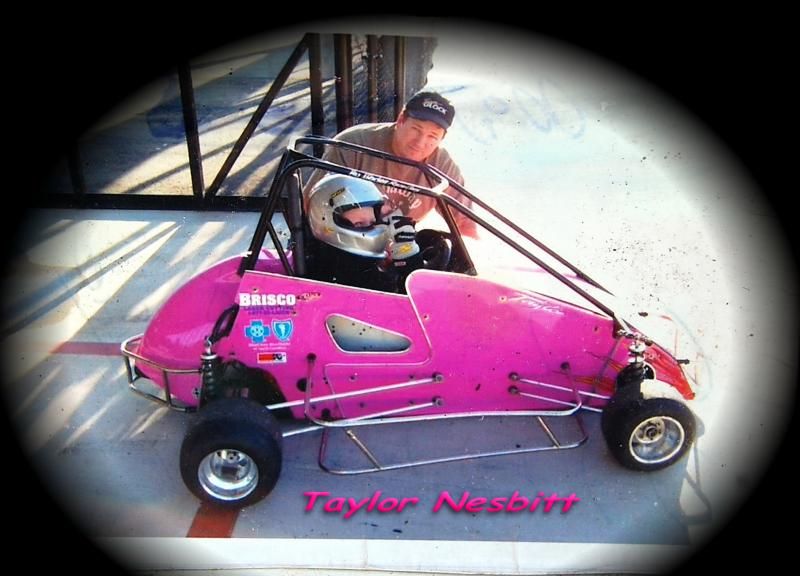 There's a sense of humility, grace, and drive where those qualities are shown when she drops the hammer, not the talk that can be heard through microphones or a public address system at the track. For all the wins and trophies she's been earning with her team, she's the first to deflect credit back to her family, her crew, and acknowledge them before even talking about her skills behind the wheel. As a second generation racer, her father Mart was a successful short track talent in his right. Nesbitt would often accompany her dad at the track, following and observing his lead with the media and the competitors on the track.
Currently racing late model sportsman cars at Newport Raceway in Newport, TN, I got to interview this young multi-winning driver and get her thoughts and take on racing. Much like her races, Nesbitt warmed up and showed confidence, comfort, and pride but in a way that's charming and quite peaceful compared to her peers on and off the track. It's safe to say that this wonderful young racer has her head on right, which can only take her a long way with her ambitions in NASCAR and stock car racing. Also, there's a lot of pride when it comes to talking about racing and her family, which are deeply rooted with each other.
Want to know more about this promising young talent? Well let's get started and go "In the Driver's Seat with Taylor Nesbitt, Late Model Sportsman Racer" and talk about her life, racing, and well, her thoughts on the outdoors, right here, right now!
Rob Tiongson : Alright Taylor, for the race fans here on The Podium Finish who are just getting to know you, tell us a bit about yourself and how you got started in racing.
Taylor Nesbitt : Well first of all, I'm a 16-year-old girl and I race late model sportsman at Newport, TN, and I'm a high school student right now, taking up AP classes. I'm also a cheerleader so I'm really busy but I'm mostly focused on racing right now.
RT : Now that's really cool! Describe to the fans that you tackle each weekend.
TN : It's a 4/10ths of a mile track, it's very fast, and it's one of the fastest racetracks around. It's got very high banks, sort of like a little Bristol. The racing's very close and interesting and I have a lot of fun doing it.
RT : Gives you that edge you want to have on each race day, eh?
TN : Yea, for sure. It's a very unique place to race with the shortness of the track and the banking so it makes for very interesting races.
RT : As you are a second generation racer, I'm sure there's a lot that you try to take away from your talks and racing with your father Mart, who's been a very good driver himself. How much of his advice do you apply on the track and are there things that you try to teach or pass along to him at the track?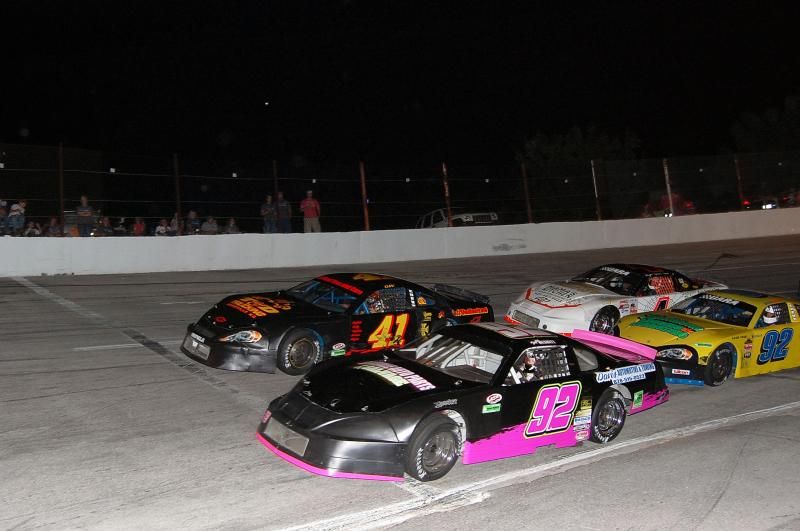 TN : Right now, he's basically teaching me everything. I give him feedback and we'll learn from that, we'll work on the car and make it to the best we can and hopefully improve as a team. Over the years, we have improved and we are starting to win multiple times and that's really good. I've watched him over the years and learned how to race with others and carry myself as a racecar driver. He's been a huge help in my life and I wouldn't even be in racing if it wasn't for him.
RT : Would you say that you discovered the passion of racing on your own or did it kinda strike for you from watching your father over the years?
TN : I don't think I'd even be at the racetrack if I hadn't been with my dad. I was there every weekend with my dad so that's how I got the passion for it. Now I just can't get away from it and I hopefully I never will.
RT : Are you taking the path to work up into the NASCAR Sprint Cup Series or are you looking at it and going, "OK, I'm going to try my best to get into any level and take the better possibility?"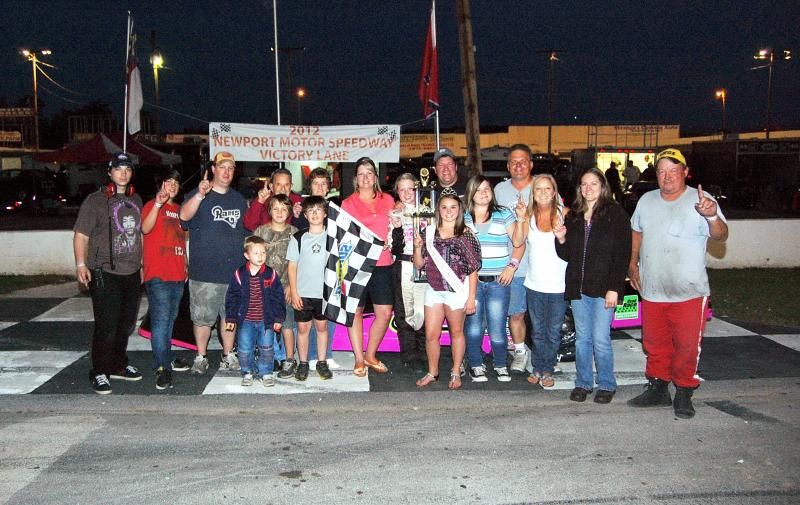 TN : Yea, we're trying to work our way up there and get whatever we can out there. Right now, we're looking for sponsors to move up and take the opportunities that we can as they come so that one day, we can be in NASCAR and racing with the really great, professional drivers.
RT : Which drivers do you look up to with not only your racing but also with the media demands obligations that come with being a racecar driver?
TN : I think I definitely look up to Danica (Patrick) because she's a girl and she carries herself differently sometimes and I look up to her because I can kind of relate to her and how she's going through things and learn how to carry myself and race with the men, the marketing, and everything – I really follow her.
RT : She's really cool because in a sort of way, she's a pioneer for the first full-time NASCAR driver that's a woman and she's definitely try to break some new grounds for girls like you who are trying to make this a "full-time job" eventually. Do you view what she's doing on the track as a sort of progressive thing to help girls like you to eventually get better opportunities by the time you're up there (racing)?
TN : Yea, I definitely think she opened up a way for females to get into the sport even more so and I think that she helps show that it's not as much of a male dominated sport as it is.
RT : That's true because it's been that way for over 60 years. Hopefully that'll change up real soon. At the track, you race with the objective to win each time. Just how competitive are you as a racer – do you try to race hard ever y lap or hold your cards until the final laps?
TN : It depends on who I race with. I try to race myself and race the track as much as I can and hopefully gain track position and a win out of it. It depends also on how long the race is. Sometimes I wait and then race hard for the last half. Most of the time, I race hard the whole race and try to get better each lap.
RT : Do you enjoy the challenges that come with each race and strive under pressure, even when some weekends are a struggle?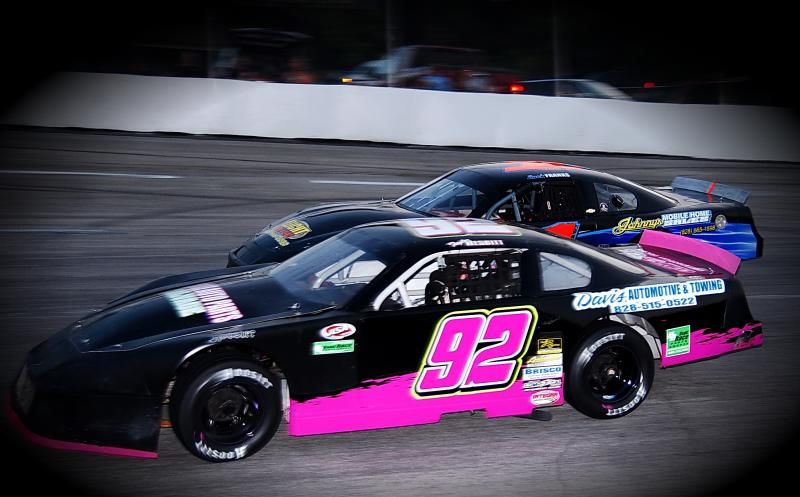 TN : Yea, I do – sometimes, the worst weekends turn into the really good ones at the end of the night. I just try to take each challenge as they come and hopefully make the best out of it, even if the car's not just right. We try to work as a team to get what we can out of it and try to get a win even if the circumstances are hard throughout the day.
RT : Now I really like that attitude! I think that's gonna be very important as you mature and excel above the racing ladder.
TN : Yea I hope so. My dad's always taught me to, "Keep trying and never give up throughout the day." I've gotten a few wins that way so I try to keep a good attitude no matter what's going on.
RT : Congratulations on your wins! Take us through your wins – when you got your first win, what were your emotions? Was it like, "Oh my goodness, I won," how'd you feel?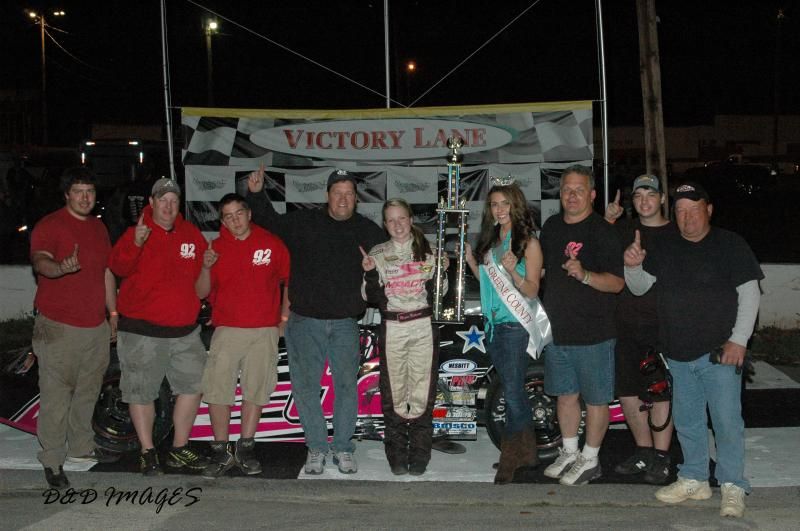 TN : We won our first ever late model race last year. The win from this year felt better because I raced my way up through the field. It's the first time that I felt like I earned the win more than any other time. I was really excited. On the following week, we won the next week and then we won two weeks after that. We were real honored to win and tried to win the championship this season.
RT : In racing, the sport can humble you as quickly as it can make you feel good. When you find yourself on the highs of the sport, is it hard to balance it all out or when you struggle, is it easy to be grounded?
TN : It's kind of upsetting when you have a bad weekend but we always look forward to improving during the next week. I've watched my dad throughout the years and I've seen ups and downs. I'm kind of used to it but it still hurts when you've won and then you go out there and have a crash or a mechanical failure but you just hope the next week is hopefully better and that you get a win next week.
RT : That's kind of the way that the racing wheel works sometimes (laughter). It seems like you're doing a really job!
TN : I try to and as a team, we try to so we try to do what we can together!
RT : Racing is a team sport. How much of it would you say is all on the driver and how much would you say is equipment, team, and other variables on the racetrack? Would you put a percentage on it or does it vary each race?
TN : With our race team, it would be 100 percent right now (on them) because I would not be racing if it weren't for them. They keep up with my cars. I don't know much about cars but I try to help out as much as I can. My dad knows everything about the cars and my team's at the shop nearly 24/7 so they're a great help and at the racetrack, they do an amazing job and I really would not be able to be successful without them. The drivers do have a big part with it but not anywhere near to what the team can do to help throughout race day.
RT : Now let's talk about a situation where you have to overcome a challenge. Let's pose a situation at you as if we're with you behind the wheel in your car and you've got a lot of lap traffic ahead, you're leading, and it's not the most passable track here. Second place is right behind you and it's the last 10 laps. What's on your mind and how do you cope with all that goes on in that situation?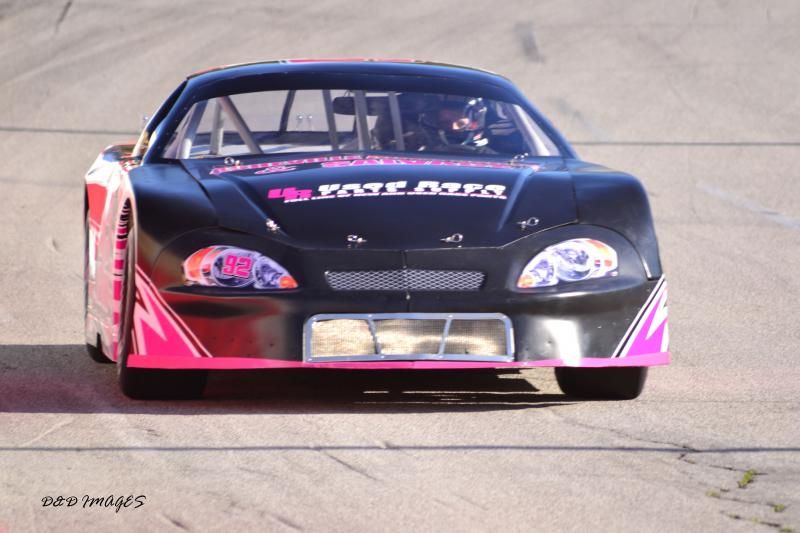 TN : My dad and my spotter talk to me throughout the entire time and tell me where to go, what to do – I just try to find a line and make it through to the best that I can. I try to not make any rash decisions, I expect respect from the second place car as well as what they do with me if I was in the same place. Normally, we'll follow each other through and then race each other hard. At Newport and other tracks, when you're lapping cars, it's chaotic and everyone's trying to get through it as safely as possible.
RT : Does it get to the situation where sometimes, you just want to push the envelope and be like, "To heck with it all" or do you think big picture?
TN : I normally think about the big picture. Like I've said, I'll be waiting back if it's not a great car and then a crash happens, you'll come through, and you win with the last three laps. If I'm having a bad night, I just try to stay calm and wait it out till the end.
RT : What are some of your favorite activities off the track that's an absolute must after the grind at the track and in school?
TN : I'm at the race shop some and I love being with my friends. That's a very important part of me and with being with my family. I also enjoy shopping, going to the lake, doing activities like that.
RT : So you have an outdoorsy side after all
TN : (laughs) Yea, I do!
RT : Do you enjoy doing a bit of hunting or more of camping in the outdoors?
TN : I'm more of going to the lake, hanging out with my family and maybe going camping. I'm not a big camper though. That's the time I try and stay in a motorhome or something like that. I'm too girly sometimes to be in the woods so I try to make it outdoors as much as I can (laughs).
RT : Not only are you racing, but you're also in high school and partake in extracurricular activities there. How do you manage your academics with your racing and what you do at school?
TN : It gets really busy sometimes, but I try to keep a balance when I'm racing on the weekends, school on the weekdays, and I also have a job after school. I try to spend as much time with my friends and family and make the best of it. Most of the time, my friends and family are the racetrack with me so I keep it balanced so I can focus at one thing at a time.
RT : Sounds like you're more mature than most 16 year olds, dare I say 27 year old people!
TN : (laughs) Yea, I try my best, as my parents have a big part with that.
RT : Now that's something you don't hear a lot of kids say and acknowledge their parents for their successes. Would you say that racing and with life that the very first people that come to your mind, besides yourself, would be your family?
TN : Definitely. My family is one of the biggest things and my race team is family. I like to think of them as family. I think we've all grown into one and if it wasn't for them, I would not be where I am at right now – I give most of the credit to all of them.
RT : If I took you up on a challenge to race me at a go kart track in North Carolina, would you be game and would you be prepared to lose against me?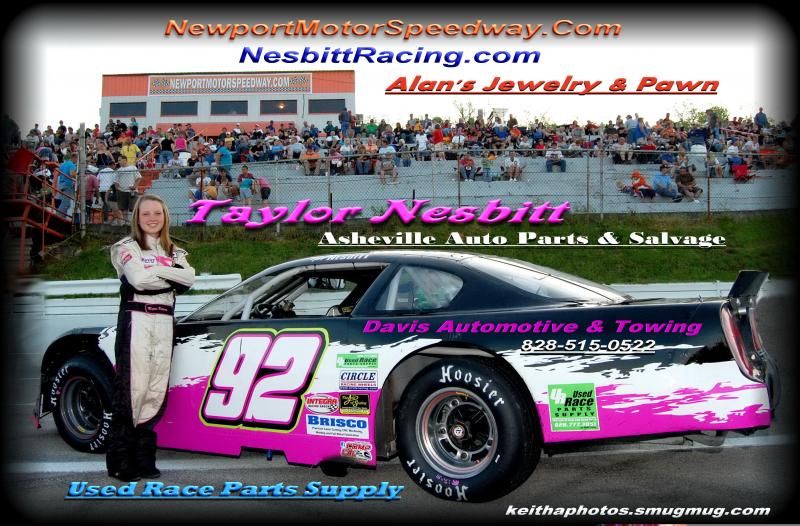 TN : Of course! I'm always prepared to go to a go kart race. We love doing that. You're gonna win one, you're gonna lose one so I'm always prepared for that!
RT : Let's be honest – who's gonna beat who at the racetrack?
TN : I am not sure. Hopefully I'll beat you – we'll just have to see! (laughs)
RT : Anything else you'd like to say to your friends, family, and race fans who are reading this interview?
TN : I want to say thanks to all of them for their support throughout the years – hopefully, this works out and we'll see what we can do in the future!
Author's Notes : Special thanks go to Taylor for allowing me to interview her for you, #TeamTPF! All the photos are courtesy of Taylor Nesbitt If you'd like to learn more about her, "Follow" her on Twitter and stay tuned to her racing endeavors here on TPF! Thanks again, Taylor - you ROCK!