Beautiful, fast, passionate, driven, and a winner. Those are some ways to describe 17-year-old Taylor Santee of Kunkletown, PA, who currently races at her local go-kart tracks with aspirations of becoming a star racer in the World of Outlaws. For almost all of her life, it's been her passion, as she started racing in 2009 after watching her brother get his first racecar. In her very first racing start, she won that event and to say the least, she has been hooked to this sport to the point where we can honestly say she loves it...a lot!
Inspired by her brother, Earl Paules, as well as dirt racing talent Billy Decker, she's not looking to go the route of open wheels or stock cars like many with a background in dirt track racing. The wide open, full throttle action is what she's looking for as a career and she wants to do things the right way. While a lot of today's stars look to be aggressive and rub their competitors with their wheels or with their statements in the press, Santee does all the talking with her lead foot and with class. In a way, she's a cool customer who doesn't let a lot rattle her, even if she's not having the best of days.
She's an upcoming racer who's certainly embracing social media as a means to connect with her peers and race fans, always sharing what she's up to as well as any fun racing moments on the track. Balancing her passion with time spent with family and friends, she realizes that she can't get too consumed by her successes, struggles, and what the outside world thinks about her. Instead, she's intent on realizing her dreams becoming reality and with the kind of poise and humility that she possesses, she's going to certainly have the makings to be a true racing icon as she progresses up the racing ladder.
In terms of who she reminds me of, she's a lot like old friend Natalie Sather, who when she was racing, was about as determined and passionate with this sport as anyone that I've come across in my years in this sport. Very little could stop her when she was out on the track, even when the critics and the drivers wanted to try otherwise. At one point, she was racing sprint cars, living the dirt track life before briefly going into a NASCAR ladder series career. Santee is a lot like Sather in that she's disciplined, confident, and doesn't mince words - she simply wants to race, win, and prove to herself that in the best or worst of days, that she is the very best racer at the end of the day.
It's always an honor and pleasure to introduce our fans here on TPF to a new racer that will become a household name in motorsports and this young gun is certainly someone to watch from here on out! I'd say it's about time we get the firesuit and shoes on as we'll get "In the Driver's Seat with Taylor Santee, Go Kart Racer!"
Rob Tiongson : First of all Taylor, thanks for letting us interview you here on TPF. For our race fans here learning about you for the first time, tell us how you got started in racing.
Taylor Santee : Well, I have been around racing my whole life when one day, my brother, when he was five years old, got a chance to race. So I'm like, "Hey dad, can I give it a try?" So we went and bought my first car in 2009 and went out and won my first race. I decided to keep on trying because I really liked doing it. Then the next season, I started my full season in racing.
RT : That's pretty neat that you picked up racing from him. Is it safe to say that as you've kept racing that your passion for the sport has grown even more so?
TS : Yeah, I feel like if I have the confidence to feel that I'm as good as anyone else, I can keep on with my racing career.
RT : Very important to have that especially in such a competitive sport! What thoughts do you have in your mind as you're out there racing in your car?
TS : I can feel the adrenaline pumping when I'm ready to race. I think to myself, I can do this if I'm smooth and patient.
RT : That's an exciting feeling and some good thoughts for sure when you're behind the wheel! Who do you look up to in racing that you'd say are your inspirations?
TS : My inspirations are my brother, Earl Paules, and Billy Decker. I've been a fan of Billy Decker since I was a little girl.
RT : Billy's quite the dirt track talent - I take it that you'd like to make a future in dirt track racing?
TS : I would love to. My dream is to be in the World of Outlaws sometime.
RT : A lot of the great racing talents of NASCAR came from there. Is it safe to say that once you're there in WoO, you'd plan to make that your home like Steve Kinser or Cody Darrah?
TS : Yes I would love to. I'd love to live off racing everyday.
RT : When it comes to this sport, it can be filled with highs and lows. How do you balance those moments so that you're still motivated on track with racing?
TS : I feel like everybody has a bad night in racing but we still love the sport enough to continue on. The bad night of racing motivate me more.
RT : I like that! Has there been that moment where you've felt like you've had the world on your shoulders, gone to the track, and felt that pressure ease off afterward?
TS : Yeah, right like in my situation now, I went to the track yesterday and everything just seemed to go away for awhile. (laughs)
RT : Could you ever imagine your life without racing?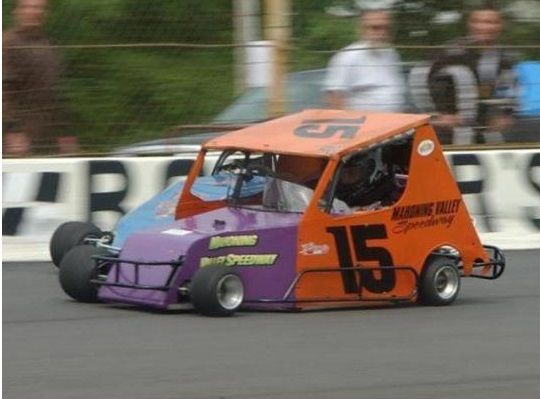 TS : I don't think that I could fully get away from the sport. Even though I haven't been racing so much this year, I'm still at my family's track that they leased every Saturday night for some good racing!
RT : Sounds like it's in your blood completely! When you get to be around fans and they'll ask for a picture or your autograph, how humbling is that?
TS : It feels good actually. I feel like I have fans that motivate me even more. I'm getting racing shirts made and all the fans that are buying them is unbelievable!
RT : That's really cool! How can our fans get these shirts?
TS : They can let me know on my Facebook what size and I will get them to them. I didn't get them yet but they should be here soon! I'm almost out of shirts already that I have to buy more and I haven't even gotten then yet.
RT : That's really awesome! Now they'd get this on your Facebook, yea?
TS : Yes, exactly! It's right here!
RT : What's been some of your favorite racing moments as a driver and as a fan?
TS : As a driver, I think starting from the rear and making your way up and winning is one of the best. As a fan, it's cheering on your favorite driver!
RT : That's interesting you say that because it reminds me of something a very young Kyle Larson said - he wanted to start in the back to see how good he truly is as a racer. Are there times you find yourself wanting that challenge too?
TS : Yeah, I always want that challenge. I hate starting up front because it doesn't prove anything. Especially when you start in the rear and make your way up, get taken out, and still come back up through the field!
RT : Sounds like the kind of dream race you'd want some day Who is one racer you'd want to challenge right now, if you could, past or present?
TS : Hmm....it would have to be Cody Darrah.
RT : Solid choice - been a great racer in WoO for some time. Imagine if y'all got to battle for the win at say Knoxville or Kings Royal?
TS : That would be an awesome opportunity!
RT : I love it! What advice do you have for those who are looking to start a career in racing?
TS : Honestly, racing isn't easy. You have to have a lot of patience. People think you have to do good, have the best time out there, but really you don't have to. Go at your own pace. It takes time. Racing takes a lot and if you ever need help with anything, ask other drivers!
RT : As a racer, how would you describe yourself? Are you an aggressive racer who charges hard and often or do you patiently work your way to the front?
TS : I patiently work my way to the front, but if someone makes me mad, then I'm aggressive.
RT : It's OK to be a patient racer I feel -you earn the respect of your competitors that way. Sounds like you just know when to push the envelope when it matters.
TS : Yeah! I hate when people drive me dirty and thats why I don't. But if they do, then I get mad.
RT : For my last question here, if there is one thing that you would change with racing to make it better for everyone involved, what would that be?
TS : Honestly, I wouldn't change a thing, as I think things are going great with racing even when the economy isn't so good.
RT : I can respect that! And Taylor, how can our fans connect with you on social media?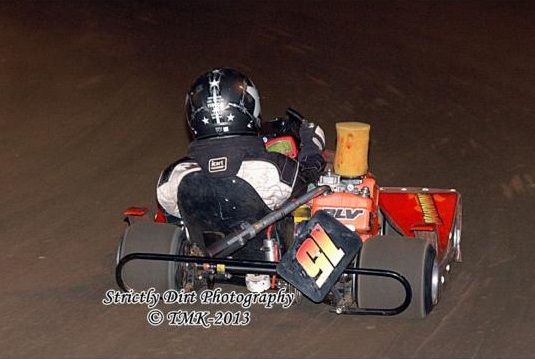 TS : They can look me up on Facebook at Taylor Santee. Also, they can "Follow" my Twitter and Instagram at santeeracing15. Feel free to follow me, fans!
Author's Notes : I'd like to thank my new friend Taylor for letting me interview her! As mentioned, give her a follow right now on her Facebook, Twitter, and Instagram accounts! Also, all of the photos as seen in the interview are courtesy of Taylor Santee Racing. We look forward to her amazing future in racing and look for more exclusive content from Taylor here on TPF soon!