Young gun racer Tracey Chambers is working hard on realizing her dreams in stock car racing. It hasn't always been easy, but the talented NC native is prime to make her story have many happy chapters.
Racing can be a sport of seconds, breaks, as well as determination and guts. It's where aggression and smarts collide, where being resourceful isn't necessarily with the wallet, but also with one's intellect. Struggles are encountered and it's where one's confidence can either be shattered or strengthened through wisdom and experience.
Tracey Chambers has certainly experienced her share of highs and low in this high stakes affair called auto racing. Much like her hero in the late Alan Kulwicki, this independent racer from Timberlake, NC is looking to be a champion in the world of NASCAR racing. She's worked her way up the racing ladder locally in the short tracks of NC, battling for close points battles and earning her share of race victory trophies.
Much like the old school racers who rely on their resourcefulness, she's a hard worker who doesn't just race her machines, she's involved with her Tech Racing team in any way possible to help them at the track. When she's not strapped up behind the wheel, she'll spot and assist her brother Mike at the races. In races they're both out there, she'll race him hard knowing what it means to get maximum points and to get those wins.
Practical but smart, composed but competitive, this beautiful and smart superstar racer has been on a confidence rebuilding mission in 2013. There's a lot of fire with Chambers, who absolutely wants to excel and be a factor in each race she's entering. When you engage in conversation with Chambers about this sport, you can tell just how much she loves it and how much she wants to be more than just a presence on the track.
Recently, I caught up with my good friend who's racing on a part-time basis as of now at Southern National Motorsports Park for the Limited Late Model division. There's a lot of desire and heart in this racer and it's quite evident throughout the piece. Even one look at her playlist, the music she listens to would fire you up, be it at the gym, commuting to work, or preparing for that night at the local stock car track.
In a piece that I've truly awaited to work on for as long as The Podium Finish has been around, it's safe to say I'm very excited to present this interview to racing fans like you who are reading this piece. So what do you say? Let's get things under way by going "In the Driver's Seat with Tracey Chambers, NASCAR Late Model Racer!"
RT : At last, my friend! You're behind the wheel of The Podium Finish machine! First of all, for the fans who are just learning about you here, tell them a bit about yourself and how you cut your teeth in the racing world.
TC : I grew up around racing and around the track. My dad raced go-karts long ago, then was a crew chief for many local late model teams. My brother, Mike, hopped behind the wheel in go-karts, and soon moved up to stock cars. When a newly formed class was introduced at Orange County Speedway (Rougemont, NC), I jumped at the chance to get behind the wheel. The Pure Stock 4-Cylinder Division was an entry level class, and my family bought an old Pontiac Sunbird, stripped it down and built a racecar out of it. Out of ten starts, I never finished outside the top 3.
Then next season, I moved up to the Modified 4-Cylinder Division and had great success. I became the first female driver to win at Orange County and had a competitive battle for the points' championship. After a couple of years, I moved up to the Limited Sportsman Division at OCS, and soon after jumped into the Late Model Stock Car scene in NC. We have had our ups and downs, but we've also found success along the way.
This season, I've only raced a handful of times this year, with all starts so far at Southern National Motorsports Park in the Limited Late Model Division. We decided to run Limited at that track due to the fact it is more affordable, and we don't have to buy four sticker tires every race.
RT : It's not uncommon for siblings to race each other on the track, like the Daniels siblings as well as the Labonte and Busch brothers in recent years. When you're out there racing your brother Mike on the track, how do you approach things?
TC : We don't get to race each other often just do to a lack of crew members at the track & being on a low budget. When we do get the opportunity to race against each other, I think we race each other hard, but we also know if one of us is quicker than the other, to think about the long run and give each other a break and jump in behind.
We are definitely very competitive, and whoever beats the other one gets bragging rights for the week. When Mike is racing with me, I really want him to do good, but I want to do good as well. I think it would be awesome for us to finish 1-2!
When we are not competing against each other, we crew and spot for one another on race days. We criticize one another, but we have each other's backs. Mike is the quickest person to call me out if I mess up, but he is also one of my biggest supporters.
RT : Having raced at some of the toughest short tracks in the Southeast over the years, which tracks can you say you feel comfortable at and which ones have you felt you'd like to turn the tide with?
TC : I'd have to say that I love Orange County Speedway. It is my home track, and it is a bad fast 3/8 mile bullring with lots of banking and multiple grooves for racing. I also like Ace Speedway, although I haven't been there in years. It is one of those tracks that is very unique and built like a paperclip, so you have to completely change your driving style. I still haven't quite gotten Southern National down pat yet, but it seems fun so far. The straightaways are really long and there is a ton of banking, but not as much side by side racing as somewhere like OCS. Although I've only tested at South Boston, I do know that it is a challenging track with little to no room for error.
RT : Would you say that you're the superstitious type as a racer when it comes to being at the track and preparing for the big battle ahead as well?
TC : Maybe a just little bit. (laughs) No one my crew is allowed to have peanuts anywhere near the car, and I don't wear green to the track. If I find anything in my pit area like an old washer, nut, or bolt that is not ours, I definitely get it out of there. Also, I do have a few routines that I tend to follow on race day. When I get in the car, I do everything in a certain order, from my seatbelts, to which glove goes on first. I have a necklace that I will not race without, and I always say a prayer before going on the track and do a sign of the cross during the pace laps.
RT : While racing is certainly an enjoyable and fun endeavor, it's also quite a competitive one where at times it can be easy for one to get sometimes discouraged. How do you keep even keeled so that you're never on an extreme with racing?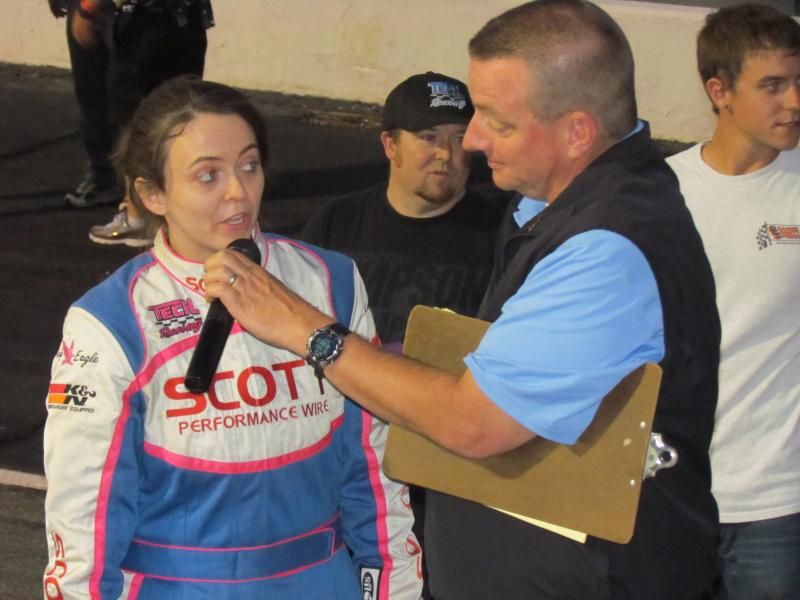 TC : It is definitely a humbling sport. You can be on top of the world one minute and in the lowest valley the next. In the last few years, I've had a podium finish, outside pole, was second in points, and raced with track champions in LMSC. Then, last year was really tough. Between literally getting run over almost destroying my main car, then blowing a right front tire destroying a second car, it was a confidence killing year.
Right now, I am working on rebuilding that, and we are still trying to shake the bugs out of my car. It's something that no matter how bad of a night you have, you just have to try to stay positive and know that you are just as good as anyone else out there and remember all of your accomplishments. It's like Mike Bliss said in 2003, "One race or one season can make all the difference."
RT : When you're on the road without a particular destination in mind, what songs would you say make for a good playlist for road trip music?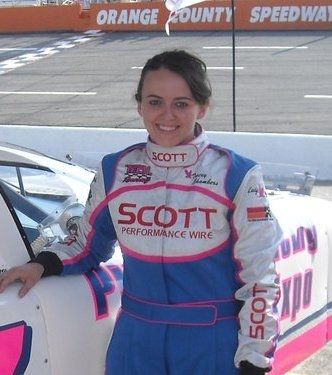 TC : Ahh, that's a tough one. Personally, my IPod has a variety of music on it. I have everything from Linkin Park to Imagine Dragons, Eminem, Papa Roach, Taylor Swift, AC/DC, Thousand Foot Krutch, Tom Petty, and Miranda Lambert. It is literally all genres. (chuckles)
I will have to say that my favorite type of music is alternative/rock, and I love mash-ups such as the Linkin Park/Jay Z album Collision Course.
RT : Could you imagine your life without racing and if so, what other passions peak your interests?
TC : No, I've been around racing my entire life. If I couldn't race myself, I would still be involved some way, somehow. Something I do enjoy doing that is not racing is photography. I enjoy trying to be creative with my camera and taking photos. I do enjoy spending time with my nieces as well. (smiles)
RT : Describe, for the fans at home, that feeling when you're flicking the ignition switch and rolling off pit road, prepping for the race to the moment the green is unfurled. What are you feeling and is it a frenzy or does it seem like it's all in slow motion for you?
TC : It's a mix, from initial butterflies to focusing and getting my game face on concentrating on the task at hand.
When you're just sitting there beforehand, you just think about where you're starting, the people around you, how long the race is, and just getting a feel for how you need to approach the race.
When you roll off, you get yourself pumped up and ready to go when your adrenaline kicks in.
RT : If there's one thing in racing or in the world that you could change, what would it be?
TC : I wish that drivers could make it off of pure talent, not because of deep pockets. There are so many local racers who are just as good or better as those in the top ranks, but never had the opportunity to showcase their talents due to a limited budget. You deal with it in the local levels as well. Lower budgeted drivers don't have the advantage of being able to test all the time or buy tires every race and every test session.
RT : Fact or fiction: racing is a sport – if so or if not, why?
TC : Absolutely! It is definitely a sport that requires 100% of your attention for the entire race, whether it is 150 laps or 30 laps. You have to be conditioned to withstand the physical & mental challenges presented. Physically, you have to possess endurance, strength, and be prepped to endure the heat. Temperatures inside the car reach well over 100 degrees and your heart rate is on par with that of a marathon runner.
Mentally, you have to stay focused on what is going on around you, ahead of you, and what the spotter is saying. You can't let what happens one lap affect you the next lap, and you can't get ahead of yourself. It is all about what is happening now. Your reaction time has to be spot on.
On a side note, ESPN created a Sport Science episode analyzing Denny Hamlin during a race. It's a really neat video showing data gathered during the race on the physiological challenges faced by a NASCAR driver. (http://www.youtube.com/watch?v=ZkKKMI9laIU)
Author's Notes : Many special thanks to my friend Tracey for taking the time to make this interview possible. I have certainly awaited this moment for a while and it's awesome to spotlight my good racing friend whose successes and struggles in this sport are relatable to any of us who are trying to make our mark in racing. Photos are courtesy of Tracey Chambers and AM Photography! If you'd like to learn more about Tracey, "Follow" her on Twitter, "Like" her team's Facebook page, and check out her website!