About six months ago, we introduced you to one of Georgia's finest racing sibling combinations, Taylor and Jensen Jorgensen, here on TPF to talk about their seasons in Legends and Bandoleros respectively. At 17 and 14, they're definitely on the rise, having competed in some of the finest and toughest tracks of the Southeast to hone their racing talents en route to becoming future NASCAR stars. Needless to say, when you're racing, there's virtually very little time away from the track, as we'll find out as soon as we catch up with Taylor and Jensen with the first question.
In some ways, I'm reminded of the Labonte and Burton brothers with Taylor and Jensen, as they're close and definitely are great support systems to each other. Additionally, they're highly talented, detail oriented, and they certainly know what takes to take their cars to the limit without being reckless. They respect their competitors, tracks, cars, and most of all, what it means to be in this sport, which only a few ever get to even have that taste of success at any point in their careers. One of their addictions is winning races and championships and let's just say that the doctor won't be called to fix that situation up any time soon.
Confidence is certainly setting in with both drivers but to the point in that their belief is translating into success on the track, not arrogance and treachery which some young racers may exhibit. Also, did I mention that they're pretty darn good racers? If not, well, now I told you and these are two names to keep an eye on in the coming years as they're competing mainly at Atlanta Motor Speedway and other venues across the Southeast.
Taylor's savvy with the cars' mechanics and absolutely strives to have that perfect race, reviewing each event that she's competed in to learn how to attack the track and make passing opportunities in efforts to drive her way to the winner's circle. Jensen's coming off a great season last year in Bandoleros, racing between a balance of aggression and brilliance, while also keeping an open mind on how to improve as a budding racing superstar. When you combine these two drivers' potential and their current skills sets, it's a duo that's certainly going to take racing by the horns for many years.
Still fighting the good battle on their budget, they don't resort to excuses but rather confront the odds head-on and through determination, knowledge, and good teamwork, Taylor and Jensen Jorgensen are asserting themselves as perhaps one of the next superstars to watch when they're in NASCAR in the upcoming years. For now, they're racing nearly in the same footsteps as Nationwide Series points leader Chase Elliott and well, let's say that's pretty good company to be in, especially as they're earning their opportunities each step of the way in racing.
I got to sit down and talk racing with Taylor and Jensen fairly recently and least to say, I'm definitely happy to say that this will be the first of many pieces that we'll collaborate on for 2014! For now, grab some popcorn, a soda or bottle of water, and let's get all ready to be "In the Drivers' Seat with Taylor and Jensen Jorgensen, Legends Racers" right here right now on TPF!
Rob Tiongson : It seems like it was only yesterday that we met up on Twitter and Facebook! Also seems like a lot has happened since last fall. Catch us up a bit about what y'all have been up to and your plans for the 2014 racing season.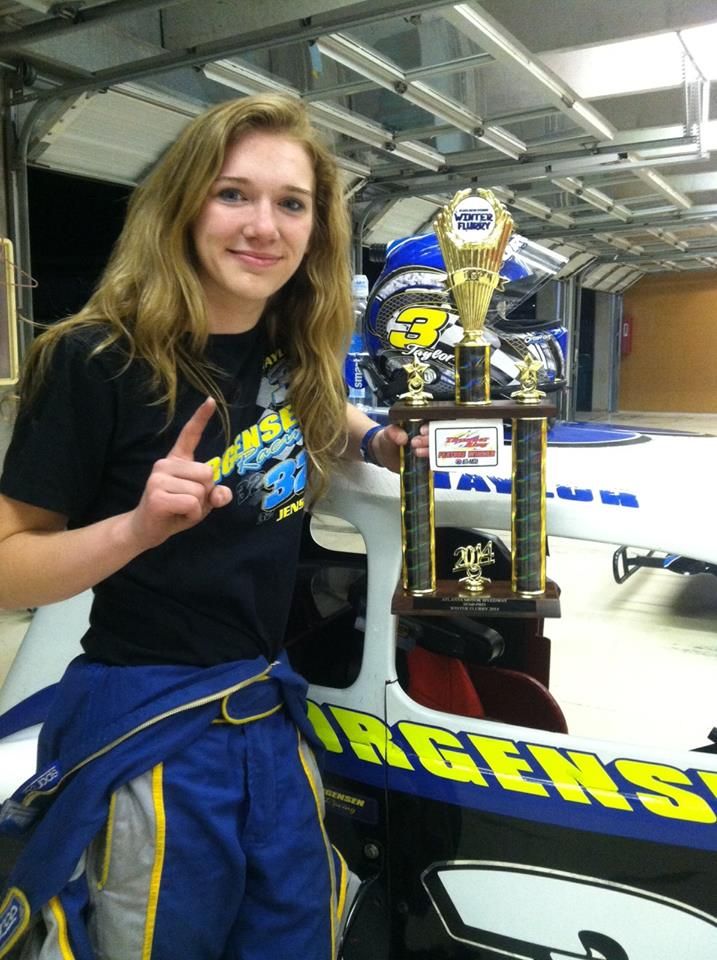 Taylor Jorgensen : We had a very short off-season this year. We started the season back up in February at Auburndale Speedway for the 2014 Winter Nationals. I ran pretty competitively up there, with a few top 5's. Also, I've been mostly running at Atlanta Motor Speedway throughout the winter. Recently, I captured my first Legend Car win and I also won the 2014 Winter Flurry Championship at Atlanta Motor Speedway. My plans for this racing season are to run for the Thursday Thunder Championship at Atlanta Motor Speedway in the Legends Semipro division and also to hopefully run the Summer Shootout at Charlotte Motor Speedway.
Jensen Jorgensen : Well, I've just recently won the Winter Nationals at Auburndale Speedway in Florida. I've traveled to Concord North Carolina to race at Concord Speedway, I've won 3 of the 5 races I've entered. Now I am getting prepared for the Summer Shootout at Charlotte Motor Speedway and Thursday Thunder at Atlanta Motor Speedway.
RT : What are some of the lessons that you've learned on the track that's made you both smarter and stronger racers heading into the year and road ahead with your careers?
TJ : Throughout racing, I've really learned patience and consistency. Sometimes, the fastest car doesn't always win but almost all the time, the most consistent car does. Also, I've learned how to gain respect with my competitors. Typically, guys do not like getting beat by a girl so they will do everything they can to make sure that doesn't happen. I've been pushed around a lot throughout my career but I've learned how to push right back. When I show the guys that I'm there to race and win just like they are, their respect is earned.
JJ : I've learned patience. I raced many races this year and I had to really learn how to always be there at the end of each and every race by keeping the car in one piece. I know that a race cannot be won on the first lap. My dad has always told me "To finish first, first you must finish" I took that to heart this year and I will always race by it.
RT : You're both coming off a great 2013 and with that, I'm sure you'd both like to duplicate your success and carry it over to this year. What are some of the things that you've done to keep focused with 2014?
TJ : To keep focused for 2014, I've studied to get better. I always review my Go-Pros and study them to find ways of improvement. Also, we've put hours of work into the Legend Car to really get it top-notch. Also, every time we get the opportunity to get in the seat and race, we take it.
JJ : I've stayed in the seat during the winter. I raced a few times on the road course in Charlotte and a few times on the oval at Atlanta to be prepared for the Winter Nationals and the year ahead.
RT : As you both hail from Georgia, I'm sure you're quite inspired by the success of NASCAR Nationwide Series racer Chase Elliott. How inspirational is it to see someone like him do well in the sport that you're both eventually looking into competing in down the road?
TJ : It is so inspirational to see NASCAR Nationwide Series driver Chase Elliott find success so early in his NASCAR career. He came from racing the same cars that my brother and I are racing now. To know that one day I could be where he is at now is exhilarating.
JJ : I think it is really inspirational to see a kid from my home track that started from the same cars I am racing now. It's awesome to see him winning in Nationwide, somewhere that I would one day love to be.
RT : Could you ever imagine your lives without racing at all?
TJ : All I ever wanted to do when I was younger was race. Being given the opportunity to race has been the best thing that has ever happened to me and honestly I couldn't imagine my life without racing. I spend every given second thinking about racing and all of my off-time is either spent racing, working on racecars, or working on Jorgensen Racing's PR (Facebook and Twitter).
JJ : Absolutely not. Racing is my passion and what I love to do. I couldn't imagine my life without racing.
RT : Let's say I'm a new teammate of yours and I'm trying to figure out which of you would help me learn the track best. How would you both describe your driving styles in terms of similarities/differences that you'd tell (without giving away too much) me so that I could get up to speed at say the next race?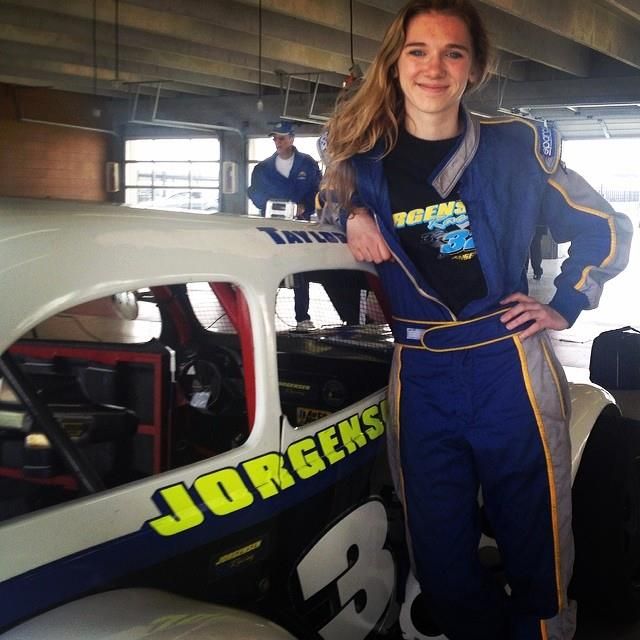 TJ : Jensen and I get asked about our driving styles a lot actually. Jensen has always been the more aggressive one and I was the most consistent. Now, our driving styles are almost identical. He's calmed down a bit and I've learned how to get more aggressive. Honestly, Jensen has been my personal coach and I have been his. Even though I have raced a year longer than he has, he has taught me so much because he can see things that maybe I don't see. If I were your coach, I would first start off by telling you to stay smooth at the wheel and don't over drive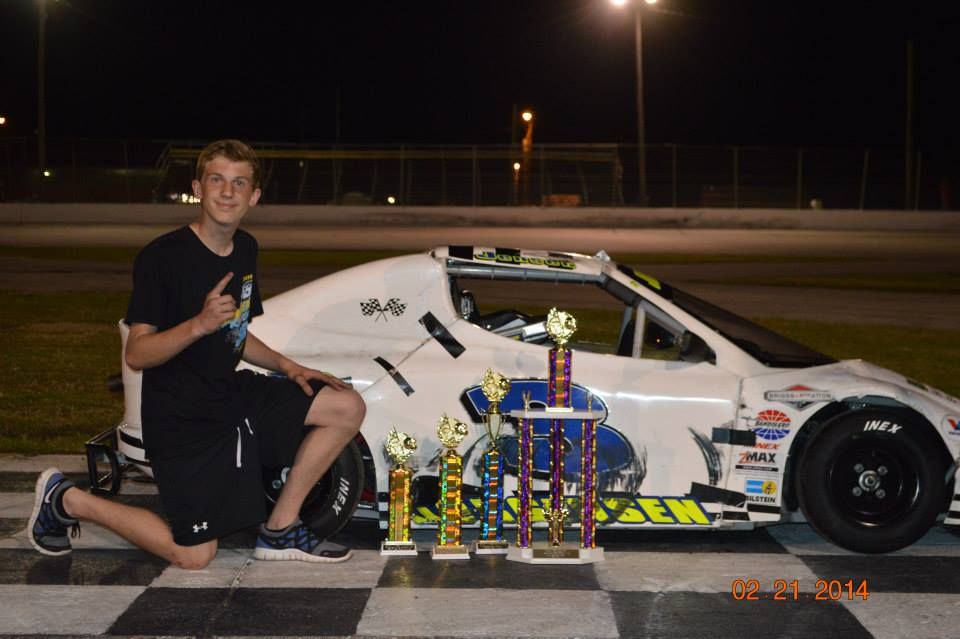 JJ : We used to have completely different racing styles. I've now adjusted to more of my sister's style of racing. After her successful year in Bandoleros, I knew that I needed to learn to race more like her to be faster and keep the car in one piece. When I started, I was very aggressive with the car. I always ran fast but I didn't always finish. Now I've tuned my aggressiveness to become dominant in the Bandoleros. If I were your coach, I would tell you to run where you are comfortable so that you could first finish the race in one piece.
RT : It was mentioned in last fall's interview that you work on the racecars. Would you say that it's an advantage with knowing the mechanics of your machines, especially with race set-up and the overall feel of your cars?
TJ : I absolutely think it is important to know your car. Although, I am not as smart with working on the car as my brother, I still know a good bit. I think it is an advantage to be able to go out on the track and truly know what your car is doing. I've learned throughout the years how to adjust my car to specific racing conditions and even how to fix parts of the car if something goes wrong.
JJ : Absolutely, especially when something goes wrong during the race. I can pinpoint the problem almost immediately. Also, I've learned to adjust my car for certain racing conditions perfectly.
RT : What would be a few things that you would change with racing to make things more on a level-playing field?
TJ : Money is always an obstacle in the sport. With Legend Cars, money shows. We raced a full season with an old worn out motor just because we couldn't afford a top-notch one at that time. I could still compete pretty competitively but just not with the best in the sport. Money plays a large role in legend cars and the obstacle gets even larger as you move up to bigger cars in racing. My brother and I have never complained about our racing budget compared to others though. We are both just so grateful to be given the opportunity to race at all.
JJ : Like my sister said, money. My dad and I strive to always have the cars top notch to the best of our abilities. With Bandoleros, money is not such a huge game changer so we can still compete on the highest levels.
RT : For some of us who haven't raced Legends, and Jensen, perhaps you might have a different answer to this than Taylor, describe the way these cars drive. Would you say it's a smooth one or more of a white knuckle experience than a Bandolero?
TJ : A Legend Car is one of the hardest cars to drive because of its short wheelbase. The horsepower to weight ratio is a lot compared to any other racecar there is. The ride may be a little more smooth than a Bandolero because there is full car suspension but to drive one you really need patience and throttle control.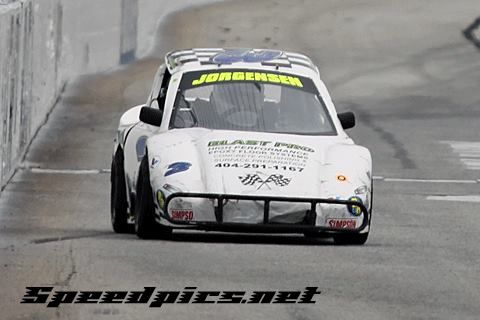 JJ : I've never tested a Legend car before but I know there is a lot more horsepower behind it.
RT : If it's the last lap of the Daytona 500 and the win's coming down to you both, and you're both side-by-side off turn four, is it a paint trading duel to the finish?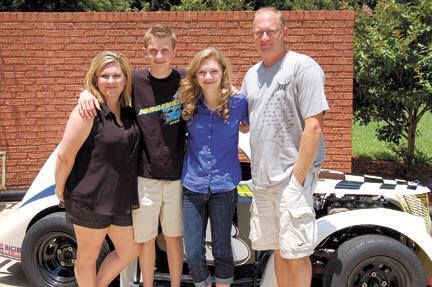 TJ : I don't think we would trade much paint but we would definitely both be going for it!
JJ : I don't know how much of a paint trading duel it would be but I would do all that I could cleanly do to win the race.
Author's Notes : I'd like to give special thanks to Taylor and Jensen Jorgensen for taking the time out of their busy schedules to make this interview possible - again! I'm so excited that this will be the first of many pieces that we'll do together on TPF. All the wonderful photos are courtesy of Jorgensen Racing. If you'd like to learn more about this amazing racing duo, "Follow" them on Twitter on Taylor's, Jensen's, and their team account, "Like" their Facebook page, and visit their official website right now!