If racing had a pair of humble racing siblings who know how to win but with class, it's Taylor and Jensen Jorgensen, who are working hard to realize their NASCAR dreams!
Racing is an extremely competitive sport where drivers will compete against their friends, rivals, and colleagues for a high speed game of battling for the checkered flag. In some cases, one will race against their spouses (see Danica Patrick and Ricky Stenhouse Jr.) or in this story's subject, their siblings (see Kurt and Kyle Busch). For Taylor and Jensen Jorgensen, two Peachtree State natives who are chasing after their ultimate racing dreams, these talented young guns are making themselves become household names racing in Legends and Bandoleros respectively.
At age 17 and 14, both Georgia-based drivers are hoping to realize their dreams of becoming NASCAR winners and champions. On the surface, they're humble, mature, and very friendly, as both seem to praise each other's racing abilities and also are close as a family. In some ways, I couldn't help but find myself thinking of my own family, and specifically, my two older sisters. They are competitors who want to very much win races, gain respect, and also, to make a name for themselves. Make no mistake, as they would be the first to be there for each other in terms of support and encouragement on and off the track.
Second generation racers, Taylor and Jensen both developed their passion for racing from their father Jason. Inspired and driven by their racing patriarch, they've honed their abilities to become consistent, front running winning racers. Recently, they both competed in the Bandolero Nationals in Bethel, NY, with Jensen scoring the win while sister Taylor came home as the runner-up. To say the least, that's about as good as it gets for the siblings, who are having tremendous success in 2013. As of press time, Taylor's raced 20 times and has scored 11 top-fives and 16 top-10's while Jensen has competed 36 times, won on 16 occasions and has logged 29 top-fives and 33 top-10 results.
Their success should be noted in that they're doing this with the resources around them with their cars. They may not have the newest equipment and their budget isn't that of those with a silver spoon. Instead, they're racing wisely and still, despite some struggles, there's no excuses and their results are very stellar for this potent racing duo.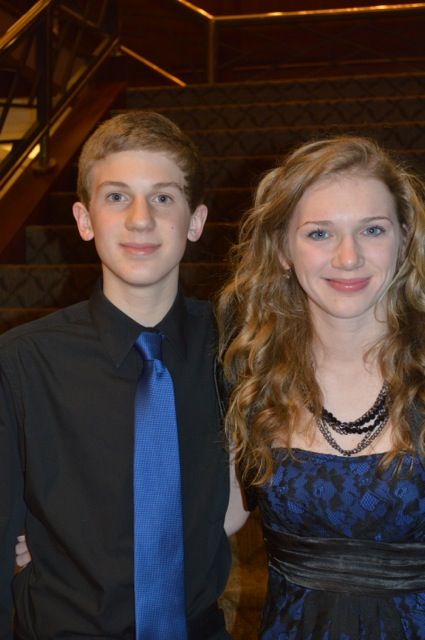 Taking time from their busy schedule, I got to interview Taylor Jorgensen and through her, I got to know more about her racing story as well as her brother Jensen's which has promising chapters to be written.
As successful and passionate as both drivers are in regards to their racing careers, there's no ego with either young gun. Instead, they're as humble as can be, and that's partly due to their focus, their maturity, family, and most of all, their realization of the big picture with life and motorsports.
Are you ready to know about the next two biggest talents of racing?
Well if you are, let's suit up, put the gloves on, and get "In the Drivers' Seat with Taylor and Jensen Jorgensen, Legend and Bandolero Racers," right here, right now on The Podium Finish!
Rob Tiongson : I'll have to admit that this is very cool to interview two young racers who not only have a knack for winning but are siblings! First of all, tell the fans here at TPF a bit about yourselves and how you both cut your teeth in racing.
Taylor Jorgensen : Absolutely, thanks for having us! Well, our dad raced go-karts as a teenager and later raced Legend cars when we were little. Growing up at the racetrack, I always wanted to get behind the wheel. At five years old, I got a go-kart but was never able to race, I could only do a little testing.
At age 11, I was introduced to the Bandolero Car and never looked back. A year later, Jensen got behind the wheel of a Bandolero car as well. He was age nine at the time. I now race Legend Cars and Jensen is still making his name in the Bandolero, but he will be moving to the Legends series next year.
RT : Last month was a great example of how wonderful this sport can be with the 1-2 sweep at the 2013 Bandoleros National at Bethel, NY. Jensen you won and Taylor, you got a solid second place. When you're both on the track, of course winning is the objective, but when you finish to each other, is it not too bad or does it leave you wanting to win that race?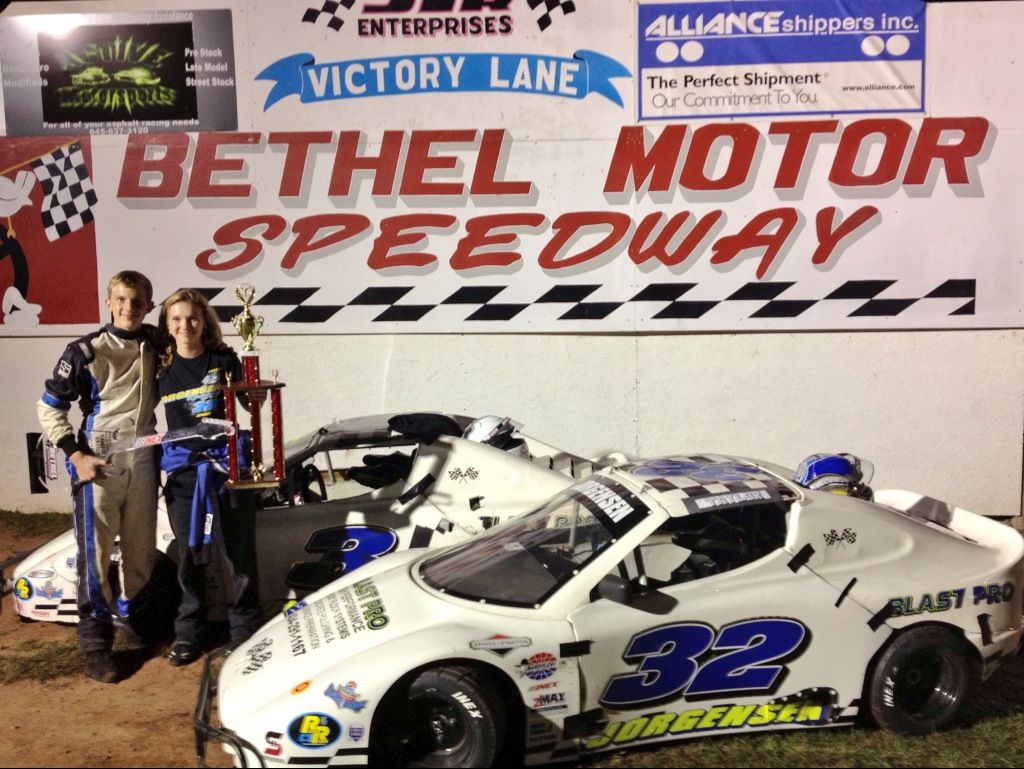 TJ : Well that weekend was one to remember for sure! Jensen won the 2013 Bandolero Grand Nationals and I jumped back into a bando for the event and was able to pull off a second. Honestly, I was only about a fifth place car the whole weekend. The caliber of competition there was huge and I was a bit rusty from being in a Legend Car for almost a year now.
Jensen had a dominant performance the whole weekend but I really had to fight for position. There were a couple of accidents with some of the leaders and my experience and patience really paid off. With only three laps to go, Jorgensen Racing was sitting pretty in first and second. When we finish next to each other neither one of us ever leave disappointed. Last year, half of our finishes happened on many different occasions so it's nothing new to us!
RT : As you're both in school and racing, is it sometimes a challenge to stay focused on your academics with you're working hard at the track to win races? Or do you just balance it out as it happens?
TJ : It's a bit of a challenge for sure! Luckily, we are blessed to be a part of such a great school. We go to New Creation Christian Academy (NCCA). It is a homeschooled based program but is set up much like college.
We only go to school three days a week and get our work on a weekly basis. Without this type of schooling, our schedule would be very difficult to manage.
The school is great as well, where the teachers and principle really work with us and let us take off as much time as we need for racing. School/grades are very important to us and our parents. If we are not doing great in school, we are not racing.
RT : What aspects of racing do you both enjoy and which parts do you go, "I wish I could change this up?"
TJ : We both enjoy almost everything about racing. We love the speed and adrenaline; it is an experience you can't find anywhere else! I love the fan interactions and all of the positive things I can do through racing. We race for a foundation called "2 Seam Dream Foundation" which is a foundation that is dedicated to raise awareness for cancer research, and to aid in the support of patient recovery activities. It is a great feeling knowing that we are racing for a cause.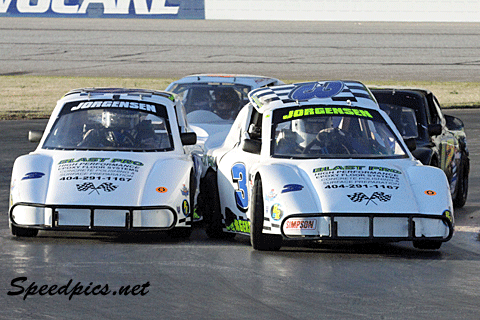 It is hard to think of the negative aspects of racing though. Other than that racing is a money sport, the more money you have, the faster you run. Our racing is funded on a shoestring budget. We are not a team with the most expensive equipment you can go out and buy, as we don't have personal crew chiefs or coaches, and we do all our own work on our cars.
Yes, this has made Jensen and I so much more appreciative of what we have though. Jensen has learned so much about cars and doing everything from home has really brought us together as a family.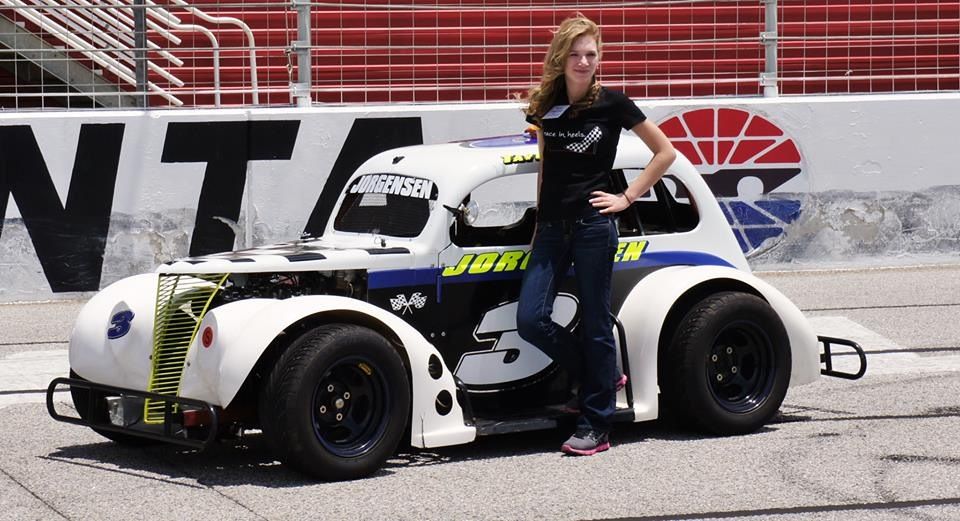 Our racing never suffers because of money because we work really hard to manage and balance everything out.
This year, I have not had the greatest Legend car out there. My car is the one that my dad raced 14 years ago. I don't have a new/fast motor and really my equipment is quite old but I have learned to drive the car and have gotten a large amount of seat time. We had the same experience in Bandos but it has made us so much better for when we move into perfect cars. We wouldn't change our situation though. We have great people, partners, and supporters behind us that make our racing possible.
RT : Who are your racing heroes and who are some of your inspirations when you're out competing at any asphalt arena?
TJ : I am really inspired by Danica Patrick. She is a female doing her thing in a male dominated sport. I hope to be doing the same thing one day. Jensen looks up to many of the male NASCAR drivers, specifically his favorite is Matt Kenseth. Jensen and I both look up to David Ragan and Joey Logano as well. Both drivers came from racing bandoleros and Legend Cars at Atlanta Motor Speedway!
RT : Do you both help each other out at the track in terms of input with the car's handling and with race strategy?
TJ : Of course! I have always been quite the coach to Jensen as he has been progressing and growing as a driver. Now that Jensen has it pretty figured out, he will watch me in the Legend Car and help coach me on things that maybe I do not see on the track! Sometimes, we even jump into each other's cars to help with handling on the track or to see if we can figure out any problem that we might be experiencing. It is really great to be able to have a team mate that I can learn and grow as a driver with.
RT : Which racetracks would you absolutely love to race at in any car, if you could enter any motorsports division right now?
TJ : I would love to race a NASCAR at Bristol some day! That track has always looked so fun to me and I love the short track type of racing. Jensen would also love to run a NASCAR but he would like to run it at Daytona. Jensen loves the fast tracks with a lot of speed. The big tracks have always suited him best.
RT : Would you say that you're racers who make your own luck or do you have certain superstitions, especially with race day?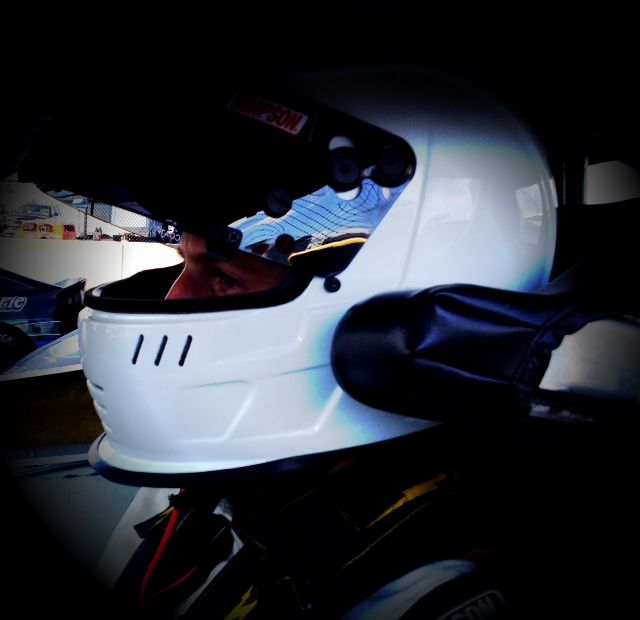 TJ : This is funny because we were actually talking about this today. We both believe that we make our own luck.
We believe that we can maybe "get lucky" just depending on track position and missing wrecks but that's about it.
Neither one of us really have any superstitions either.
RT : If you could listen to a playlist of songs during a race, what artists/albums would you have on in your racecar?
TJ : We listen to a wide variety of music such as rap, hip-hop, pop, and even country. Right now, we are both digging Luke Bryan's new album "Crash My Party". Every time we get in the car with each other, that's what we end up playing over the radio. But Eminem can really get you hyped up.
RT : Let's settle it right here, since my siblings and I debate about this in our own way – who's the fastest sibling on the track?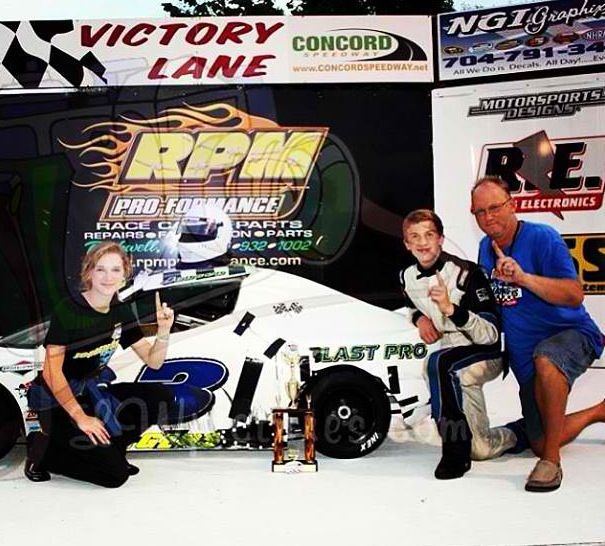 TJ : Wow, this is a toughy! Me of course, but Jensen does not agree. No, I'm just kidding. We both have different driving styles but at every track we are honestly about the same speed! I am one year in experience ahead of Jensen so sometimes, I am able to pick a track up quicker than him. But that is only sometimes… Sometimes the tables are turned and Jensen is the first to pick a new track up. We are always supportive in helping one another so we consistently stay the same speed as each other. Honestly, I'd rather be racing up front with him rather than anybody else.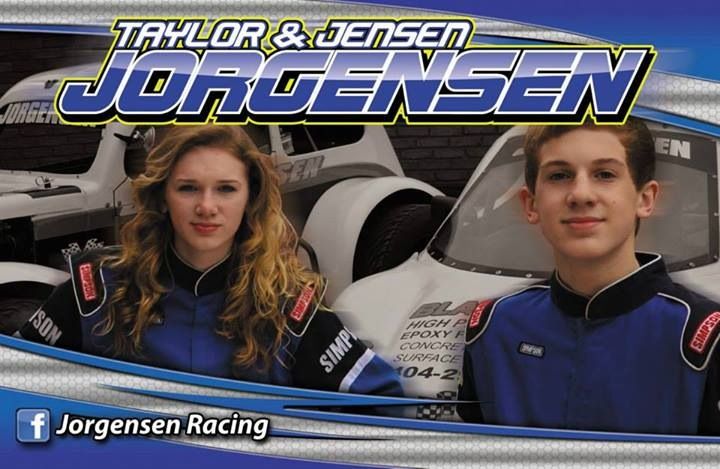 Author's Notes : Special thanks to Taylor and Jensen Jorgensen for taking the time out of their busy schedules to make this interview possible! All the wonderful photos are courtesy of Jorgensen Racing. If you'd like to learn more about this amazing racing duo, "Follow" them on Twitter on Taylor's, Jensen's, and their team account, "Like" their Facebook page, and visit their official website right now!