For the past year, we've chronicled the journey of young racing stars Taylor and Jensen Jorgensen of Georgia, one of the competitive motorsports siblings looking to climb their way up the NASCAR ladder. Competing respectively in the Legends and Bandolero divisions, Jorgensen Racing has also fielded cars for Hannah Bell, a talented driver who's certainly grown into her own as a truly talented force on the track. Whether on or off the track they're determined competitors who are close friends and much like a great musical band, their chemistry is impeccable.
We first introduced TPF fans to Taylor and Jensen last year and caught up with them earlier in the year. Needless to say, five months in the world of racing translates into a lot of happenings and for these sensational siblings, it's a season in which they've gained a new teammate in Hannah. Savvy, carefree, but also driven to succeed on any given day or night at the asphalt arena, this trio never gets too low or high about their results.
Instead, it's about working hard to be at the top of their game and also enjoying the journey to be at the top of the racing ladder. Taylor's experience has helped her younger brother Jensen and their friend Hannah with the Bandolero cars, while Jensen has shown that confidence and flare of a genuine tour de force in a racecar. Hannah has not only turned to her great resources with her teammates, but she's also displayed that prowess and drive in efforts to knock on Victory Lane's door.
Needless to say, this trio has put together a memorable season that's been worthwhile and fun to follow all year long. With maturity well beyond their years and the youth and enthusiasm that'll carry them places without the burnout of the demands in racing, Taylor, Jensen, and Hannah are truly destined for greatness in their future.
On Monday evening, I got to do a little shop talk with these terrific racers and needless to say, there's a sense of unity and bond that goes beyond the track. Without further ado, let's get "In the Fast Lane with Taylor and Jensen Jorgensen and Hannah Bell" here on The Podium Finish, race fans!
Rob Tiongson : This past weekend and in general, this whole season has a been a tremendously successful year for Jorgensen Racing. How exciting has it been to duplicate the success of last year and see it translate on the track this season?
Taylor Jorgensen : The team has really clicked this season as a whole. We all have our strengths and weaknesses but we all equally contribute to the success of the team. Jorgensen Racing has definitely been one of the top teams to beat every race this year!
Jensen Jorgensen : Last year, I had a great year winning the nationals and national championship but I fell short of a few other championships that I really wanted. This year, I won every championship that I set my goals out for and repeated the Nationals and Nationals Championship!
Hannah Bell : This is actually my first full year with Jorgensen Racing but being with them has been a great experience. I've learned a lot from everyone on the team and have really benefited from their knowledge and have had a lot of support.
RT : Sounds like a lot's surely gone on for the good and Hannah, it seems like you've had some good teammates to turn to! For each of you, how's it been to share ideas with each other and have you at times found yourself asking each other for advice during the racing weekend?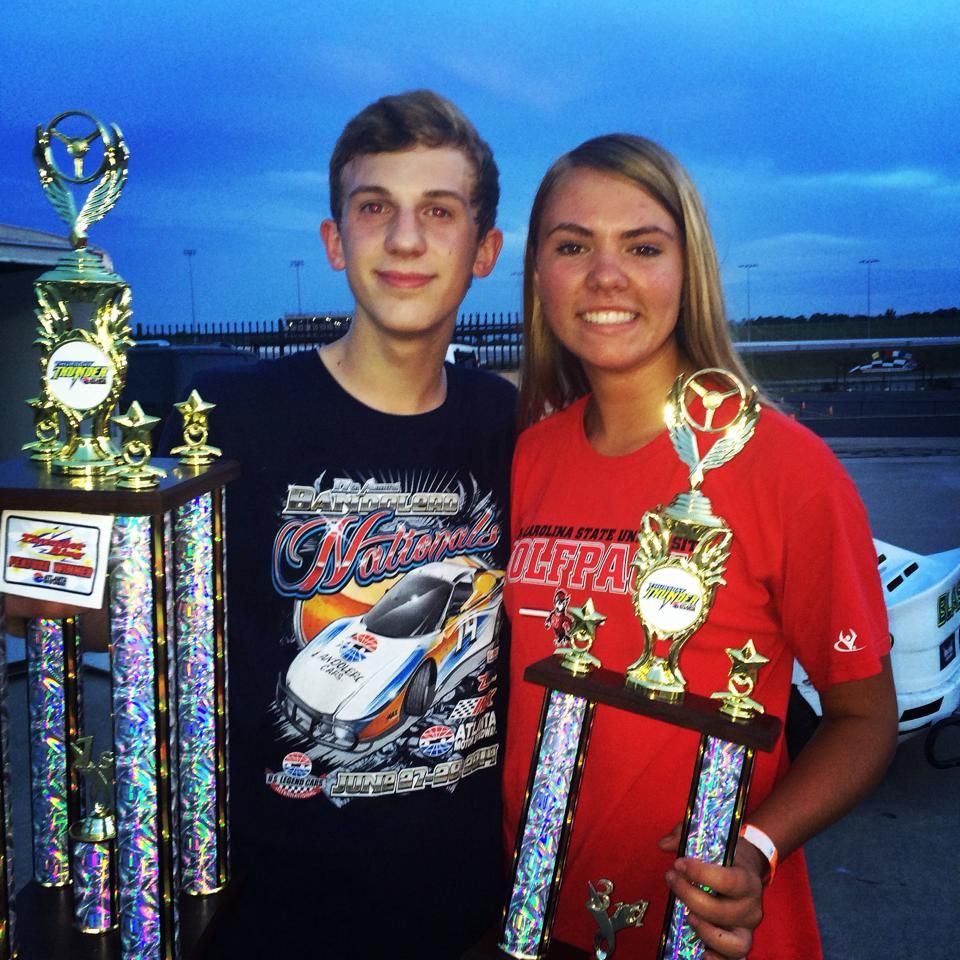 JJ : Absolutely, having Hannah race in the same class really helps to get each other's cars dialed in for the conditions of the day. We both give our opinions on how the car is handling or what seems to be the faster line on the track. As for my sister, I have never drove a Legend car but I can really help her by comparing her to the faster cars on the track.
TJ : We definitely share a ton of advice with each other. Since Jensen and Hannah race in the same division, they have each other to lean on for racing/driving advice. I race a different type of car and they watch me race, so whenever I have a question I can go to either of them to see what they think. We've all taught each other so much this year, from driving on the track to being better teammates.
HB : I've had a great time getting to know Taylor and Jensen this year and I think we've become closer as friends and teammates. I have found myself asking them both for advice often because they have been racing longer and have had more seat time. Racing with Jensen, we can discuss strategy. Also Taylor was very successful in a bando so she is a big help.
RT : That has to be neat because it can only help everybody out with exchanging ideas or sharing those experiences, translating to success on the track. Do you set goals prior to the race weekend as a way to gauge success with yourselves and each other?
TJ : Yeah we do actually! Every week, we try to better our finish from the week before! Once we get to the front, our goal is to stay there. I always like to push myself, sometimes maybe too much. I don't like to compare our finishes with each other though, we all like to see one another do good!
HB : Yes, we try to improve our times and track positions each week. After every race, I talk to Taylor and Jensen about what I could have done differently to qualify or finish better. It's exciting to see those improvements each week.
JJ : Oh yeah! I set my goals before every weekend. I try not to set my goals to high so I don't get disappointed if the weekend goes bad, but I always need that push to get the win that weekend.
RT : What are some instances in which you've debriefed during or after a race?
HB : For instance, this past weekend I was having trouble qualifying well. Jensen and I compared our lines and he helped me figure out what I could do to improve my times. It's those moments when having a team to talk to is really beneficial!
JJ : Pretty much after every time Hannah and I come off the track, we talk about what the car is doing or what the track feels like to try to get even faster the next time we go out. After the race, we talk about what we could of done or not have done that didn't get us the finish we exactly wanted. My sister helps a ton by watching other cars on the track that I can't see and teach Hannah and I what we are doing wrong and we do the same for her!
TJ : I always talk with Hannah and Jensen after my race. They always give me insight on what I could have done better or what I did good on. They may see situations from a different light than the way I see it from the car. For instance, I barely lost my race the other day from a mistake that in my mind was huge but Jensen and Hannah just saw it as a being in the wrong place at the wrong time.
RT : Talk about having a second set of eyes and ears on race day! That's awesome. I guess you could say that you're each other's immediate support system, eh?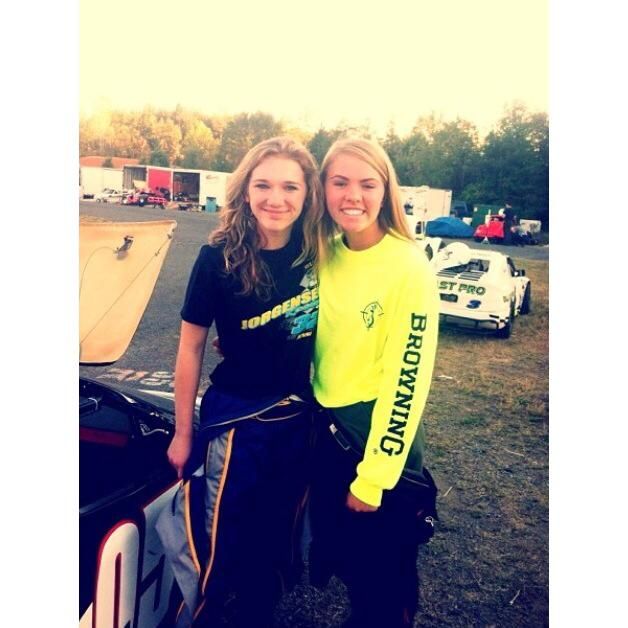 HB : Oh yes! Taylor and Jensen have been amazing support on and off the track. They're always there with a "good job" or a "you'll get it next time" no matter what! They help me stay positive and I try to do the same for them!
JJ : Having another set of eyes on the track helps out so much! My sister and my dad watch me from the stands and can compare me to other drivers lines on track. With hannah on the track with me, she can see what I'm doing differently then others or herself which helps the both of us out. My sister and Hannah have helped me so much this year and support me so much!
TJ : Definitely! We always pump each other up! We never like to let each other get too upset. Off the track, we always like to joke around and keep the tone positive.
RT : Always good to keep things balanced! It explains a lot about why each of you have enjoyed a great season. What's been your personal favorite moment this year on the track and what's been one that you've enjoyed seeing with your teammate this year?
TJ : My personal favorite moment was at Thursday Thunder at Atlanta Motor Speedway. I picked up my first Legend win during Round 7 by making a last lap pass for the lead. That was a win that I will never forget!
My favorite moments watching my teammates was when Jensen won the Bandolero National Race for the second year in a row at our Home track, Atlanta Motor Speedway! As for watching Hannah, I enjoyed seeing her improve so much every week at Atlanta as well. That was a brand new track for her but by the end of the season she was beating some of the fastest guys in the country!
JJ : I must say that I have two really big moments this year that I can't decide which I was more excited. I stayed back this year in a Bandolero to go for the 2014 Bandolero Nationals and crossing the finish line winning that race was so amazing because all of my family and biggest supporters where there and it was truly an amazing day! But another moment that I would never of guessed would have happened a few years ago was winning the Summer Shootout at Charlotte Motor Speedway. That is a huge accomplishment that the best in the country tried to get!
My favorite moment that I watched my sister do was make a last lap pass on one of the best in her class to win her first Thursday Thunder win in a legend car! My favorite moment watching Hannah was watching her pick up so many tough tracks this year that she has never been on such as Auburndale in Florida and still my toughest track which is Atlanta seeing her pick up top 3 finishes there!
HB : My favorite on track moment this year was this past Sunday finishing third. Everything just kind of clicked for me. The car was handling well and I drove the wheels off of it! As for my teammates, watching Jensen win his second National Bandolero race and his summer shootout championship! For Taylor, it was awesome to be with her when she won her first ever Legend car race! These are memories that will last forever!
RT : It's so awesome that you all are not only determined racers but an amazing trio of teammates who are equally as elated with each other's successes! Last question - what's the future looking like for each of you as this year winds down and 2015's slowly creeping into folks' mindsets in the racing world?
JJ : 2015 will be quite a learning year for me as I start racing Legend cars. I think I will pick it up quickly because I have a great team behind me and a lot of experience in the Bandolero! I just got one the other day and I'm really anxious to get in it!
TJ : Well next year I look to be making the transition into some full size racecars though I will still be running Legend cars in the Semipro division, trying to better my success. But on the off weekends of Legends, I may be running Late Model trucks or Late Model cars.
I know Jensen and Hannah are both considering running in the Semipro division and I really look forward to race against two great drivers!
HB : In 2015, I hope to be moving to a Legend car. I plan on finishing this year out in a Bandolero and hopefully accomplishing the rest of my goals that I set. I can't wait to see what the future holds for my teammates and I! Taylor, Jensen, and I will all be in Legend cars and working together even more!
RT : It's going to be so awesome seeing you all grow as individuals and racers heading into 2015 and competing on the same cars in the same races too. Anything else you'd like to say to the race fans before we wrap things up?
HB : Thanks to the fans for coming out and supporting us as a team and racing in general! It's always nice to see people in the stands!
JJ : I would just like to say that I couldn't thank everybody that has supported my team and I this year enough and I can't wait what the future holds!
TJ : Jorgensen Racing truly appreciates all of the fans support. We would love to get to know our fans better as well. For more information on Jorgensen Racing, check out our Facebook and Twitter pages!
Author's Notes : I'd like to give special thanks to Taylor and Jensen Jorgensen and Hannah Bell for letting me interview them about their amazing 2014 efforts! All the photos accompanying this piece are courtesy of Jorgensen Racing.
If you'd like to learn more about this amazing racing trio, "Follow" them on Twitter on Taylor's, Jensen's, Hannah's, and their team account, "Like" their Facebook page, and visit their official website right now!