Racing can be viewed almost like music, at least in terms of preparation for a live concert. Much like a musician having their supporting cast, from the band to the roadies who haul the equipment to and from the stage, NASCAR racers are backed by their dedicated crews at the shop and on the track that make their weekends possible. Without each piece of the puzzle, there'd not be much of a picture to view; in this case, without the pit crews and specialists on each team, short-term and long-term success on race day is pretty much impossible.
Will Boutin is an integral part of the Front Row Motorsports team as a tire specialist. Throughout this exclusive interview, a lot will be revealed in terms of what Boutin does at the track and his role with the FRM team during race weekend. As you'll see, it's more than just checking the air pressures and being surrounded by a stack of Goodyear Eagle tires. It is sacrifice, dedication, determination, and courage in moments of glory and the difficult times which define our character to our peers and ourselves. It's safe to say that Boutin is very appreciative, grateful, and well aware of how much effort was put forth to be where he is today in NASCAR.
Like most of us, he's a fan who developed his dream of being in this sport from attending perhaps the greatest stock car race in the season - the Daytona 500. Instantly hooked, you could say that Boutin realized that he wanted to be a part of the scene. His strong resolve is one reason why he's working for one of the budding and emerging Cup teams on the circuit and as they say, the sky's the limit with this talented young man from Merrit Island, FL. Not to mention, he's thankful for the fantastic support system in his life and in racing and with a career that's high stakes and competition, it's important to have family, friends, and that loved one who'll stand by through it all.
In a very exclusive interview here on TPF, I'm proud to present a unique and fresh piece here straight from the pits! Ladies and gentlemen, lace your shoes, grab the firesuit, helmet, and prepare to get "In the Pits with Will Boutin, Tire Specialist of Front Row Motorsports!"
Rob Tiongson : First of all, Will, I appreciate you taking the time to talk some racing with us here on TPF. Tell us a bit about yourself and how you cut your teeth in racing.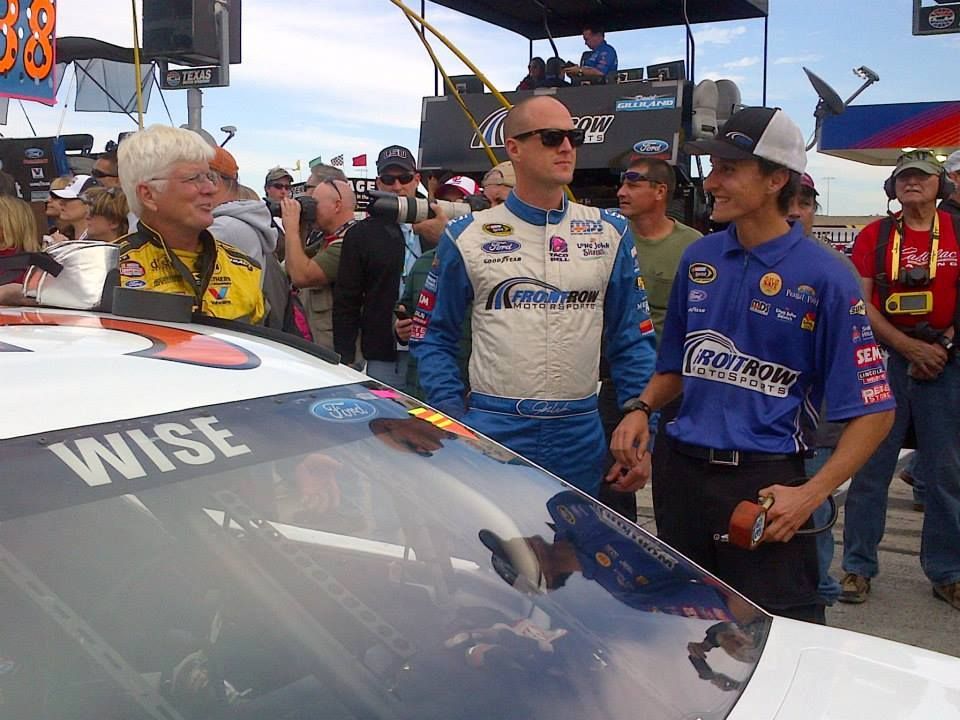 Will Boutin : I'll give the condensed version for sure. Ever since my first race, which was the 1999 Daytona 500, when I was 9 years. I was instantly hooked, and growing up in Merritt Island, FL, which is about fifty miles south of Daytona, we went to a lot of Daytona races. When I graduated from Merritt Island High School in 2008, I already had a plan in place to get my dream on the right track. I knew I had to move to North Carolina to be involved in NASCAR. So at the age of 17, I packed my whole life into the back of a 1991 Ford F-150 and moved to Salisbury, NC.
I struggled for many years after moving there, as I even worked at a saw mill for a while just to make ends meet. I ended up getting involved with over-the-wall gigs as a tire changer. I started from the bottom in ARCA for a few seasons and got one win at a small track in Madison, WI as part of the Venturini Motorsports team with Alex Bowman as the driver. From then on, I moved up to the NASCAR circuit, going over-the-wall for various Truck and Nationwide teams. I got a part-time deal for a Nationwide team going over-the-wall and as a tire specialist, which realistically helped me get my job at Front Row Motorsports and I've never looked back since.
RT : Your role as a tire specialist is quite involved more than what fans may realize. Tell us a bit about your position with FRM and how a typical (or ideal) race weekend may go in your shoes.
WB : The tire specialist position in my opinion is one of the most overlooked positions in NASCAR. There's a lot of running and hauling 15+ sets of tires each weekend back and forth through the garage area, and pit lane. I'm thankful that I'm in good shape and workout on a regular basis at my local crossfit gym in Mooresville because it is a very physically demanding job.
RT : What are some of the tools that you utilize each race that you'd have to say took some time to get used to?
WB : Most of the tools I use are actually quite simple to use and it didn't take long to get used to them. Normal tools like our Air Pressure gauges and Tread Depth gauges are the extent of what I use.
RT : I could imagine that in your role, it almost gets to a point where you're probably encountering tires more than people. Would you call it a position where it's almost like being in Gilligan's Island or do you interact with others on your team while working on the sets/tires for your team?
WB : It's funny you say that about Gilligan's Island because that's exactly how tire guys work. We usually find our own spot away from everything to work on our tires whether it's our practice tires or our race sets. There maybe a point either on the first day, we are at the track or on Saturdays where I won't see my teammates for a good two to three hours because of how I work on each tire. I am very tedious and I have an exact routine for every tire that I go through.
RT : Of the days during the race weekend, which one would you have to say is the most action packed one for you?
WB : That's tough, but I'd say Fridays are because those are usually our first days at the track so when the garage opens, it's time to dig. I go and grab my five sets of tires that we are allotted to have just for practice/qualifying and then I get right to work. When we practice, we usually start in race trim so I like to have at least two sets of tires ready with race pressures in them and then the last three sets at qualifying pressures because we make Mock Qualifying runs. It can get really hectic once we change from race trim to qualifying trim. Not taking anything away from race days though, because those are pretty tough too.
RT : Who are some of the folks on your team or in the garage area that have taught you a great deal with racing and what you do for your crew?
WB : Mostly guys from Front Row Motorsports. They're all a great group of teammates, and since day 1 of working there, everyone has helped me out, showing me little tricks here and there. I am lucky to be working on such a tight knit team. There is one guy that has gone above and beyond and that's Mike Motil (Tire Specialist for the #35 car). He's been working in NASCAR since 1992 so he's seen it all. He always informed of every week of where everything would be at each race track and told me different scenarios that would play out that I would need to be prepared for. I can't thank him enough for everything he's taught me.
RT : Does it get somewhat tough to be on the road away from loved ones and friends and if so, do you try to maintain contact with them through social media or by phone?
WB : Every week is tough, but my fiancée and I have been together for over eight years so we've been through a lot together so we keep in touch through phone calls, texting and of course social media. She keeps me sane while I'm away for sure. I also stay in touch with my friends, but mostly my friends back in Florida. Snapchatting is a new addition to my arsenal, as I find that more productive than all of it though.
RT : You're in a good position in this sport where you could ideally climb up the pit crew ladder and sit atop that box one day. Is the position of crew chief something that you strive for years down the road or are there other plans that you are considering as you work your earnest in this sport?
WB : That's hard to say because I'm one of the people who just take it one day at a time and focus on what my job is now. Granted I am in school right now as well while working full-time for Front Row, but I'm trying to get my Mechanical Engineering degree, but that's what's exciting about the future because it's unknown.
Also, I would like to give thanks to my mom and dad, as well as my grandparents. I wouldn't be doing this without them and I am truly blessed to be doing what I love and being paid to do it. And of course to my fiancée Meaghan who's been with me through it all!
Author's Notes and Acknowledgements : I want to personally thank Will for taking the time to let me interview him here on TPF! If you'd like to keep track of what Will's up to, "Follow" him on Twitter right now and stay tuned to future pieces here on TPF, as we'll certainly try to get more works with this talented member of the racing community! Also, I'd like to thank Will for the photos accompanying the piece. Thanks so much - looking forward to doing up Charlotte this May!