Isabelle and Rob look back at all the action from Indianapolis Motor Speedway for the NASCAR girls and boys!
There's nothing like seeing full speed racing action at the historical Indianapolis Motor Speedway, a track that prides itself with tradition, history, and amazing competition. Originally a venue that hosted solely the Indianapolis 500 held every Memorial Day Sunday, it's established itself as a traditional date with the NASCAR Sprint Cup Series and its race known as the Brickyard 400 or Crown Royal presents Name Your Hero 400. Since 1994, it's crowned Cup champions, solid racers, and seldom has it gone to a driver who's "lucked" their way in NASCAR racing.
A new event was created last year with the 250-miler racer held on the Saturday before the 400 for the NASCAR Nationwide Series. While not embraced as the race held at the beloved Clermont, IN track known as Lucas Oil Raceway Park, it's an event in which series regulars and Cup drivers "double dipping" look to capture a piece of history and a chance to make some sweet kissing time with the yard of bricks.
We took a look back the these two NASCAR races held at Speedway, IN and we'll start things off first with Isabelle's rundown of the Nationwide race and cap off with Rob's look back at the Brickyard 400.
Isabelle Acquaints Herself with NASCAR Nationwide Series Racing
For those who've know me for at least a couple years, this next sentence will come as a surprise – I sat and watched a NASCAR race. Not trying to be rude or disrespectful or anything, but I've just never really had an interest in it nor have I really had much of an attention span for it. However, due to events in the past month, I decided to give it another go. No, it wasn't the Brickyard 400 that I watched (I can only sit down for a race near that length once a year in May). It was the Nationwide Series' Indiana 250 that I watched.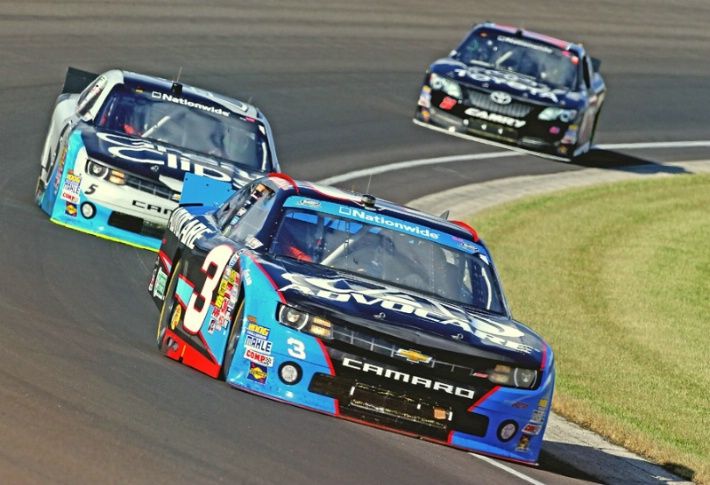 Before the race even started, Justin Allgaier's engine started acting up and was soon behind the wall in an attempt to fix the issues he was having. While this was going on, Kasey Kahne attempted to do the hokey pokey and almost turned himself around, thinking that's what it's all about. He would soon find himself feeling like he was in an ocean full of sharks in his No. 5 Great Clips "Shark Week" Chevy Camaro, ultimately relegating to a 26th-place result.
Shortly after, Jeremy Clements wanted to make a grand entrance into his pit box in his No. 51 Chevy, so….he spun in. None of his crew members were hit, thankfully. And he didn't wreck the car, either.
Eventually, NASCAR Nationwide Series title contenders Sam Hornish Jr and Regan Smith overheated. At one point, the drivers went four wide, which jostled around Kahne a bit. In the end, Kyle Busch won and dominated en route to his eighth Nationwide Series win of the season.
This was definitely a learning experience in racing for me. Not only have I started to learn the rules of NASCAR, I learned what a NASCAR race normally looks like. The last few races I watched, Juan Pablo Montoya went flying into a jet dryer and the Orange Cone got run over. Although I have to say, the grand entrance into the pit box wasn't normal. You (sort of) get the point, right? Right.
I also know that for now, I'm more of a Nationwide Series person than a Sprint Cup person. I'm still confused about restart zones and the random cautions that NASCAR throws, though (to quote Jenna Marbles, "What are all of this?!") I think that's about it from me. Now here's Rob and his recap of the Brickyard 400.
Rob's Not So Brick Kissed Up Version of The 400
Some called Sunday's NASCAR Sprint Cup race "the Brickyard 400," while others went by the corporate name of "Crown Royal presents the Samuel Deeds 400 at Indianapolis." No matter what name it went by, the 20th Cup stock car race at Indy was fairly competitive and featured a native son capturing their elusive first win "at home." Fittingly, it went to a racer who was previously called "an ogre" by the driver who captured Saturday's Indiana 250 Nationwide Series race at the 2.5-mile superspeedway. After fruitless campaigns to win this race since 2001, Ryan Newman made his mark at IMS in proper fashion.
The road to Victory Lane started with a track record, qualifying record run on Saturday, when "Rocket Ryan" scored P1 with a hot lap of 187.531 mph, besting Jimmie Johnson and setting the stage for a battle between Stewart-Haas Racing and Hendrick Motorsports for Brickyard supremacy. Johnson sought for an event-record fifth win, as did his teammate Jeff Gordon, while SHR boss and two-time Cup champion Tony Stewart looked to net his third 400 (first overall as an owner/driver). Also, the Chase was one of other storylines, as positions 8th-15th were essentially up for grabs with only 47 markers separated Greg Biffle from Jamie McMurray. In between Biffle and McMurray were Brad Keselowski, Kasey Kahne, Martin Truex Jr., Jeff Gordon, Tony Stewart, and Kurt Busch, all proven winners and title caliber talents in NASCAR racing.
From the moment the green flag unfurled to unleash the 43 car field at full song around Indy to the emotional last lap for a "Hoosier State" hero, each of the storylines took their place on the stage with some expected performances while others limped home to the finish. Newman and Johnson arguably had the strongest mounts on Sunday, combining to lead 118 of 160 laps around IMS. Without a doubt, the race certainly had the makings to go in either direction for Newman or Johnson's teams – until the final stops of the race.
Before delving into the critical pit stop of the race, there was the dramatic shuffling of positions and strategies that parlayed into the final stretch to the finish. After going one lap in the rears and appearing as if it was another "gloom and doom" result for the No. 24 Pepsi Max/Drive to End Hunger Chevy team for Gordon and company, the four-time series champ was on a mission, driving to a brief late race lead before placing seventh and earning his first top-10 points appearance since the season finale at Homestead-Miami, FL last year. Teammates Kasey Kahne and Dale Earnhardt, Jr. also compiled solid performances, good enough for a win but ultimately earning third and sixth place finishes on the unusually cool summer Sunday at Speedway, IN.
Defending Cup title winner Brad Keselowski's struggles continued with a 21st place result, never quite seemingly having the handle with his No. 2 Miller Lite Ford Fusion. Despite his disappointing finish and summer of adversities, "BK" showed some optimism and belief that a Chase seed is still in the offing come Richmond in September. It's not displaced confidence, as Pocono, Watkins Glen, Michigan, and Bristol are next on the schedule and all happen to be strong tracks for the "Blue Deuce."
Meanwhile, Jamie McMurray had about an average day in his No. 1 Cessna Chevy, placing 15th and stands only 22 points from the 10th position in points. Although it may have been an insignificant result that went unnoticed by the mainstream presses, if this team gets on a hot streak and starts winning races, they could certainly make a case for the Chase when the circuit hits up its summer dates at Bristol or Atlanta.
Ultimately, Sunday's race came down to Newman and Johnson, a showdown that started on pole qualifying day and ended on the yard of bricks on lap 160. Specifically, it was down to the wire on pit road, where Johnson's usually unmistakable No. 48 pit crew had some trouble with the right rear tire and resulted in a costly 18 second pit stop. That final stop would cost Johnson a lot more than precious track time – it perhaps cost him a shot at win number five at Indy.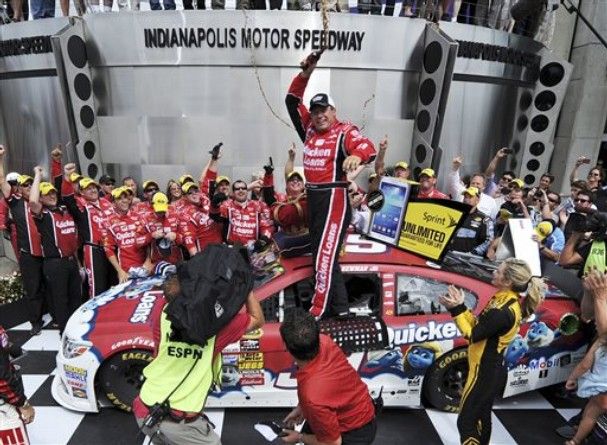 Newman and his No. 39 Quicken Loans/Smurfs 2 Chevy team pounced on this opportunity, electing for some fuel and two fresh tires, gaining command of the lead and holding on to win a very emotional and sterling victory at the legendary speedway. With his father Greg spotting in turn three and joining in the family affair in a celebratory Victory Lane near the Pagoda, it was a touching scene for the "Rocketman." Wife Krissie and his two daughters flanked him and even partook in the traditional "Kissing of the Bricks" during post-race activities, surely one that'll be immortalized in photographs, video clips, and stories for the rest of time.
Like any other points paying race, there was one race winner and 42 disappointed drivers and teams who came up short on race day for the trophy and glory. However, this wasn't just any other event. It was at Indy, and while it may not be Darlington, Daytona, or even Charlotte in terms of "stock car history," it is the epicenter of American auto racing where no matter if it's a stock car, open wheel car, or sports car, to quote the brilliant Al Unser Jr., "You just don't know what Indy means."
Before concluding my portion of the recap, I want to dedicate this piece to my family, who's been fiercely loyal to me since day one and still stands by me no matter what with my dreams in life, including racing. Also, this one goes out to my extended family, the two sisters in my life from another family. Isabelle and Alyssa, if life could assign co-drivers or a crew chief and teammate in a winning organization, you'd both fit those roles perfectly. Thank you!
Authors' Notes: The above was our opinions and express those of Rob Tiongson and Isabelle Beecy, who both love racing, enjoy the action, and are looking to realize our motorsports dreams! If you want to get more of our thoughts, check back each week for our race recaps and if you have any suggestions, comments, or ideas you'd like to share with us, tweet them to us at @ThePodiumFinish and @indyfan1994!