As we head into the dog days of summer, Team TPF looks back at the races that were at Mid-Ohio and Pocono.
At long last, the IZOD IndyCar Series returned back to the motorsports scene last weekend with its annual date at the Mid-Ohio Sports Car Course in Lexington, OH. In a somewhat strange occurence, the race was incident free, with drivers mostly staying out of each other's way. Ultimately, a new race champion emerged on top of the podium.
Hours before, NASCAR Sprint Cup racing was on the center stage with its annual second summer date with the GoBowling.com 400 at Pocono Raceway. Fans and critics had long predicted this race to be a boring event but instead, it turned out to be a dandy for the competitors at "The Tricky Triangle." A familiar face returned back to the winner's circle at Long Pond, PA and it was a Hendrick driver - take a gander as to who that was!
We'll start things off with Isabelle's Recap of the IndyCar race from "The Buckeye State!"
Kimball Conqueres Mid-Ohio, Earns First Career IndyCar Win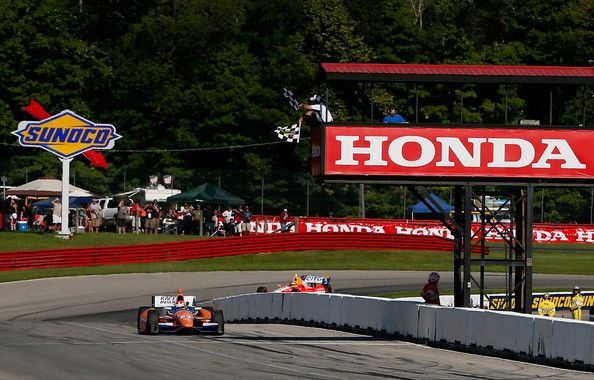 This weekend was IndyCar's annual visit to the Mid-Ohio Sports Car Course in Lexington, Ohio, for the Honda Indy 200, and the first-time winner theme continued as Chip Ganassi Racing's Charlie Kimball took the checkered with Simon Pagenaud in second and Dario Franchitti in third.
The last thirty laps of the race were the most eventful as it went caution-free the entire 90 laps. On lap 60, Ryan Hunter-Reay unfortunately had more pit stop issues as he missed his pit box and had problems with fueling. And on lap 65, Tony Kanaan had to pull off onto an access road due to a loose tire on the car. There was also a good battle for many of the top 10 spots during the last 30 laps of the race.
I'm so excited for Charlie Kimball. This is his third year in IndyCar and had only led a handful of laps in the series prior to this race. He has also earned 4 top five finishes and 12 top ten finishes in his IndyCar career. This finish was well-earned and well-deserved for the underdog of Chip Ganassi Racing. His last win was in 2006 in the Formula Three Euroseries over in Europe, so it's been a while.
Also, I'm happy for Simon Pagenaud and Dario Franchitti. Pagenaud has had pretty big success in the IndyCar series so far with one win, eight top five finishes, and 18 top ten finishes in the past two seasons. He's got serious potential for more here in the United States. While Franchitti has four championships and three wins at Indianapolis Motor Speedway, he has yet to win a race this season. However, he does have three poles, six top five finishes, and 10 top ten finishes so far this season, so it's not like he hasn't been doing all that terribly.
I have mixed feelings about the race going caution-free. It means drivers weren't being reckless and stupid. But I feel like it also means drivers probably weren't going as hard as they have been. They weren't trying to find that small gap, you know? I know there were drivers going at it and were taking chances.
Bryan Herta Autosports' Luca Filippi was going at it with Graham Rahal for a while. Simon Pagenaud and Charlie Kimball were battling it out for a few laps as well. But it wasn't like the first Detroit race where Will Power tried taking the inside on Dario Franchitti on one of the last laps, misjudged the space between Franchitti and the wall, and crashed out.
It's clean, hard racing but it's not as daring and brave as I've seen the racing be this season. I know it sounds harsh, or weird, or what have you, but that's how I see it. I like clean racing, but you can be daring while being clean as well. Now here's Rob's look back at the NASCAR race at Pocono.
Kahne Plays Birthday Crasher for Gordon and Kurt Busch at Pocono
Jeff Gordon and Kurt Busch went into Sunday's Pennsylvania 400 with two missions: to get the checkered flag as a "treat" for their birthday celebration and to solidify a position in the Chase for the NASCAR Sprint Cup Championship field.
However, Kasey Kahne and his No. 5 Farmers Insurance Chevy team had other plans and it included the race trophy and maximum points to be more than just a player in the Chase. Just as the TV panel of their car read #PlanToPerform, that's exactly what they did at "The Tricky Triangle." Leading 66 of the 160 laps at Long Pond, PA's mammoth 2.5-mile superspeedway, Kahne put the spurs to his machine, capitalizing on pole sitter Jimmie Johnson's crash just around the halfway point of the race.
The Enumclaw, WA native's Chevy was fast to begin with in race trim, going from the 18th starting spot to the head of the class by lap 58. Driving a smooth, cool race with excellent pit strategy throughout the GoBowling.com 400, Kahne and crew chief Kenny Francis didn't throw spares at the field – they got plenty of strikes and the big turkey to boot.
Gordon would come close to seizing a perfect birthday present on the penultimate restart with 8 laps remaining, drawing a bead on race leader Kahne before pulling off a slide job on the front straightway. Maintaining about a 4-5 car length lead over his teammate, the final caution flew on lap 156 when Matt Kenseth made light contact in the Tunnel Turn's inside retaining wall.
Opting to restart on the inside line, Gordon had a solid jump on Kahne and the race leaders, doing his best NHRA impression into turn one. Ultimately, the birthday candles went out on a 42nd birthday celebration for the pride of Vallejo, CA, as he went door-to-door with Kahne from turn one into the entrance of the Tunnel Turn. Someone had to give in the tight second corner as both drivers negotiated their way to the infamous section of Pocono Raceway. Kahne then made like a tree and left Gordon and the field behind, pulling away to get his second win of 2013.
"I about gave it away. Jeff got by me," Kahne said in Victory Lane. "And then on that final restart, I spun my tires and he got a great jump. Kurt (Busch) pushed me all the way into (turn) one which really helped and I had one opportunity: it was either go for it and make it work or not."
His daring move paid off, jumping a position in the points to eighth and instead of worrying about being on the bubble for the "playoffs," he now enters a new realm for the title hunt. If the Chase started, he'd be in a three way tie for third position alongside Kevin Harvick and Kyle Busch.
As for Gordon, the finish invoked some emotions from the four-time series champion with some disappointment. While second place was a solid showing and bumped him up to ninth in the overall points standings, it was a win that slipped away from Driver 24.
"It's so funny how our emotions go up and down in this sport," Gordon said. "Going into the race if you would have told me I could finish second I'd have said that was a great birthday gift. When your leading -- take the lead away from Kasey the way we did on that restart, I thought we had him. He was better than us, but I thought out in front we could hold him off."
Trailing the Hendrick duo of Kahne and Gordon was Furniture Row Racing's Kurt Busch, who also celebrated his birthday (35th) with a near winning performance. A finish that shouldn't go unnoticed, the 2004 Cup champion further strengthened his chances at a Chase seed.
Rounding out the top-10 were Brickyard 400 winner Ryan Newman, Dale Earnhardt Jr., defending series titlist Brad Keselowski, Joey Logano, Kyle Busch, three-time Cup winner Tony Stewart, and Greg Biffle.
Watkins Glen International plays host to the NASCAR Sprint Cup drivers and teams with next Sunday's Cheez-It 355, where Marcos Ambrose hopes to put on a three-peat performance for the win. ESPN will carry the race telecast starting with NASCAR Countdown at noon ET/9 AM PT followed by race coverage at 1 PM ET/10 AM PT. For one week, it's not just how fast one can turn left, but also how quickly they can turn right.
Authors' Notes: The above was our opinions and express those of Rob Tiongson and Isabelle Beecy, who both love racing, enjoy the action, and are looking to realize our motorsports dreams! If you want to get more of our thoughts, check back each week for our race recaps and if you have any suggestions, comments, or ideas you'd like to share with us, tweet them to us at @ThePodiumFinish and @indyfan1994!