In NASCAR racing, it's more than just the search for glory in the form of capturing the checkered flag and hoisting the trophy that symbolizes conquest of a weekend at the asphalt arena. It is about the search for speed, consistency, and building chemistry to strengthen a dynamic between a driver and their team. For James Buescher and the No. 99 Rheem RAB Racing Toyota Camry, the 2014 Nationwide Series season has been an exercise of patience. While Buescher sits eighth in the points standings after 16 races, he's also in the midst of transitioning into a different style of stock car racing.
For the past five seasons, Buescher competed in the NASCAR Camping World Series, primarily driving the No. 31 Turner Motorsports Chevy Silverado. Among his highlights are his six career wins, and the 2012 Truck title, which saw the Plano, TX native sweep the races at Kentucky Speedway. Nowadays, his racing dreams continue on with RAB Racing, a staying power in the Nationwide ranks that has piloted cars for Kenny Wallace and Alex Bowman. Buescher is candid with evaluating his season thus far, recognizing his team's areas of strengths and the key areas in which they are looking to improve on for the remainder of the season.
Saturday afternoon's Sta-Green 200 kicks off the second half of the Nationwide season and it's an opportunity for the 24-year-old racer and his team to build on their performances and work on making their way into Victory Lane. Prior to Friday afternoon's second practice session, I caught up with Buescher to get his thoughts on his season thus far and his take on the race this weekend here at New Hampshire Motor Speedway. Here's my exclusive one-on-one interview with James Buescher, driver of the No. 99 Rheem Toyota Camry from the RAB Racing shop, straight from Loudon, NH.
Rob Tiongson : We're at the halfway point of this season and you're in the top-10 in points. That's not too bad but what are some of the areas of opportunities that you and No. 99 team are looking to improve on?
James Buescher : We just need to improve our speed on a weekly basis. It seems like we're a little bit off on speed and while we improved on handling since the beginning of the year, our speed has seemed to have gotten a bit worse. We've had our cars drive better in the last couple of weeks.
Our test day at Kentucky went really well. We were able to get a lot more drivability in our racecar to get through traffic better and have more mechanical grip. We've made some improvements there and we just gotta keep our heads up and keep digging. We've got some work to do to improve our program and hopefully, get some better runs in the second half of the year for our Rheem Toyota Camry.
RT : Absolutely. What are some of the things that you are liking so far with your team, especially as you've come from the Truck Series to Nationwide Series?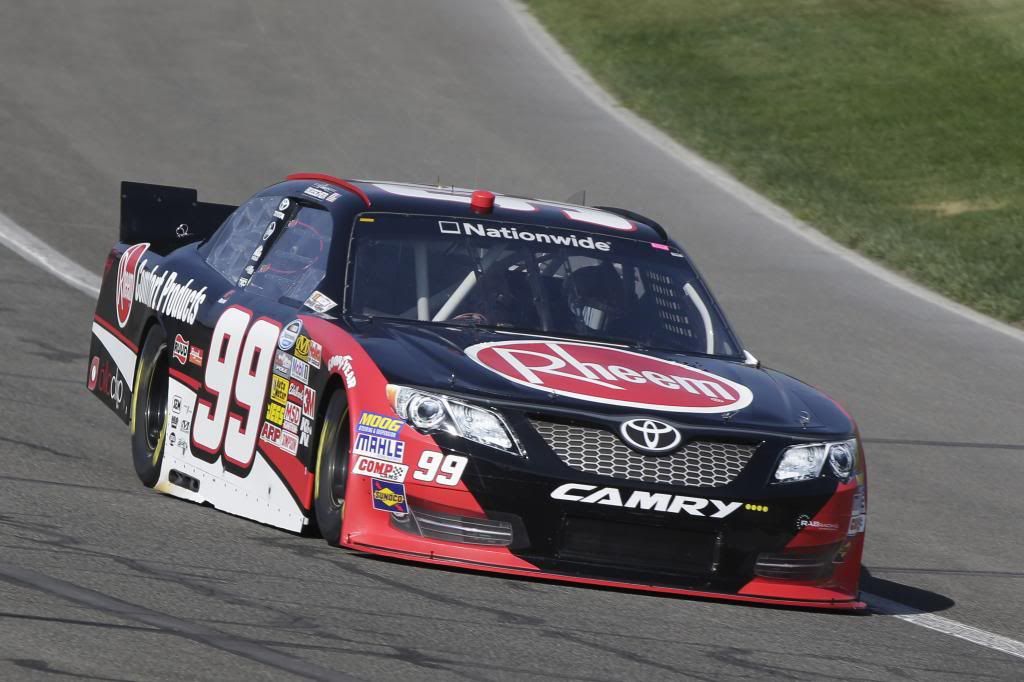 JB : I enjoy Nationwide racing. The Truck and Nationwide cars race so different that it's taken a little while to get used to being Nationwide only. It's the first time in my career that I've been Nationwide Series only. I've always had a Truck deal part-time if I was running Nationwide or a Truck full-time with part-time Nationwide.
It's a little bit different to not have that and just be used to getting in the Nationwide car constantly. The competition level is so stiff in this series and just trying to find the speed that we need to compete with these guys is a challenge. We're going to keep working at it and keep improving.
RT : Being with a Toyota branded team, do you guys work closely together with other teams with Toyota powerplants?
JB : TRD is really instrumental in helping our program and we're really involved in Toyota engineering. We get our engines from Joe Gibbs Racing. There's not a whole bunch of Toyota teams. We really appreciate their support from that department.
RT : Heading into this weekend at Loudon, which is a bit of a tricky, flat track with a lot of action that happens here, what are some of the things that you're looking forward to with this race?
JB : I like this racetrack. It's been a few years since I've raced here in the Truck Series as I was full-time there for the past couple of years. They haven't been running here since 2010 I believe and it's been since then that I've been here. I've had some strong runs here in K&N and in Trucks.
I felt like I should've won a Truck race here a couple of years back and came really close. Things didn't really work out in my favor. Knowing that I've been competitive here and run well, it builds some confidence going into this weekend and seeing what we're capable this weekend on a short track.
RT : What's it been like to work with the No. 99 team which has been a long staying power in Nationwide racing?
JB : It's been fun. We've had our challenges but we're having fun and doing what we can to overcome the challenges that come our way. We just have to keep working our way to improve our performance with a few top-10's.
RT : What would you consider to be a successful 2014 season?
JB : If we can start running better with a few top-fives and compete for wins before the end of the year --- our goal this year was to find Victory Lane and right now we've got some work to do to get there. But it's definitely very possible.
Author's Notes : You can "Follow" James Buescher and the No. 99 RAB Racing Toyota team on Twitter for all the latest thoughts on and off the track. Also, photos are courtesy of CIA Stock Photo. Our thanks to James and RAB Racing for letting us talk racing here at New Hampshire!