Following a hard fought Irwin Tools Night Race last Saturday at Bristol Motor Speedway, Jeff Gordon clambered out of his battered No. 24 Chevy SS, which took the checkered flag in 16th place, a lap off the leaders but not quite defeated.
Sure, it's 15 spots far from glory, which he and his team experienced for a third time in 2014 at Michigan two weeks ago, but it was a humbling run that left the four-time NASCAR Sprint Cup champion putting their most recent performance in perspective.
"We missed the set-up a little bit tonight," Gordon said. "It wasn't our best night, but we fought hard. I like the fight we put up there. We got back on the lead lap and proud to finish 16th. It wasn't our best night."
A promising run that saw Gordon jump to the lead on lap 38 and hover inside the top-10 for the early stages of last Saturday night's race was curtailed by contact with Kurt Busch just after 80 laps. From there on, the No. 24 Chevy was a different beast to handle, with a tire rub on the left rear quarterpanel that eventually subsided, but altered the handling of the chassis for the rest of the evening.
Still, Gordon kept his team in contention for a solid top-10 result before overshooting pit road on lap 170 and he never quite recovered that lost track position. Dropping to 20th in the serial running order. the high water mark for Gordon was 12th, going a lap down on two different occasions and relegating to a 16th place finish that was hardly indicative of the strength and drive of the team that's got the traditional and Chase Grid points lead heading into Race 25 at Atlanta Motor Speedway.
"We keep bringing great race cars and race teams to the race track," Gordon reflected. "Right now I'm kind of glad this track is not in the Chase because it was tricky tonight. It was just really challenging. I would hit one good lap and I couldn't do it for the next 10 laps. Then I would hit another good lap and just the way the rubber was building up in that outside groove it was really challenging.
The conditions were a lot different than in practice. Looking back on it, I wish I would have worked on a couple more things in practice and been better tonight."
Following their lost opportunity at Bristol, the No. 24 team, led by crew chief Alan Gustafson, look forward to Sunday evening's Oral-B USA 500 at Atlanta Motor Speedway, a 1.54-mile track that Gordon's captured the checkered flag on five occasions (1995, '98-'99, '03, and '11). His most recent victory at this challenging quad-oval was a milestone 85th triumph over Hendrick Motorsports teammate Jimmie Johnson on a rain-delayed, Tuesday afternoon special.
This time, Gordon and Gustafson look to lead their team to a Labor Day Sunday evening win, something this combination has yet to do at this venue. Although Gordon captured a rain-delayed and shortened Atlanta race in the 1998 season finale, it's been a while since he's crossed the stripe first under nighttime conditions at this Hampton, GA speedway.
Sporting the blue, white, and black colors of Panasonic on their No. 24 Chevy, this potent Cup combination look to score an important fourth win prior to the kickoff of the Chase in three weeks at Chicagoland Speedway. With finishes of 13th, first, second, and sixth in their past four Atlanta races, a 5.5 average finishing position isn't too shabby and that may translate into a strong performance at the very least.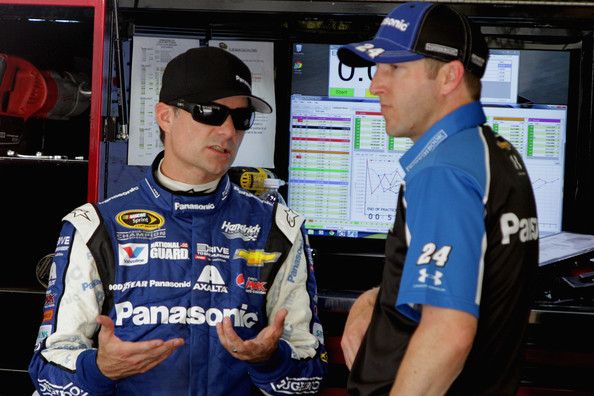 Call it a good tune up for the Chase, which will see half of the 10 races run at tracks at least 1.5-mile in length. Maybe it's motivational to nab a fourth win to get a step closer to clinching the No. 1 spot in the Grid at Joliet, IL.
Perhaps in this case for Gordon and company, it means that after finishing 16th or worse this year, it's followed up by a checkered flag. Limping to a 39th place finish at the May Talladega race, the Vallejo, CA native came back to win at Kansas. A bitter 26th place result at Loudon, NH in July saw the No. 24 Chevy cross the famous yard of bricks first, while a 34th place catalyzed by equipment issues at Watkins Glen resulted in a win at Michigan.
There's no panic button with this team even if it's coming off a pedestrian result at Bristol. Instead, Gordon is focused on executing on all aspects of the upcoming race weekend at AMS, from nailing a good race setup in pre-race practice to brilliant qualifying laps in three rounds resulting in a near perfect race on Sunday evening. Although there'll be 42 other racers and teams that will be ready to pounce, this bunch will be ready to bring their best stuff yet heading down the stretch.