Wins are hard to come by in the NASCAR Sprint Cup series, no matter one's resume in this sport. But for Jeff Gordon, Sunday's win was just that much sweeter at Martinsville, VA.
Competing in the NASCAR Sprint Cup Series is an honor for most drivers and teams who've worked diligently to get to the top level of stock car racing. Winning in this circuit is the ultimate goal of most competitors who dream about hoisting that trophy, basking in the revelation of the winner's circle, and seeing their hard work rewarded with that victorious feeling amongst the media, fans, and surrounding celebratory scene.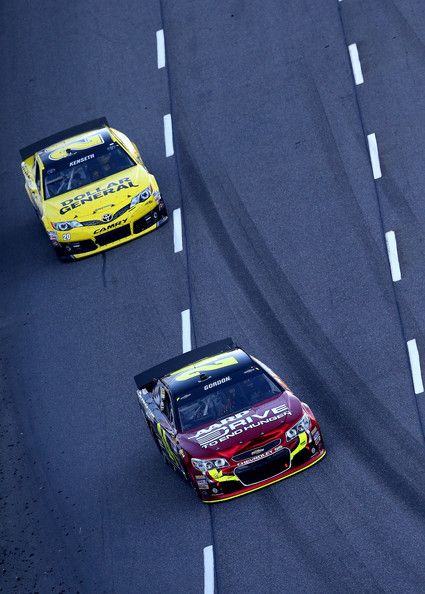 When you've been on the circuit as a winner and champion and those trips to Victory Lane aren't as often as the "glory days," it sure feels like the first time when that return to glory happens. For Jeff Gordon and his No. 24 Drive to End Hunger/Axalta Chevy team, it had been nearly a year since relishing a win back at Homestead-Miami, FL (November 2012). His name doesn't get brought up frequently in terms of those who win races and titles like Matt Kenseth, Kyle Busch, or Jimmie Johnson, but even on a "bad day," he's still one of the better talents of the Cup ranks.
Sunday's race at Martinsville Speedway was a fine illustration of how strong this Vallejo, CA native still is in the Sprint Cup division. Gordon was like a good vintage wine - the longer the race went on, the better his car got. Even when track position wasn't always in their favor (hovering as low as 24th at one point), there wasn't a sense of urgency or panic from the four-time Cup champ nor from his crew chief Alan Gustafson. Keeping themselves in position to win with a strong car and with excellent pit stops, when it counted, that red, black, and yellow No. 24 Chevy SS was right there when it counted most.
Passing co-points leader Matt Kenseth with 20 laps remaining in the Goody's 500, Gordon looked to channel some of the sport's top legends when it came to making that winning move.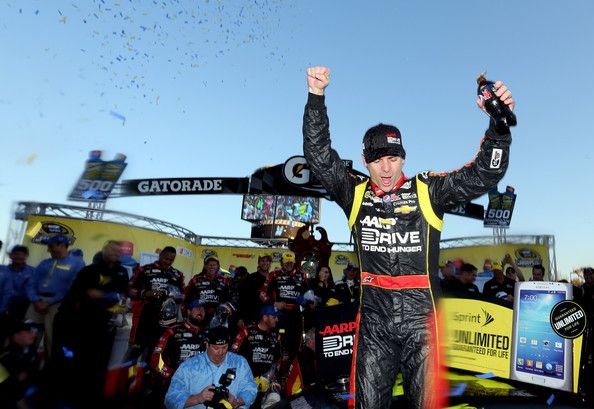 "What would Jimmie Johnson do? Or better yet, what would Richard Petty do?," Gordon said. "The tires really went away on us at the end. I knew his car was good on the short runs but he was putting a really good run together. We had freed my car up and I think at the end there it was a little too free. But every time I saw him slip a wheel, I just tried to conserve my tires and drive the car real straight into the corner and off the corner."
Gordon drove a smart, patient race, as he didn't overdrive his Chevy more than he had to early on in this long event. Starting ninth and with a set-up that was pretty much tried and true for the veteran 42-year-old racer, he steadily drove that car to the front, trailing dominant leaders Matt Kenseth and Jimmie Johnson in the early going before assuming command of the lead on lap 282.
Staying in the lead until lap 338, Gordon was drop back to the mid-20's before parlaying pit strategy, track position, and a smart driving to get back into the top-three in the final 100 laps.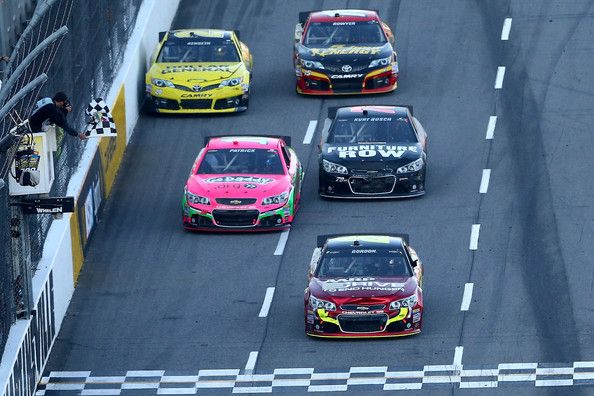 Passing Brad Keselowski for second spot, Gordon began his very steady but patient challenge for the lead and win at Martinsville. Chipping away at Matt Kenseth's lead, in the final laps, it was virtually nip and tuck for the lead. Instead of a usual bump and run move for the win, Gordon simply stuck his car on the inside line, getting a good run into the first corner and a strong drive off turn two to make the winning move.
Maybe Gordon's win will supplant him into the championship, as he now finds himself in the third position, just 27 markers from co-points leaders Kenseth and Johnson. Overlooked virtually all season long, for the No. 24 team, there's no telling how the final three events will play out, as they could easily be one of the dark horse factors for the win at Texas, Phoenix, and Homestead-Miami. A past winner at each track, he could emerge as one of the principal factors in a title race dominated by the Nos. 20 and 48 teams.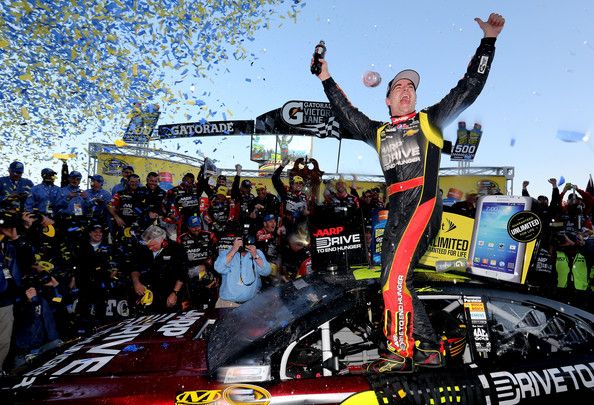 Ever since their entry as the 13th and "third wild card seed" prior to the race at Chicagoland Speedway, it's like this bunch have capitalized on their playoff entry. If not battling for the win, they're gritting it out for a strong top-five or top-10 result when the races wind down. Their pit stops have been amongst the top of the charts, their cars have been stronger, and they've got a driver who, like the name of his sponsor, has a "Drive to End Hunger." In this case, it's the drive to end that "Drive for Five" campaign that's been going on since 2002, and 11 years later, it could be the best "better than late" championship moment that this NASCAR legend's awaited.
But before all those great scenarios could come to fruition for Gordon and his No. 24 team, there's another race to be run, and it'll be next Sunday at Texas Motor Speedway (Live on ESPN at 2 PM EST). Although the 1.5-mile track hasn't been the friendliest to the 88-time Cup race winner, least to say that if they bring a good fast car, deliver with strong pit stops, and that driver's aimed and ready for a fast, physical race, it'll be these three quality races that might end his 12-year title drought.
Ultimately, today's headline and the week's biggest story prior to Texas will be how Gordon accomplished something he'd done on 87 previous occasions. However, this 88th win just has that special feeling to it, as it comes at a time when some of the critics feel that Gordon's best days were far and few in-between, that it's a young sport for the aggressive and bold. Breaking so many streaks, such as his 33-race winless drought as well as an eight year winless drought from Victory Lane at Martinsville and on short tracks in NASCAR Sprint Cup racing. Now, it's time to go drop the hammer and go for the win with next Sunday's AAA Texas 500.