Pocono Raceway is affectionately known as "The Tricky Triangle," as this mammoth 2.5-mile superspeedway is a truly challenging track that drives almost like a road course. Perhaps it comes to no surprise that as a result of this unique configuration, the all-time leading driver in wins at this facility is Jeff Gordon, who's won six races, all coming from the No. 24 Hendrick Motorsports Chevrolet team.
Whether it was with the rainbow colors of DuPont or the maroon, black, and silver adorned Drive to End Hunger ride, it seems like Gordon has won at this track in every possible fashion. This time, the Vallejo, CA native is looking to bring the No. 24 Axalta's "Brilliant Flames" colors with MAACO into the winner's circle.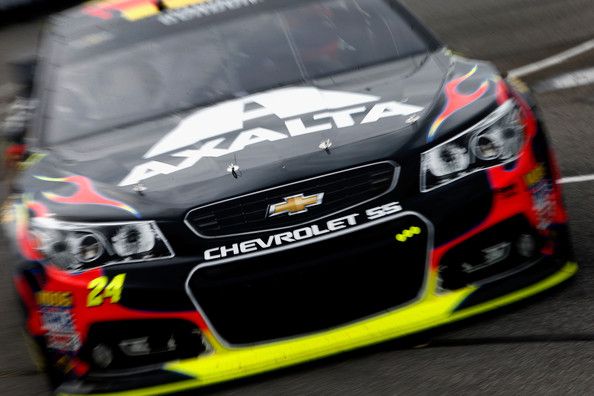 Gordon has dominated in races at this facility to score wins in 1996, '98, and '11. In some cases, he's lucked out thanks to a timely caution or circumstance, like in 1997, '07, and '12. Nearly three years ago, it was just about biding time and being there when it mattered, capturing the checkers.
Most impressively, those wins came in different eras of his career, as Ray Evernham, Steve Letarte, and Alan Gustafson were the crew chiefs during those times in which the No. 24 car entered those hallowed grounds of Victory Lane.
If last Sunday's win at the Brickyard 400 at Indianapolis Motor Speedway was any indication, perhaps that success carries over into a seventh win at Pocono.
"We get here and it's back to business," Gordon said. "We're certainly going back to business with a different mindset of what we're capable of doing as a team and what cars we're bringing to the race track and things like that. This is Pocono. It's similar to Indianapolis, but it's unique and different enough as well that we've had to work pretty hard to try to get some more speed out of the car."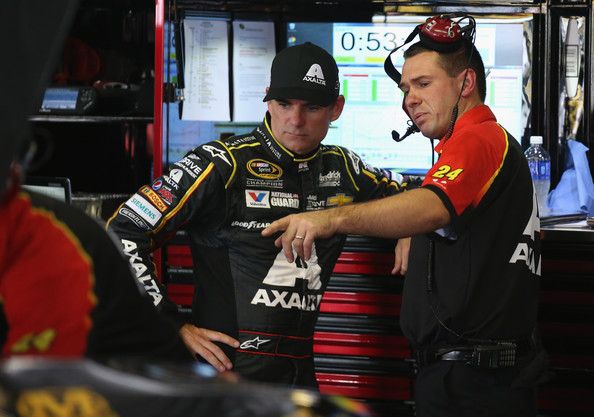 Starting fifth for Sunday's GoBowling.com 400, this weekend has been relatively smooth for the No. 24 Axalta/MAACO Chevrolet SS team, as they posted the 15th, 7th, and 2nd fastest speeds in the three practice sessions. Most of their focus has been on race trim, particularly with an emphasis on their patented strong, long green flag run package.
Utilizing the same car that won the race at Kansas in May, an eighth at the spring Pocono event, and a sixth at Kentucky, the NASCAR Sprint Cup Series points leading team is aiming for their third win of the 2014 season.
Sure, this team could sail (Awolnation style) into the "Race to the Chase" experimenting on setups or simply coast to consistent top-five or top-10 efforts. However, Gordon, Gustafson, and the No. 24 crew are intent on scoring back-to-back wins. If they're able to pull off consecutive checkers in as many weekends, it'll be the first time they've accomplished this feat since the 2007 season (Talladega and Charlotte fall races).
To say the least, Gordon is confident about his team's chances to hoist a trophy at Long Pond, PA, but realizes he may have some work to do come race day.
"Our fastest are laps 3-4," Gordon said. "We'd like the first lap to be better so we can make up spots on restarts."
One of the pitfalls of Gordon's race at Pocono last June was his car's inability to take off on restarts. Although he's admitted that his restart skills may not the best, there were times when he'd keep pace with the leaders but would then get dusted in the opening laps of a fresh green flag run. This time, they are looking to finish the job and apply the experiences from the spring race in efforts to add another win to their strong track record at Pocono.
Confident, poised, and determined, Gordon (who'll turn 43 on Monday) is hoping to celebrate his birthday a day early with some champagne spraying and the obligatory hat dance. After kissing the bricks at Indianapolis with a win propelled by what he called "the restart of my life," he's looking to repeat his victory last weekend to sustain his team's strong efforts in 2014.
Scoring a pair of wins, seven top-fives, and 14 top-10's after 20 races, a third win would mean the overall Chase Grid points lead and most of all, confidence that might serve as bad news for the rest of the competition as the regular season winds down. Look for Gordon and the No. 24 team to be dropping the hammer and vying for that number one spot all race long.