Benjamin Franklin once said, "Energy and persistence conquer all things." If so, the energy and persistence from Jeff Gordon and his No. 24 Drive to End Hunger/AARP Real Possibilities/Axalta Chevrolet SS team will pay off this season in the form of multiple trips to Victory Lane. Gordon and his crew came very close to scoring their first win of 2014 before settling for a runner-up effort in Saturday night's Toyota Owners 400 at Richmond International Raceway.
Leading 173 laps, the most they've led since the spring race at Martinsville Speedway in 2012, it was about as dominant as the 88-time race winner looked in some time. Despite scoring his fourth top-five finish of the year and seventh top-10 overall after nine races, the four-time NASCAR Sprint Cup champion was optimistic about his team's chances with breaking through to the winner's circle soon.
"Anytime you're running this good consistently week in and week out on all different types of race tracks, it gives you confidence as a driver and a team," Gordon said. Always observational, he added, "If you're going to lead that many laps and have that good of a car, you have to close it out. You have to get the win. This confidence will build if we keep running like this. But eventually it can also fall off if we don't put a win or two together."
If the laws of averages hold true, then eventually, those strong efforts will result in a collection of checkered flags in time, as long as the 24 team maintain their strong start to the season. Those great performances weren't the result of sheer dumb luck but rather through overcoming adversities and oftentimes, putting forth some amazing strong efforts on race day. From their strong top-10's from Daytona to Bristol to a trio of top-seven finishes between Texas to Richmond, they've shown great improvement from last season, when they were respectable as a venerable once winning effort that'd get by with top-15's or 20 results.
Nowadays, they're thinking wins and maintaining their focus on a fifth Cup championship, a campaign that has been going strong since 2002. A lot has changed in NASCAR, namely in the form of a new dominant force by way of Jimmie Johnson and his No. 48 Lowe's Chevrolet team led by crew chief Chad Knaus, as well as two generations of race cars and various tire compounds that'd require a media guide or 10 to help even the most avid NASCAR fan to keep count.
In all honesty, Gordon's only had a few exceptional seasons, like that of 2004, with a third-place points finish in the inaugural year of the Chase, '07, a year in which the team just couldn't quite better Johnson's 10-win season, and '09, slowed down by a few grinding crashes and inconsistencies in the last races that year.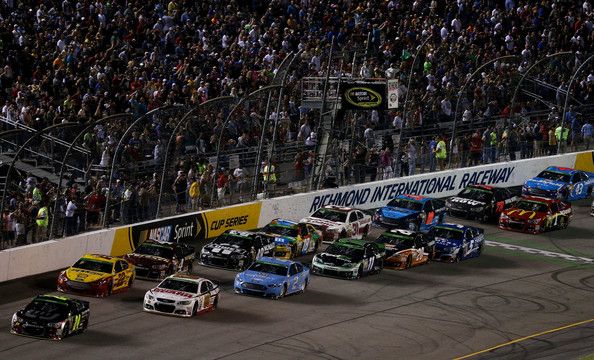 Two crew chief changes later, crew chief Alan Gustafson finds himself possibly in the finest position that he's been in for a Cup championship effort with Gordon and his No. 24 team. After logging an eighth place points finish in '11, 10th in '12, and a sixth last season, this group has placed an emphasis on improving on restarts, qualifying efforts, and overall, closing out races. It seems like they've gotten a grasp of the first two goals for the year, especially with qualifying.
Through nine events, Gordon's compiled an average start of 11.2, somewhat impacted by the 25th starting spot from Saturday night's race at Richmond. Still, this collective's looked quite strong and they're a breakthrough or two away from finally sealing the deal.
Besides Gordon's strong run on the track, the No. 24 pit crew was absolutely on it all evening long with lightning fast stops. Their first stop propelled Gordon from 11th to ninth and consistently, their pit stops were between 12.2-12.7 seconds. Very seldom did the team make any adjustments to the car, only having to make some for minor changes that translated to gains to an already strong Chevy SS. More races like Saturday night's could be the difference maker at the upcoming races at Talladega, Kansas, and Charlotte.
Their only disappointing performance thus far in 2014 came at Martinsville, a typically strong venue for Gordon. Despite a fifth place starting position, the 24 team struggled all afternoon long with the race day set-up, even finding themselves running outside of the top-25 with tremendous front end damage. Instead of folding under pressure, they kept on battling through the adversities and it'd result in a 12th-place finish. Races like those define a team and that performance seemed to light a fire, with a pair of runner-ups at Texas and Richmond surrounding a seventh place at Darlington.
Gordon's next chance at victory comes at Talladega Superspeedway for the Aaron's 499, where the 42-year-old Vallejo, CA native has scored six victories at the 2.66-mile mammoth track. As the active all-time winning restrictor plate racer in NASCAR, "Four Time" looks to improve on his finishes of 11th and 14th last season and take a seventh race win trophy at the Alabama asphalt arena. Sure, it's a track where the odds of winning are as variable as the weather in New England, but if there's a team and driver who can be a constant presence for a win next Sunday afternoon, it's Gordon and the No. 24 crew, who'll be ready to stamp their ticket into this year's Chase for the Sprint Cup battle.