Racing, like most sports, can be about the winners and those who fall short at the end of a long battle in the arena, or in this case, a track like Charlotte Motor Speedway. In some cases, it can be about those who push themselves through the pain and nearly score that sports movie-like victory, such as with Jeff Gordon and his No. 24 Drive to End Hunger/AARP Real Protection Chevrolet SS team.
After starting 27th and having little practice time on Saturday due to Gordon suffering back spasms during the Coca-Cola 600 race weekend, the NASCAR Sprint Cup points leading crew from Hendrick Motorsports dug deep and methodically worked their way up through the field. Although it wasn't a victory for this bunch, a seventh-place run displayed the kind of effort put forth in the season's longest race.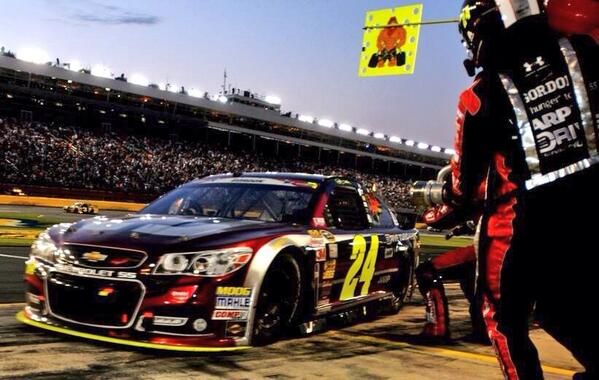 "The procedures and the different work in therapy that I did helped," Gordon said. "There's quite a few people who were tending to me and I appreciate every one of them. I don't think I would have gotten through this long race. It was tough. I was aching in there. There was one time I got on the brakes and it triggered something. I didn't know what was going to happen after that. But it settled down. We had such a great race car."
Gordon sat out the final practice session, resting up for Sunday night's 600-miler and consulting with Dr. Jerry Petty. That time resting and recouping for NASCAR's marathon definitely paid off, as Gordon displayed some intensity and made great passes during the evening in traffic. Utilizing the same chassis that nearly won them the race at Fontana and Darlington, the No. 24 car moved on up through the field like no tomorrow.
Just before the 50 lap mark, Gordon would find himself in the 12th spot. By lap 100, the four-time Cup champion rallied up to eighth position and would find himself inside the top-10 for the balance of the race. On four different occasions, the No. 24 Chevy was at the front of the field, mostly during the pit stop cycles under green flag conditions, and also towards the final laps of the 600.
All season long, the No. 24 pit crew have churned up excellent stops, getting their driver in position for victories. During the final round of green flag stops, Gordon's crew elected to change only right sides and pit for fuel, similar to the strategy that nearly won them this race back in 1994. Banking on a finish that wouldn't have a caution period, just as the field cycled through the stops, a caution for Alex Bowman's crash in turn 3 bunched up the leaders.
As a result, Gordon's nearly brilliant pit strategy netted the race lead but it was one where they were virtually having to hold off a hungry pack of racers who had four fresh tires. In spite of this predicament, the three-time 600-race winner got off to a good restart but surrendered command of the lead to Matt Kenseth. From there on, it was just a matter of hanging on to the car, dropping back to seventh position, where the No. 24 team would ultimately finish.
Still, Gordon was happy with the gamble, realizing it was virtually their only shot at a win in a race that was dominated by race winner Jimmie Johnson and runner-up Kevin Harvick.
"I love the call at the end, just like the call that was made when we won my first race here (1994)," Gordon said. "I don't know if I could have held off Matt, but we were going to give him a heck of a run. The car was pretty good right there. It was just a matter of whether it was going to tighten up over 20-something laps. I got a decent restart, but when Matt got to my outside I got loose. At that point I was a sitting duck. It was a good effort. I'm happy that I got through it. It tells me a lot about what kind of threshold I have. I just want to show this team the kind of commitment I have to them because of what they've shown me this year."
That commitment to excellence and perseverance is truly showing in 2014, as Gordon, up until this point, has shown very little wear and tear from the grind of this season. Instead, he's been focused, determined, and excited to drive that No. 24 Chevy on the track, going for wins, racing aggressively, and showcasing the prominence that he and his team had back in their heydays of the 1990's.
Crew chief Alan Gustafson hasn't been afraid to make some bold calls which have either resulted in a strong finish or sometimes cost them wins. Ultimately, this call was a balance between the extremes. Sure, it was a finish that didn't quite show how strong the car, driver, and team were, but still, it was a race performance that was certainly solid.
A race like the Coca-Cola 600 doesn't win a championship for a driver and team, but it can certainly speak volumes about the direction they can go heading into the long hot summer. Although they may have found their back against the wall, or in this case, Gordon's back acting up, they pressed on, played a good deck of cards on Sunday evening, and while coming home in seventh, it is the effort and performance that may give more credence to the kind of bid this group will make for the 2014 NASCAR Sprint Cup championship.