In a year where Jeff Gordon famously quipped that he would retire if he were to win this year's NASCAR Sprint Cup Series championship, the 43-year-old driver is driving more like "The Wonderboy" during those title years of the late 1990's. The four-time Cup champion took the checkers at Michigan International Speedway on Sunday, winning the Pure Michigan 400 for his third victory of the 2014 season.
Gordon put the spurs to his No. 24 Axalta Chevrolet SS all race long, keeping pace with Joey Logano's No. 22 Shell/Pennzoil Ford Fusion as the two combined to lead 154 of 200 laps. Arguably, the duo had the fastest cars in qualifying and in race trim, unrelenting in their pursuit of a pivotal third win on the treacherous superspeedway.
Logano appeared to have the upper hand on Gordon, as he led a race high 86 laps and was able to dictate the restarts for a majority of the race. However, on the final restart with 17 laps to go, Gordon was not to be denied of his 91st career win.
''Joey, as we rolled up to some of the restarts - not that last one, but some of the other ones - as guys were starting to sort of anticipate it, he was slowing down, and when he slowed down, everybody got bottled up, and then he'd take off,'' Gordon said. ''That last one, I thought he had a good start, but I had a good one, too. Certainly things are going well - there's no doubt about that. I'm as shocked as anybody else.''
Heading into Sunday's race, Gordon and his No. 24 team reestablished themselves as a legit championship contender, taking the checkers at Kansas in May and Indianapolis in July. Witness: since the win at Kansas, Gordon's finished seventh, 15th, eighth, sixth, second, sixth, 12th, 26th, first, sixth, 34th, and now number one at Michigan.
As a result of those consistent performances and the win at Michigan, the No. 24 team now finds themselves with the overall points lead with the "classic" and Chase Grid outlook. Perhaps making this win quite special for Gordon was that it came on a restart in the closing laps, a situation that had previously been a weakness for him in recent years.
''As a driver, especially somebody that's been getting beat up over the years about restarts, it's pretty nice to have the last two wins come down to restarts," Gordon said.
Team owner Rick Hendrick enjoyed his first sweep of the races at Michigan International Speedway, as driver Jimmie Johnson had won the Father's Day race in June.
''I think all of our teams are running well, but this is a big, big win,'' Hendrick said. ''It's great to see Jeff so happy. He's like a little kid again, so I think it's going to be really, really important for the momentum he's carrying right now into the Chase.''
Jubilant and excited, Gordon pointed out that his recent success has been attributed to his crew chief Alan Gustafson, his pit crew, and the staff at the No. 24 shop who work on his cars, getting them to his comfort level, and putting him in position to lead the team into wins at the races.
"It wasn't easy, it's never easy to win," Gordon said. "Aerodynamics are so important. Alan (Gustafson) called a perfect race."
That perfect race wound up with a jubilant victory celebration which saw Gordon, Gustafson, and the No. 24 team take part in the ALS Ice Bucket Challenge, which was posted on the Hendrick Motorsports Instagram account.
Kevin Harvick scored a runner-up result on Sunday, his fourth straight second place finish at Michigan. With another solid top-two result in the past three weeks, the Bakersfield, CA native took to Twitter, tweeting, "Solid day for our @jimmyjohns team! It has been a great month on the track proud of everyone!!"
As for Joey Logano, he came close to defending his Michigan win from last season, but wound up two spots short in third position. Disappointed but resolute for his No. 22 team, Logano held his head high.
''We can win a championship," Logano said. "I really feel we can do that. That's the message I want to put out there. We've got to find a little bit more speed to keep up with one car today - 24 car was the best, only because he was good on the long run. We weren't as good on the long run."
Rounding out the top-10 were Paul Menard, Dale Earnhardt Jr., Clint Bowyer, Denny Hamlin, Brad Keselowski, Jimmie Johnson, and Greg Biffle.
In all, Sunday's Pure Michigan 400 saw 20 lead changes among eight drivers and an average speed of 141.788 mph. Ultimately, eight cautions slowed the race pace down for a total of 37 laps.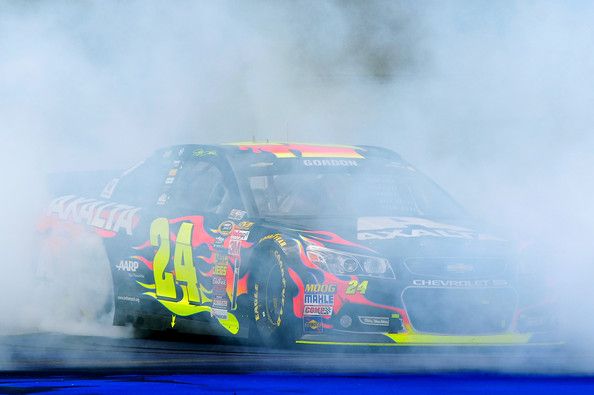 Here's a look at the Chase Grid as the NASCAR Sprint Cup circuit prepares for Round 24 at Bristol (Sat. Aug 23rd at 7:30 PM ET on ESPN on ABC):
Jeff Gordon (Hendrick/Chevy/3 wins)
Dale Earnhardt Jr. (Hendrick/Chevy/3 wins)
Brad Keselowski (Penske/Ford/3 wins)
Jimmie Johnson (Hendrick/Chevy/3 wins)
Joey Logano (Penske/Ford/2 wins)
Kevin Harvick (Stewart-Haas/Chevy/2 wins)
Carl Edwards (Roush-Fenway/Ford/2 wins)
Kyle Busch (Gibbs/Toyota/2 wins)
Denny Hamlin (Gibbs/Toyota/1 win)
Aric Almirola (Petty/Ford/1 win)
AJ Allmendinger (JTG-Daugherty/Chevy/1 win)
Kurt Busch (Stewart-Haas/Chevy/1 win)
Matt Kenseth (Gibbs/Toyota)
Ryan Newman (Childress/Chevy)
Clint Bowyer (Waltrip/Toyota)
Greg Biffle (Roush-Fenway/Ford)