It may have taken 11 races into the 2014 season but at last, Jeff Gordon can finally lay his claim as a NASCAR Sprint Cup winner after taking the checkered flag in Saturday night's 5-Hour Energy 400 at Kansas Speedway. Coming into the race, Gordon and his No. 24 Axalta Coating Systems/Drive to End Hunger Chevrolet team held the points lead, but albeit by a slim margin of three markers over Matt Kenseth. Following the delayed-400 mile race, it's been lengthened to a 15 point difference with the always important and critical Coca-Cola 600 at Charlotte Motor Speedway approaching in two weeks.
Sure, it wasn't a dominant victory or a triumph where the chrome horn had to be applied on the final lap. Instead, it was an important win and it was about being at the right place at the right time. Quite simply put, Jeff Gordon and Team 24 executed a well-timed and performed final green flag pit stop that got them ahead of Kevin Harvick, who arguably had the strongest car of the evening. Harvick's No. 4 Jimmy John's Chevy ran out of fuel when entering pit road in the last round of green flag stops, and it was that blip that allowed Gordon to put the spurs to his No. 24 Axalta "Brilliant Flames" Chevy to a lead that he would never relinquish.
"That whole last run was really strange for me," Gordon said. "I felt like we had a good stop and a lap or two later, I saw Kevin come off pit road on the back straightaway, got ahead of him, and knew it was on at that moment."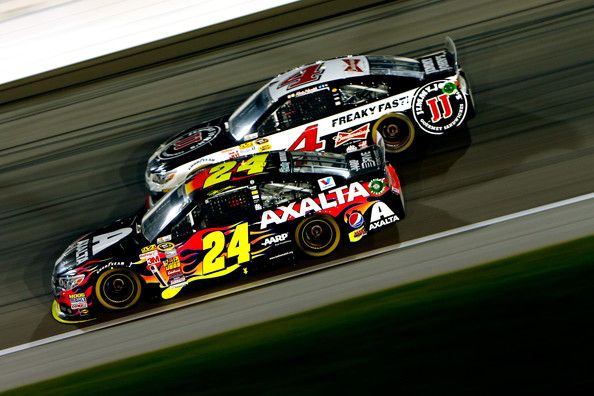 Starting from the 13th position, Gordon steadily gained positions all race long, hovering mainly within the top-five with the exception of a green flag segment in which he hovered between 17th-19th after being trapped a lap down from an untimely pit stop. Taking the wave around, Gordon restarted towards the rear of the field, mired in traffic and in need of a caution flag to get back in contention with the other lead lap drivers and teams.
That caution would come around lap 151, when Jamie McMurray, who ran inside the top-10, had a cut right front tire and smacked the turn three SAFER barrier. While his evening was cut short on the track, it was the catalyst for Gordon's surge to the front of the field. Through a myriad of pit strategies and a car that was adjustable to his liking, crew chief Alan Gustafson and the 24 pit crew got Gordon in position to stalk Harvick for the lead during the final chapters of the race.
As for Harvick, his race was virtually similar to Gordon's, as he also was trapped a lap down when he pitted under green before an ill-timed caution flag came out for Marcos Ambrose's spin in the backstretch on lap 110. From there on, it would take another 98 laps for the two-time 2014 season winner to regain his lead, looking virtually locked up to getting the win before running out of fuel during the last cycle of pit stops. Despite that setback, Harvick ate up Gordon's near 1.2 second lead to just being edged out to the start/finish line by less than 0.11 seconds. Part of that may have been in part to Gordon making a mistake on the final two corners of the last lap.
"At the end, I was trying to stay away from traffic," Gordon said. "I didn't want to get closed in on anybody, wanted to try to have a clean lap. I got through one and two pretty good and I got over to three and the car just went completely sideways on me and I couldn't get in the gas. And I felt I'd look like a bigger idiot if I spun out leading than just trying to make sure I get back to the line first. And so I gave up some speed there, but we won the race."
Overall, the speed was there with Gordon's car and his pit crew, which has been the case all season long thus far in 2014. Typically strong on long green flag runs, Gordon was not sure if it was something that's a testament to his cars or if it was him that liked those stretches in a race. In either case, that is bad news for the competition and whenever the No. 24 team is on a tear like they have been this year, it could be a season to remember for this hardy bunch from Hendrick Motorsports. Not to mention, Gordon corrects fans and critics by pointing out that he won four championships as a Winston Cup competitor, but not under the Sprint banner, something he would like to change.
Perhaps when all is said and done, it might be a season in which Gordon can finally hoist his fifth overall championship. Before he gets there, there's the All-Star Race and Coca-Cola 600 to tackle next, both at Charlotte Motor Speedway. At age 42, it's almost like Gordon has 24 shades of youth and rejuvenation back into his step, and it's showing quite well this season. From the fast cars off the truck to the solid pit stops from the No. 24 team, they are executing on every aspect to be a true contender for the NASCAR Sprint Cup championship.
Some would point out that Gordon's strong start was propelled by the strong finish to last season, when the No. 24 team made the Chase and placed in the top-10 in six of the Chase races, including a win at Martinsville Speedway last October. Others would say that Gordon is refocused, inspired by his family and wanting to have them see him win on the track with race trophies and Cup championships. Whatever the reasons may be, NASCAR's former young gun, who now has 89 Cup race wins and four titles in his illustrious career, is surely looking like a legit player in this year's Chase and title hunt come this fall.
Rounding out the top-10 finishers at Kansas Speedway were Kasey Kahne, Joey Logano, Dale Earnhardt Jr., Carl Edwards, Danica Patrick, Aric Almirola, Jimmie Johnson, and Matt Kenseth. To note, Patrick and her No. 10 GoDaddy Chevy team produced their best career finish thus far in her Cup career, which was just two positions short of the best finish by a female Cup driver (Sara Christian, fifth at the 1949 race in Pittsburgh). Notable results included Kyle Larson (12th), Kyle Busch (15th), Austin Dillon (19th), Tony Stewart (20th), and Ryan Blaney (27th), who made his Cup debut in Saturday night's race.
Saturday night's race also saw quite a few grinding accidents, namely involving David Ragan, Michael Annett, Landon Cassill, and Ryan Treux on lap 60 as well as a scary crash with David Gilliland, Justin Allgaier, AJ Allmendinger, Paul Menard, and Casey Mears on lap 187. Fortunately, all of those racers walked away from those accidents and were OK following their check-ups at the infield medical care center, although their cars were pretty much totaled from their respective incidents.
Overall, 10 drivers swapped the lead on 25 different occasions, with Harvick leading the most laps at 119 circuits around Kansas. Due to the eight caution periods tallying for 47 laps, the overall average speed was only 128.149 mph.
Here's a look at the current top-16 drivers' points standings, with the information inside the parentheses indicating the team, manufacturer, and wins, if applicable:
1) Jeff Gordon (Hendrick/Chevy/1 win)
2) Matt Kenseth (Gibbs/Toyota)
3) Kyle Busch (Gibbs/Toyota/2 wins)
4) Dale Earnhardt Jr. (Hendrick/Chevy/1 win)
5) Carl Edwards (Roush-Fenway/Ford/1 win)
6) Joey Logano (Penske/Ford/2 wins)
7) Jimmie Johnson (Hendrick/Chevy)
8) Ryan Newman (Childress/Chevy)
9) Greg Biffle (Roush-Fenway/Ford)
10) Brian Vickers (Waltrip/Toyota)
11) Brad Keselowski (Penske/Ford/1 win)
12) Denny Hamlin (Gibbs/Toyota/1 win)
13) Kyle Larson (Ganassi/Chevy)
14) Austin Dillon (Childress/Chevy)
15) Kevin Harvick (Stewart-Haas/Chevy/2 wins)
16) Kasey Kahne (Hendrick/Chevy)