Jeff Gordon has fought his way into contention for this year's NASCAR Sprint Cup title. Has it been all luck, good performances, or both?
While all the title talk has primarily been with Joe Gibbs Racing's Matt Kenseth and Hendrick Motorsports' Jimmie Johnson through four Chase events, perhaps some of the attention should go to HMS teammate Jeff Gordon of the No. 24 Axalta/Drive To End Hunger Chevy SS crew. After a slow start to the year, much the FireStorm colors of Gordon's car, this "under the radar" team has stepped it up when it counts, battling with the two dominant points leader as well as with Richard Childress Racing's No. 29 team of Kevin Harvick.
Aside from the teams of Kenseth, Johnson, and Harvick, perhaps nobody's been as hot as Gordon and the No. 24 team. In addition to getting a fortunate break as a late addition to this year's Chase for the NASCAR Sprint Cup Championship battle, they've been pouring it on with strong performances and finishes since late July.
The four-time Cup champion's highlight finishes consist of a seventh at Indy, second at Pocono, seventh at Bristol, sixth at Atlanta, eighth at Richmond, sixth at Chicagoland, fourth at Dover, and now a third at Kansas. Gordon and crew chief Alan Gustafson have gotten their act together with fast racecars that have been adjustable, solid pit stops, and most of all, they've got a driver and team that believe they can win this championship.
"Ever since the Chase started, they've been bringing me awesome race cars," Gordon said following his third place effort at Kansas. "We're having a lot of fun out there. Everything could have gone wrong for us today, and there at the end it actually went right. So, that's nice to have."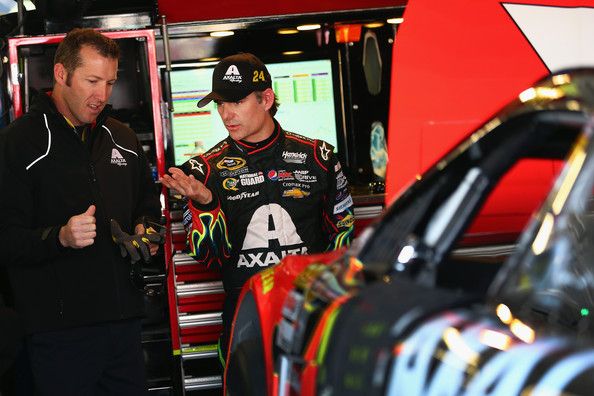 All the makings were there for Gordon, crew chief Alan Gustafson, and the No. 24 team to be derailed and written off the Chase picture, including an ill-timed caution during a round of green flag pit stops for the leaders past lap 120. Getting trapped a lap down initially, Gordon would take the "wave around" to get back on the lead lap in the low-20's. With pit strategy and a fast car, the Vallejo, CA native would find himself back in the top-11 before contact with Kurt Busch and his No. 78 Furniture Row Racing Chevy SS temporarily halted his progress to the front.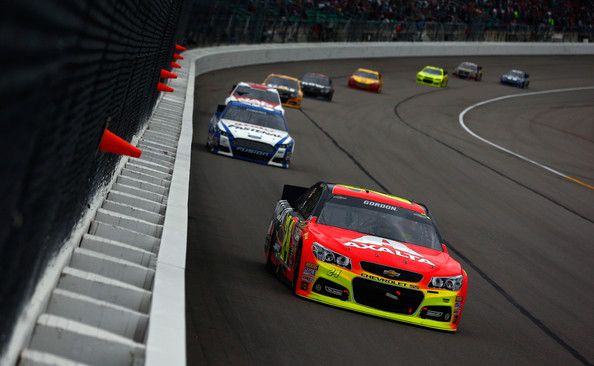 Deciding to parlay some fuel mileage strategy, the No. 24 team repaired some of the right side damage, changed four tires, and fueled their fast Chevy sufficiently to go the distance regardless if the race went on a long green flag run or wind up with caution periods. Restarting from about 28th position with just 60 laps remaining, Gordon charged his way to 11th before another caution flew for debris just 20 laps later. This was the key moment for the Axalta Racing team's race, as they just needed to change right side tires and that gained them eight positions.
After temporarily taking the second spot from Jeff Burton on the ensuing restart, another caution would fly for a grinding backstretch crash that saw Brian Vickers' No. 55 Aaron's Dream Machine Toyota Camry about decimated on both ends. Restarting with less 19 laps remaining, Gordon relinquished the second spot to Kurt Busch, and he'd finish the Hollywood Casino in a terrific third position. All things considered, after being trapped a lap down and also suffering some cosmetic damage that somewhat impacted the handle of the No. 24 Chevy, it was a good points day for the 42-year-old four-time Cup champion.
"It's not a NASCAR race if you don't have a discussion with another driver about an incident on the track," Gordon said in reference to his post-race discussion with Kurt Busch. "These restarts are so tough. Everybody's trying to get every position they can. I got in the outside lane one time and just came up.
"The next lap I got to his bumper and got him loose. That led to him wanting to run into me on the right side on my door. These cars are so sensitive aerodynamic-wise. You just can't have any little damage like that. It did seem to affect our car. I just wanted to have a good civil conversation with Kurt, and we did. We're really proud to finish third today."
While a win would've been wondrous for the No. 24 team, whose last trip to Victory Lane was at Homestead-Miami Speedway last November, they're finding ways to not only finish strong, but to also contend for wins. It's a competitive sport and Gordon's not the young gun that he used to be, but with performances like he's had in the past two months, it's only a matter of time before the grizzled veteran finds himself reveling in the winner's circle. For now, they'll prepare for a homecoming race at Concord, NC's Charlotte Motor Speedway and try to capture a sixth winner's trophy at this famed 1.5-mile speedway.