A decade ago, Jeff Gordon, a then 32-year-old racer from Vallejo, CA drafted his way to a third July Daytona win, celebrating in a soda-filled Victory Lane and scoring one of his five victories. Fast forward to 2014 and it's been that long since the current NASCAR Sprint Cup points leader visited Daytona International Speedway's hallowed grounds during the Independence Day weekend. Tony Stewart, Jamie McMurray, Kyle Busch, Kevin Harvick, David Ragan, and Jimmie Johnson have since won the prestigious midsummer classic while Gordon's best finish in the past 10 summer Daytona races is a third in 2010.
It's safe to say that Gordon and his No. 24 Pepsi "Real Sugar" Chevy SS team are looking to snap their drought at "The World Center of Racing." As the all-time leader restrictor plate winner with 12 wins (six each at Daytona and Talladega), the 42-year-old four-time Cup champion knows how to work the draft and get the most out of his car.
Perhaps his biggest motivator heading into this weekend is that he's yet to score a win at the plate tracks with current crew chief Alan Gustafson. His most recent trip to the winner's circle saw Steve Letarte was atop the No. 24 pit box at Talladega in October of 2007. To say the least, that's been quite a bit of time and much like Gordon's drought at Martinsville between 2005-'13, it would be an exciting moment for this bunch to win at the birthplace of NASCAR racing.
Their most recent race at this 2.5-mile superspeedway was last February's hotly contested Daytona 500, which saw Gordon push Hendrick Motorsports teammate Dale Earnhardt Jr. to his second "Great American Race" win while settling for a fourth place finish. Starting sixth and hovering within the top-10 during the opening and closing laps of the race, Gordon mostly utilized a cautious strategy, racing mid-pack for a majority of the race before he drafted his No. 24 Chevy into contention for a strong finish. This time, the three-time 400-mile race winner is looking to add a fourth summertime trophy to his mantle.
They've taken a good first step with at least getting a solid starting position by posting the fifth fastest speed and time in the only practice session for this weekend's race at Daytona, logging a lap of 201.712 mph. Electing to utilize a brand new chassis after trashing their Daytona 500 car in a 39th place crash related finish at Talladega in May, it appears that Gustafson and his No. 24 crew at the shop and on the track have massaged that body and have a great piece and powerplant to challenge for the pole and race win in the next two days.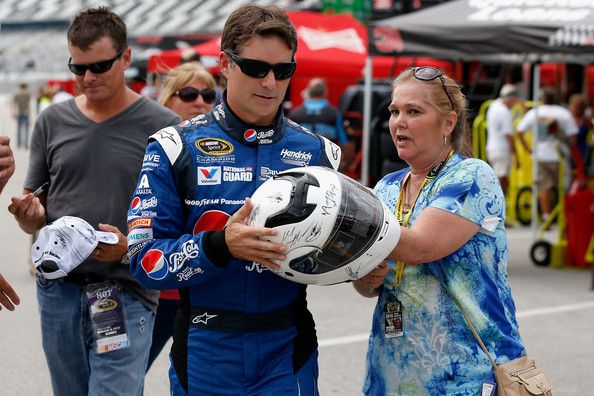 After a solid month of June that saw a 15th at Dover, eighth at Pocono, sixth at Michigan, second at Sonoma, and a sixth at Kentucky, Gordon hopes to have an even better July, with Daytona, Loudon, and Indianapolis on the docket. As the 400-miler kicks off the second half of the 2014 Cup season, it's been a stellar season thus far with a win at Kansas, six top-five finishes, and a series-leading 13 top-10's after 17 races. Those strong performances have catapulted the No. 24 team into the points lead, which prior to this season, was a feat not accomplished since the 2009 season.
Yes, Gordon has gotten older and talks of retirement sometimes surface as many times as the 89-time Cup race winner is asked about his recurring back issues. Although he's hardly "The Wonderboy" or "The Kid" these days, there's been no signs of slowing down or stopping from the No. 24 team. Instead, it's been about reeling off fast pit stops, making smart adjustments throughout the race, and as many racers say, "putting yourself in a position to win." Gustafson has prepared fast cars each race and there's a bit of fire in Gordon's sights when it comes to racing, which is complimented by stellar pit stops and the occasional gamble to contend for race wins late in the event.
For now, Gordon looks to pad his points lead with his second win of the 2014 season. It all starts at Daytona, a track that immediately got the stock car world knowing about him with his Gatorade Duel win in 1993 over a veteran-laden field. Since that upset win, he's won the qualifying race in 2002, '06-'07 and '09, as well as three Daytona 500's and 400's respectively.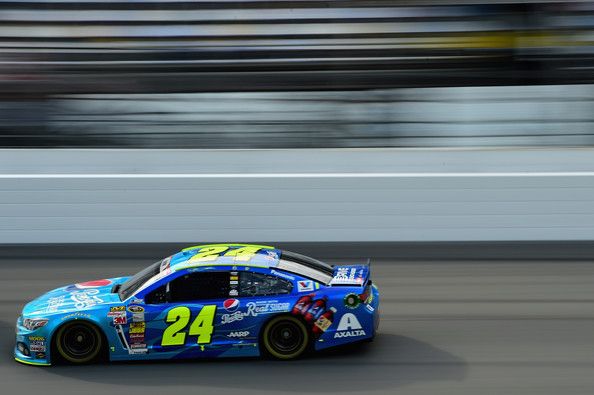 Another trip to Victory Lane at Daytona could be the perfect second win of 2014 for the No. 24 team, who are certainly looking ready to write another winning moment in the long storied history of this organization. After all, it's quite the accomplishment alone to win at this track for any driver, whether as a four-time Cup champ or a rookie racer.
Time will only tell if this weekend's race will lead to career win number 90 but what's certainly in the offing for Gordon and his crew is a Coors Light Pole Award, provided the weather "behaves nicely." Some may recall the pole sitter, but most will remember the race winner and all won't recall who places second. Certainly, this is a team that wants to be remembered as winners when this race is in the history books. Starting in the front is one thing, but to either run ahead or behind the inevitable "Big One" at a place like Daytona is what will truly separate the contenders from the pretender, and Gordon is certainly in the earlier category than in the latter.