Although Jeff Gordon was born in Vallejo, CA, it's perhaps the annual trip to Indianapolis Motor Speedway since 1994 that's felt like a true homecoming for this 42-year-old racer. After all, he spent most of his adolescence in nearby Pittsboro, IN as a cross-country move was the only way for his racing career to excel. Originally vying for an open wheel career and racing in the Indianapolis 500, instead, some fateful events in 1989 led to a dramatic shift with this "adopted" Hoosier State racer's destiny. A test at Buck Baker's stock car school in Rockingham, NC led to Gordon vying for stock car racing, to which he's rewritten the record books in the past 25 years.
Fast forward to 2014, where Gordon's leading the points after 19 NASCAR Sprint Cup races, has collected four championships, 89 race wins, and swung the stock car pendulum from a sport that was Southern in roots into a nationwide phenomenon filled with young gun stars. Sure, there's some grays in his hair and he's gone from the hot shot brash 20-something into the grizzled veteran that's had to reinvent himself in a different kind of NASCAR racing since his glory years of 1995-'98.
To say the least, his performances this season has been solid, with six top-fives and 13 top-10's. He's parlayed consistency to hold the points lead since race 14 at Pocono, displaying brilliance and perseverance with his savvy No. 24 Axalta Chevy SS team led by crew chief Alan Gustafson.
Although it's been 10 years since Gordon hoisted the trophy and kissed the yard of bricks, much like his season this year, he's been steady at this facility, logging 11 top-five's and 16 top-10's in 20 previous starts. With four previous wins (1994, '98, '01, and '04), he's looking like a solid pick for the win come Sunday afternoon (Live at 1 PM EST on ESPN), with fast cars off the hauler, lightning fast stops by his pit crew, and confident calls atop the box from Gustafson.
Much like Gordon, Indy's not the same track that it was in 1994 but in some ways, it's innovated itself in some ways to accommodate the changing cars, tires, and times. As of press time, when the green flag waves for the Brickyard 400, at least one racer who's started the 20 past races at Indy will be there rushing into turn one - Jeff Gordon.
Perhaps the question coming into mind with some race fans is why is this year Gordon's best shot to win at Indy? Besides a rejuvenated No. 24 team, perhaps it's the driver who's also to point out in this equation.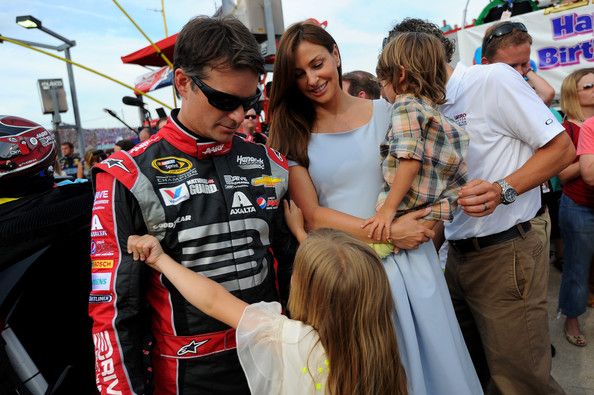 Often, he's pointed out to his family as his inspiration to succeed, as he wants his children to remember him winning races. Maybe it's his wife Ingrid, who's stood by him through some turbulent seasons when those in the sport mentioned the "r" word to him. While Gordon may not race for statistics but rather for wins, a victory on Sunday at Indy would be his milestone 90th triumph in his storied Cup career.
No matter the reason, much like his Axalta ride, his desire to win at this track is about as brilliant and lit up as ever. Posting the 14th fastest time in opening practice, with a brand new chassis at a familiar speedway and a team that's gelled tremendously thus far, it's these intangibles that might be the tell-tale signs of a fifth victory at Indy. Now that would be something that even a young Jeff Gordon many years ago could never imagine, who'd race that quarter midget in California to become an open wheel champion. Reeling in the years, a bid at two "drive for fives" all starts this weekend at IMS.