Think back to the year 1998 when the internet was considered fast at 56 kbps, when a pretend Godzilla movie was in the theatre, and when it was the time in which Jeff Gordon dominated the NASCAR circuit. It was a magical season for Gordon and his No. 24 team, reeling off 13 wins and their third Cup championship in just their sixth full season of racing.
Along the way, he became quite acclimated to Victory Lane at Charlotte Motor Speedway, winning three Coca-Cola 600 events and all in brilliant fashion. From the daring two-tire stop call by then crew chief Ray Evernham in 1994 that netted Gordon his first Cup win to the well-timed pit stop in '97 and then the four-tire change in '98 that saw a charge from sixth to an improbable victory, simply put, Gordon knew the keys to Charlotte's winner circle.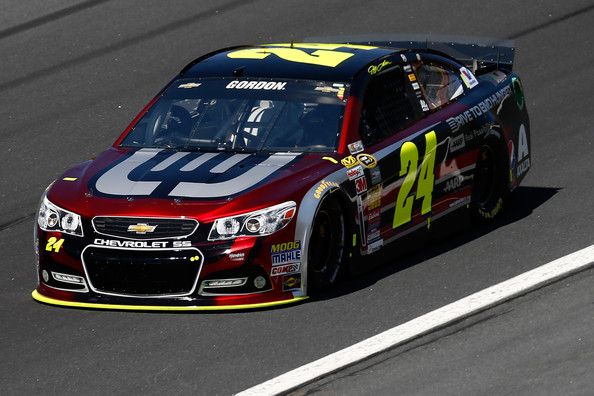 Having said that, he's got a relatively solid track record at CMS, winning five overall events, including the fall classic in 1999 and '07 as well as nine poles at this 1.5-mile facility. In 42 starts, he's scored 15 top-fives and 21 top-10's, all solid indicators that when it comes to some racing at Hendrick Motorsports' backyard, this bunch can get it done. Crew chief Alan Gustafson has set up solid machines for Gordon and his No. 24 Drive To End Hunger/AARP Real Possibilities Chevrolet SS team, but the finishes in the 600 may not reflect the solid effort put forth in recent times by this hardy group.
In 2011, Gordon placed 20th, which hardly showed how solid and fast their car was in that year's race, as they would be trapped a lap down and ultimately relegated to a not so strong finish. A steady seventh in '12 showcased just how focused this bunch could be if the circumstances fell in their favor, while last year's race was about their best shot at winning the 600 before being trapped a lap down and ultimately getting collected in a grinding multi-car crash, placing a disappointing 35th place. The 600 can be a microcosm of the No. 24 team's season and if that holds true, then this year's race will be a far better result than recent memory has served for the Sprint Cup points leader.
This season has so far been one to remember for Gordon and Team 24, as they've reeled off a win at Kansas Speedway in its inaugural night race, asserting themselves firmly into this year's Chase Grid and looking like they're in the midst of a very special 2014 season. Every so often, Gordon will muster a special year that showcases those title years of 1995, '97-'98, and '01, reminding his competitors and the critics that he's still got it at a "seasoned" age 42. Sure, the sideburns have hints of gray and he drinks Pepsi Max, not regular Pepsi, but as Gordon recently said following his victory in the 5-Hour Energy 400, "I feel like I'm 25 again."
And why not? Like the products in his wine business, he's getting better with age and driving as aggressively, tenaciously, and certainly as competitively as ever, whether he diamonds the corners in search of the fastest lane on the track or doing a little paint trading in the winding laps of a race for a solid finish or win. Restarts are improving with each week and his No. 24 pit crew have been on the money, busting off fast stops that have typically propelled him into position for a victory at about every race this year. Much like the old "Rainbow Warriors" era, the wheels are rolling and all the cylinders are running at full song again, which could be serious trouble for the competition.
Coming into this Sunday evening's 600-miler at CMS, Gordon has five top-five finishes and eight top-10's, with Talladega being the only blip in their season in the form of a 39th-place finish. Otherwise, it's been about the strongest that the No. 24 team has been off the gate, busting off four consecutive top-10 finishes and then another string of three top-10's in a row in April.
Clearly, the communication between Gordon and Gustafson is as strong as it's ever been in their fourth season and as a result, they're atop the points standings for the first time since the 2009 season. Words like retirement and health haven't been brought up as of late, as he's kept himself in great physical shape, taking up some cycling throughout points this year. He's also seen his passion for racing with his daughter Ella, who's taken up some test drives with a quarter midget car.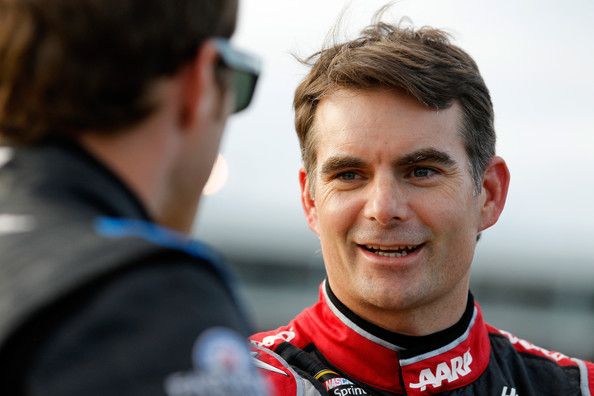 Motivated, focused, driven, and as hungry as he's ever been to finally win a Sprint Cup championship, his fourth 600 win would be a great way to continue his strong, brilliant start this year. As seen in a lot of races this year, when it's a long green flag run, that's when Gordon can step it up and reel in the leaders. Sunday evening's race will be a race that will undoubtedly have a lot of long runs and that could be quite advantageous for the 89-time race winner. Perhaps a bit of vintage "Flash Gordon" will be prevalent in this marathon of a race in Concord, NC, which all starts with qualifying on Thursday evening and ends with what they hope will be a checkered flag in hand on Sunday night.
Gordon often smiles a lot more, enjoys those moments when he's in Victory Lane with his team and family, and most of all, he's having fun again behind the wheel. With more confidence building in time, that can sometimes be all a team needs to have that winning flair, which is exactly what the No. 24 team has shown since the start of the season. It just might finally be the season in which a fifth Cup championship trophy is hoisted by Gordon come November at Homestead-Miami Speedway.