Jeff Gordon and his No. 24 are just 11 markers from making the top-10 in the points. With Atlanta coming up, can they repeat their magic from 2011?
Doesn't this seem like a repeat of 2012 for Jeff Gordon and the No. 24 team? After all, they were on the outside looking in to make "The Chase for the NASCAR Sprint Cup Championship" field, sitting 14th points with a victory and 55 markers separating this potent combination from a spot in the top-10.
Fast forward to 2013, another rollercoaster season, but Gordon and his Drive to End Hunger crew find themselves in 13th, just 11 points from making the top-10. Perhaps as surprising as the four-time Cup champion's struggles is the fact that he's yet to win a race, having last won 24 races ago at the season finale in Homestead-Miami, FL. Despite their pedestrian numbers this year, the 42-year-old driver and his team aren't out of the running quite yet for a playoff spot but the pressure is on for the 87-time race winner.
Gordon realizes that the margin for error to make "The Chase" is razor thin, as they cannot afford to have additional poor finishes between now at Atlanta and the checkered flag at Richmond International Raceway. With five DNF's and just five top-five's and 10 top-10's this year, the time is now to finish strong and get wins.
"This team has a lot of fight in them and you can never give up," Gordon said. "I think similar things last year caught us out into this position and I think similar things are going to get us into it like last year. We just can't make mistakes. We've been making -- me personally, and also as a team -- too many mistakes. We have to eliminate those right now for the rest of the season if we're not only going to be in (the Chase), but if we're going to be any threat for the championship."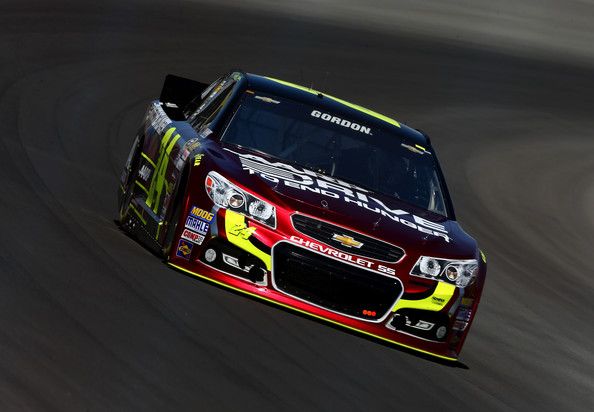 Earlier in the month, Gordon and his team made some mistakes that put them in a rather tough bind for the Chase. In hindsight, Gordon's runner-up finish at Pocono, while a strong performance, may have been a golden opportunity to win a race. Instead, it was a victory that teammate Kasey Kahne dropped the hammer and ultimately brought home for the No. 5 team.
Meanwhile, the No. 24 team has not shown that consistent threat to contend for wins. When they've shown the speed and strength to mix it up with the race leaders, a mistake may occur or circumstances wind up taking them out of the picture. Their lack of consistency (to finish in the front) has been somewhat of their undoing to be a strong contender for a playoff position, but there's still time to make up for their poor results. Ultimately, their mistakes and misfortune have come to mind with race 25 at Atlanta coming up.
Martinsville comes to mind, with a pit snafu costing them a chance at victory, although they would rebound to place third. At Texas, they kept up with the fast Toyota teams of Kyle Busch and Martin Truex Jr. but equipment issues sprung up and sent them on an early trip home to North Carolina. Ill timed pit stops at Charlotte and Sonoma took them out of the running for a win while a mental lapse at Watkins Glen saw the usual road course warrior looking mortal, crashing hard into the wall and placing 36th in a modified looking machine.
Last weekend at Bristol, Gordon had a solid shot to win the race long before qualifying, as he consistently placed amongst the top-five fastest cars in practice. In what's become typical 2013 "luck," the 42-year-old racer didn't back up his fast speed in qualifying, struggling to 32nd and having to parlay pit strategy and hard driving to come home with a seventh place result.
Some argued that if Gordon didn't perform strong at Bristol, that he and his No. 24 team could be written off from the Chase picture. That said, he showed flashes of brilliance and his team, led by crew chief Alan Gustafson, persevered through the 500 lap affair, even when overheating issues developed with their Chevy SS. Nevertheless, they executed excellent strategy throughout the evening and ultimately find themselves just within a cat's whisker of being in the top-10 in points, sacred grounds of being in the Chase.
As the Cup circuit hits up the fast but abrasive asphalt surface of Atlanta Motor Speedway, Gordon and his team relish this Sunday evening's opportunity to not only gain more ground to be in the top-10, but to also win a race. Since the Hendrick Motorsports reorganization prior to the 2011 season, it seems like both driver and crew chief have found a combination that works at AMS, scoring a victory on a rain-delayed race in '11 before placing a close runner-up last year to Denny Hamlin.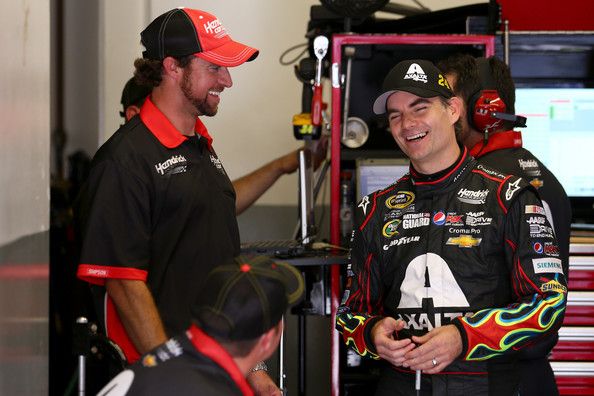 There's reason to believe that the No. 24 Drive to End Hunger Chevy will be amongst the fastest and strongest cars as the teams unloaded their fast arsenals come Friday morning at Hampton, GA. Sure, the No. 78 of Kurt Busch, the No. 18 of Kyle Busch, and the No. 48 of Jimmie Johnson will likely look dominant and strong but if Gordon's past notes at AMS still work, look for a fourth "player" to be in the running for the pole and win.
The time is now to step it up, to race hard and aggressively, and to not patiently bide time to be a factor for the win at Atlanta and Richmond. From here on out, it's about taking chances, running hard each lap, and when in position to win, to hold that lead like it's the last race ever for a win.
Although it's a difficult and precarious position to be in, Gordon and company have been here before and if experience and skills are intangible factors needed to be in the Chase, then this is the best team to make a statement for a playoff position. Chemistry and determination are definitely not a question with this renowned group - it's more or less the drive to drop the hammer and show the willingness and cunning to compete against the best, no matter how the cars may be come race day.