Sometimes, when it's meant to be, it's meant to be, especially when it's on a day named in your honor back home. For 43-year-old Jeff Gordon, who was originally from Vallejo, CA but grew up in Pittsboro, IN, this particular homecoming was about as amazing as ever, as he'd drive his No. 24 Axalta Chevrolet SS from the second starting spot to a historical fifth Brickyard 400 win at Indianapolis Motor Speedway.
Matching the attitude of his "Brilliant Flames" car, Gordon drove with absolute intensity in a brand new chassis from the Hendrick Motorsports campus. He would take the race lead from pole sitter Kevin Harvick on lap two and stay in the number one spot for the next 19 circuits before a competition caution arrived following rainy conditions on Saturday evening.
Despite racing on a green track, Gordon and his No. 24 team, led by crew chief Alan Gustafson, kept focused on their mission: to score a win at Indy. The result was Gordon's fifth victory at this 2.5-mile superspeedway and his 90th NASCAR Sprint Cup career win while Gustafson scored his first ever triumph at this facility. In terms of this season, it was win number two of the season and barring any strange circumstances, a surefire lock into the Chase Grid come September.
Perhaps it was Gordon's winning move that was most spectacular of all that happened on the final restart with 17 to go. Restarting on the outside line, Gordon dropped the hammer and taking the lead away from teammate Kasey Kahne, between turn one and in the short chute to the second corner. From there on, the four-time Cup champion never looked back, taking the checkers and perhaps enjoying this win as much as the inaugural race in 1994.
''I'm not very good on restarts and wasn't very good today, and I finally made the restart of my life when it counted most,'' Gordon said. ''I knew we had a great race car, we just needed to get out front. I was trying not to let it get to me and not think about it too much. And yet you can't help it. It's such a big place and such an important victory and a crucial moment in the season and the championship, and those emotions take over.
''This one is for all those fans throughout the years and all weekend long - they're saying, 'We believe you can get (championship) number five.' We got (Brickyard) No. 5!''
After a couple of decent but somewhat lackluster seasons in the past two years (placing 10th and sixth in points) and struggling to make the Chase field, Gordon's win cemented a Chase spot provided he qualifies for the next six races. Despite a couple of mistakes, including a snafu on pit road during the second pit stop of the race and a few restarts that didn't wind up well in the middle portion of the 400-miler, Gordon drove with determination and precision comparable to that of his early years in Cup.
In a year where NASCAR has seen sentimental victories such as Dale Earnhardt Jr.'s second Daytona 500 win in February, Kurt Busch's return to the the winner's circle at Martinsville, and Aric Almirola's first career triumph at Daytona earlier this month, Gordon's win in Sunday's Brickyard 400 might rank up there with some of the most magical moments of the 2014 season. Not only was it a record breaking fifth win at Indy (in a stock car), it was a milestone accomplishment for the driver once called "The Kid" and "The Wonderboy."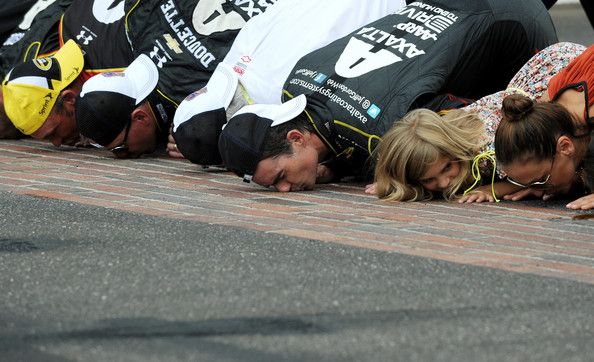 Following the usual Victory Lane ceremonies, Gordon along with his family and his No. 24 team made their way to the start/finish line, where the yard of bricks presided. Looking more like a youthful racer rather than grizzled and steel eyed veteran racer, Gordon kissed the bricks with his wife Ingrid, his daughter Ella, and his Axalta Racing crew in what will likely be one of his most memorable times in his career.
Placing in second was Kyle Busch for a second straight race, taking his No. 18 Snickers Toyota Camry to a podium finish after starting in 12th spot. After expressing some concern about his Joe Gibbs Racing team's struggles on flat tracks at Loudon, Sunday's performance was a promising sign in the right direction for the 29-year-old Las Vegas, NV native. Interestingly, his teammates Denny Hamlin and Matt Kenseth came home in third and fourth place, making it a 2-3-4 finish for his Toyota comrades.
Rounding out the top-10 were Joey Logano, Kasey Kahne, Kyle Larson, Kevin Harvick, Dale Earnhardt Jr., and Austin Dillon. Other notable finishers included defending race winner Ryan Newman (11th), Brad Keselowski (12th), Jimmie Johnson (14th), AJ Allmendinger (18th), Juan Pablo Montoya (23rd), Kurt Busch (28th), and Danica Patrick (42nd).
Here's a look at the current Chase Grid following Round 20 at Indianapolis:
Brad Keselowski (Penske/Ford/3 wins)
Jimmie Johnson (Hendrick/Chevy/3 wins)
Jeff Gordon (Hendrick/Chevy/2 wins)
Dale Earnhardt Jr. (Hendrick/Chevy/2 wins)
Carl Edwards (Roush-Fenway/Ford/2 wins)
Joey Logano (Penske/Ford/2 wins)
Kevin Harvick (Stewart-Haas/Chevy/2 wins)
Kyle Busch (Gibbs/Toyota/1 win)
Aric Almirola (Petty/Ford/1 win)
Kurt Busch (Stewart-Haas/Chevy/1 win)
Matt Kenseth (Gibbs/Toyota)
Ryan Newman (Childress/Chevy)
Clint Bowyer (Waltrip/Toyota)
Kyle Larson (Ganassi/Chevy)
Austin Dillon (Childress/Chevy)
Kasey Kahne (Hendrick/Chevy)