For a driver who's got the 10th best driver rating of racing at Texas Motor Speedway in the past decade, one would think that Jeff Gordon may not look forward to racing at this tricky 1.5-mile speedway. After all, some of the most adverse moments of Gordon's NASCAR career have happened here, with crashes in the 1997-'00 races as well as both 2010 events. On the contrary, he absolutely loves the challenge of this treacherous track, as he pointed out to a few factors with the track's aged surface for why he enjoys the action at the Fort Worth, TX-based venue, much like he did back in 2009 with that important and tremendous victory over Hendrick Motorsports teammate Jimmie Johnson.
"I love Texas Motor Speedway especially every year as the track continues to sort of deteriorate which makes for better racing and more abrasive surface," Gordon said. "You see more fall-off. It is amazing how fast we are for one or two laps, and then you start feeling the pace and the grip level start to fall off very quickly. That, I think, really suits my style, and the way we set up the cars."
In years' past, the No. 24 team admittedly isn't strong at these tracks, typically hovering in the 10th-15th position while carving out a win here and there when possible. Recently, that trend has changed, with finishes of ninth at Las Vegas last month in addition to strong runs last year like seventh at Charlotte, third at Kansas, as well as sixth at Chicagoland and Atlanta. Whether he's found his rhythm or confident again at these tracks, it's certainly a strength that the four-time Cup champion hopes to capitalize on with a win this Sunday's Texas 500.
"Our cars have been amazing this year especially on the bigger faster tracks," Gordon said. "I feel confident that we will also be able to bring that here tomorrow. We've gotten some good practice sessions in, certainly a few challenges that we are working on balance-wise. But the car has good grip and good speed so I feel really good about it."
Crew chief Alan Gustafson and the No. 24 team have elected to bring the same chassis that netted a ninth place at Las Vegas and an 11th at Homestead-Miami Speedway last November. In its two appearances, Gordon's flirted with a strong top-five finish and provided that Sunday's race has a few long, green flag runs, it's the kind of race that might help that No. 24 car climb from the 12th spot to the first position in the 500-mile race.
As if Gordon needed more motivation, he's also carrying the colors of Texas A&M University, as Axalta's CEO Charles Shaver is an alum of the school, thus the Aggie Maroon colors and the likeness on the firesuit and helmet similar to the football uniforms worn on game day.
"I just think it is a great partnership," Gordon said. "Charlie Shaver, the CEO from Axalta, is here and he is an alumni from Texas A&M, so connecting the engineering that goes on within one of the largest coatings companies in the world, as well as the engineering that happens within the teachings of engineering that happens over at Texas A & M as well as how that connects to motorsports, it just makes sense. We are going to have a lot of those students out here this weekend who won the opportunity to be our 12th man. I feel like I've gotten some extra pressure on me to go out there and perform as well."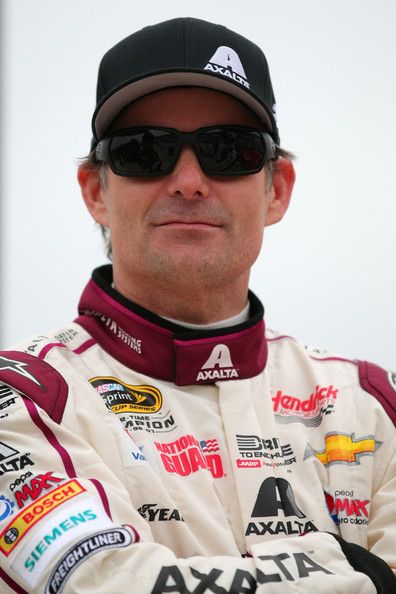 When the pressure's on and a win's on the line, Gordon's gotten the job done 88 times. Although it's been a while since he's won at a 1.5-mile quad-oval speedway (Atlanta '11), it's not been for a lack of effort. Last year, the Vallejo, CA native was running third in the waning moments of the spring race at Texas before equipment issues derailed a promising run while the fall race was curtailed by an early race crash from a tire failure. Simply put, it's either been feast or famine for Gordon at this facility and the hopes are that this year, at least with Sunday's race, a big "W" is in the offing, like that classic '09 race in which he snapped a then-47 race winless streak.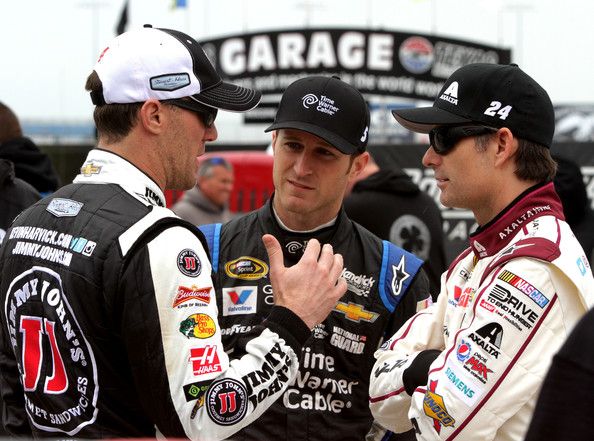 Sitting fourth in points and just 11 markers outside of the points lead after six races into 2014, it's been one of the strongest starts for the 23-year Cup veteran. Overall, Hendrick Motorsports has been solid as a unit thus far this season, with Dale Earnhardt Jr. in the points lead while six-time Cup champ Jimmie Johnson is fifth and 18 markers off the number one spot. Even with the recent aero rules changes during the off-season, this Chevrolet racing quartet, including Kasey Kahne (despite a somewhat rocky start) have been fast, flirted for wins at every race, and most of all, have maintained their dominance in the past decade as the Bowtie Brigade's top effort.
Teammates aside, Gordon and his No. 24 team aren't worried about teammates, points, or rules changes. Instead, it's about getting that win and punching in their ticket to the Chase for the NASCAR Sprint Cup Championship field and both of those concerns can be addressed rather quickly all on race day at Texas Motor Speedway. In the words of the Texas A&M's fight song:
Good luck to dear old Texas Aggies,
They are the boys who show the real old fight,
"The eyes of Texas are upon you"

For Gordon and his No. 24 team, the eyes of the stock car world (and Texas A&M) will be upon him and they just might show the real old fight of what it means to race hard and compete for wins at one of NASCAR's most competitive speedways to the west of the Mississippi River.