There are times in sports when the very best athletes and teams can dig deep and produce more magic when it seemed like those glory years seemed existent only in pictures or films. These are the individuals or organizations whose best days seemed long behind them, but a fire is lit up and sparks determination and reinvigorates life in the present day.
For Jeff Gordon and his No. 24 Axalta Chevrolet SS team from Hendrick Motorsports, it's quite evident that even with all of the successes they've had for the past 22 years, there's still quite a lot of fight and competitiveness in them, particularly with this year's NASCAR Sprint Cup championship. It may seem odd to say that Gordon and his No. 24 team, led by crew chief Alan Gustafson, have a renewed sense of confidence to win races and this year's title.
After all, that is the goal for every team in the circuit. However, when it comes to analyzing one of the most prolific teams in this sport's 66 year history, it's easy to see why this season seems a bit special compared to recent years.
Looking back in years' past, with points finishes of sixth, 10th, eighth, and ninth in the past four seasons, that's hardly the kind of strength that speaks about this team's reputation. This season, it's a whole different situation but it's familiar and in a way, a throwback to not only Gordon's solid track record in his early years, but a testament to what this team's core strengths were in those title years of 1995, '97-'98, and '01.
Last Sunday's Brickyard 400 demonstrated how much fight and desire that Gordon and his No. 24 Axalta crew have when it comes to ultimately hoisting the Sprint Cup championship trophy in November at Homestead-Miami Speedway. Perhaps they're fueled by the fact that they've yet to win a title in the Chase format and that Gordon's last championship moment came long before social media was a prevalent part of life.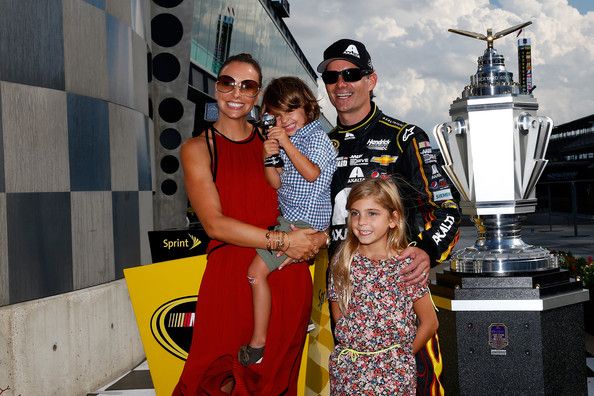 For Gordon, he has to be inspired by his wife Ingrid and his children (Ella and Leo Benjamin), who got to enjoy the spoils of Victory Lane at Indianapolis Motor Speedway as well as kiss the famous yard of bricks. This isn't a 20 something driver who seemed secluded from the masses and only visible near his racecar. Nowadays, this is a very cheerful, easygoing, and an absolutely inspired man who clearly enjoys sharing his successes at his "office space" with his family.
There's many motivational factors that attribute as to why this team appears to be the one to beat in the final stretch of this season. Whether it's a flat track such as Pocono or Indy, the high banks of Charlotte or Bristol, or the winding turns of Sonoma, the 43-year-old racer originally from Vallejo, CA and his hardy crew have been able to execute their game plan to near perfection with a stranglehold on the points lead for the past six races.
"I think the reason we're leading the points is because I believe we're the best team," Gordon said. "I don't believe that means we always have the best race car. But this (past) weekend, we had the best car and the best team. That tells me that if you can do it here, you can do it anywhere. It's certainly going to be a huge confidence boost for this team. We recognize the significance of this."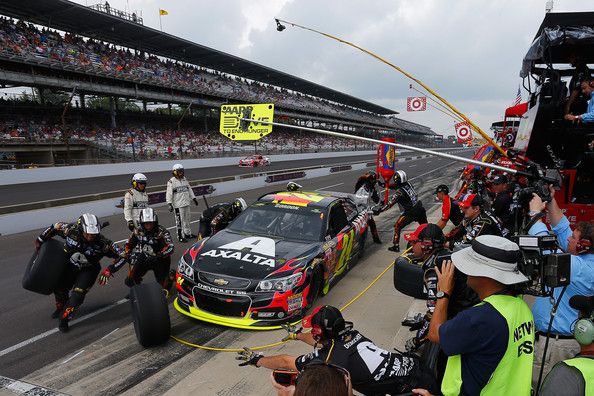 Most of Hendrick's success in recent years have been headlined by teammate Jimmie Johnson and his No. 48 Lowe's Chevy SS team, winning six titles in the span of eight years. Seen as a prodigy to Gordon in his early years, Johnson has arguably been seen and regarded as Hendrick's number one driver. Johnson's crew chief Chad Knaus has been likened to Ray Evernham, a former headwrench who experienced similar success when he led the No. 24 team from 1992-'99 with three Cup titles and 45 race wins.
Both teams have the utmost respect for one another, but it probably doesn't hurt to have nearby inspiration for the title. It starts with Gordon's crew chief Alan Gustafson, who was absolutely set on winning his first Brickyard 400. Having come close to winning a title in 2009 with Mark Martin and his No. 5 team with a runner-up points finish, it's safe to say that this innovative leader is even more poised to nabbing that elusive Sprint Cup championship that would be the icing on the cake of a solid crew chief career thus far.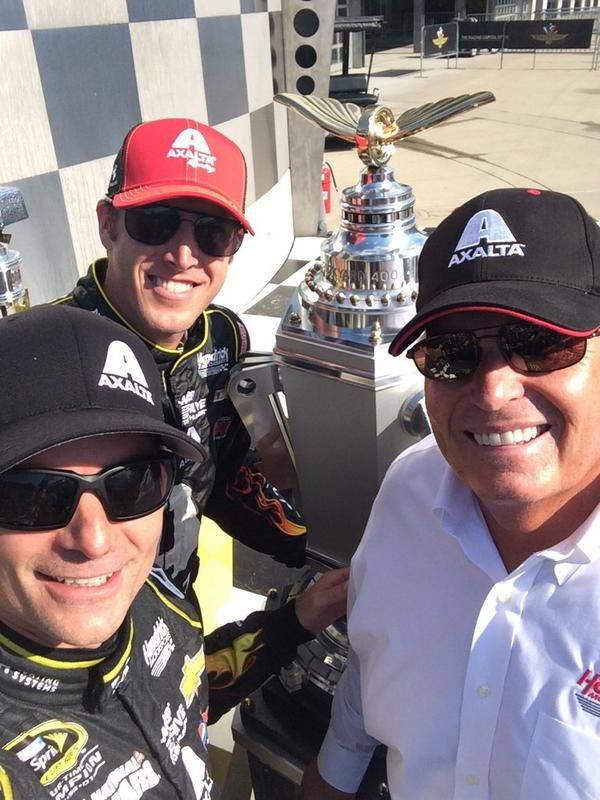 Often overlooked and criticized if a pit strategy backfires or if the car's not up to par, very seldom are the successful days at the track attributed to his knowledge of the cars and trends of the racing weekend. Needless to say, this strong 2014 effort can be equally credited to the confidence that Gustafson has displayed all season long.
Gustafson's emergence as an elite crew chief has led to a strong chemistry with his driver and his pit crew each week, which is prevalent during those routine stops either in green or caution conditions. Consistently, the No. 24 pit crew has busted off some lightning fast 12-13 second pit stops to get their driver in a position to win multiple races.
Sure, this No. 24 team isn't the same one that'll pull off wins by the bunches, opting for consistency with every part of their race weekend, starting from practice to the checkers on race day. With a 10.2 average starting position and a 9.2 average finishing position through 20 races, it's these statistics that do not lie.
On days when their car is amongst the best in the lead pack, they're likely to challenge against Team Penske and Stewart-Haas' efforts at any track. More impressive is that on the days where it's a bit of a struggle, they still pull through with a solid top-10 finish.
Pocono Raceway is the next best shot for Gordon and his team to capitalize on more bonus points prior to the Chase reset when the checkers are out at Richmond in September. With six victories (most recently in a rain shortened race in August of 2012) and a trio of top-10's heading into Round 21 this weekend at "The Tricky Triangle," look for this team to continue their steady, strong effort.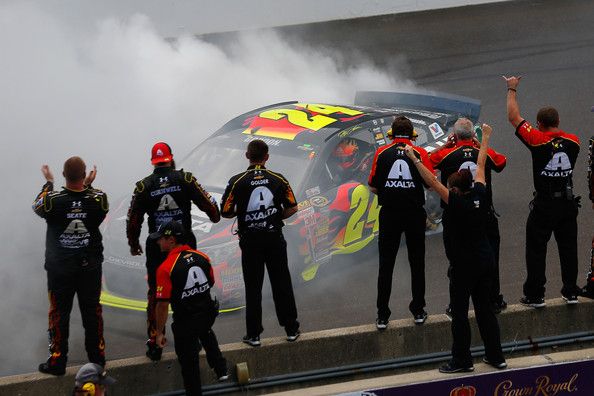 As long as Gordon's desire to win is as fueled up as his No. 24 car with Sunoco on race day, it's all systems go and for the competition, this means a blast to the past in the present day, hard charging era of NASCAR Sprint Cup racing. In an era where each race lap seems to be like consecutive qualifying effort, it's this seasoned veteran and his steel-eyed team that's ready to pounce and capitalize on maximum points from here on out.
It's a long ways from the driver who famously quipped that if he was able to win the title, he would retire by season's end.
"This team certainly has rejuvenated me in a lot of ways," Gordon said. "It makes me want to dig down even deeper than I possibly can to give them everything back that they're putting into it. They've inspired me in so many ways. I'm just having a blast driving awesome race cars."