Rarely does the Coors Light Pole winner clench their fists in the air, stand atop the door of their car, and celebrate the occasion as if it's a NASCAR Sprint Cup win. However, Jeff Gordon and his No. 24 Drive to End Hunger Chevrolet SS team soaked in their first pole of the 2014 season, all happening at the 2.45-mile Watkins Glen International. Suddenly, the driver that's been somewhat forgotten at The Glen has emerged as a contender for a fifth victory at this track for Sunday's Cheez-It 355 (Live on ESPN at 1 PM ET).
Gordon continued a streak of one pole in the past 22 straight seasons, his 75th overall, and third at this challenging road course. Needless to say, the driver who posted the fourth fastest speed in round one was jubilant about his track record performance, as he logged a speed of 129.466 mph.
Making it more special was that this pole performance occurred on his son Leo's birthday.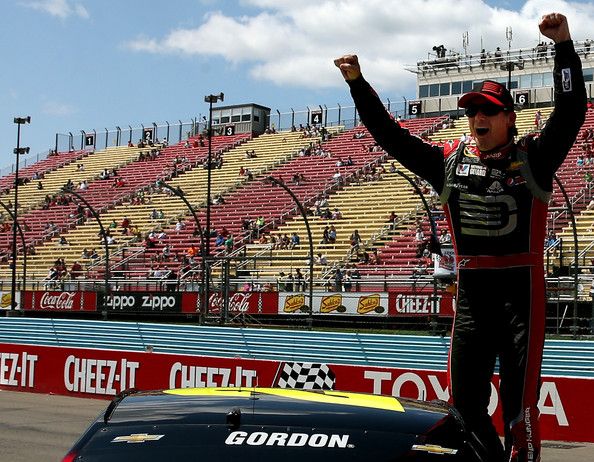 ''This year has been phenomenal,'' said Gordon. ''I wished him a happy birthday this morning and said, 'All right, I'm going to try to get you that pole."
Admittedly, this hasn't been one of Gordon's strongest tracks in recent years, despite a solid track record that's seen four wins (1997-'99 and '01), six top-fives and nine top-10's in 21 previous starts. His last top five was the win in 2001 and his most recent top-10 was a middling 10th nearly four years ago.
Still, those recent struggles seemed all but forgotten, as crew chief Alan Gustafson selected the Sonoma car that netted them a runner-up in June. Although Gordon expressed concerns about the car in qualifying trim prior to Saturday's knockout qualifying runs, he seemed rather enthusiastic about the car on race runs.
"We were fast in race practice yesterday, but I will be honest," Gordon said. "We went into qualifying trim and it didn't go very well. We were pretty concerned. We made a few changes over night, but didn't know what to expect."
Since the Brickyard 400 race weekend, the No. 24 team has been on a tear, as they've started second, fifth, and now first in their past three races. They took the checkers at Indianapolis and had the most dominant car at Pocono before pit strategy relegated them to a sixth place finish. Truly, they've looked like a team that's prime on scoring a third win for 2014 and more importantly, finally getting a fifth NASCAR Sprint Cup championship.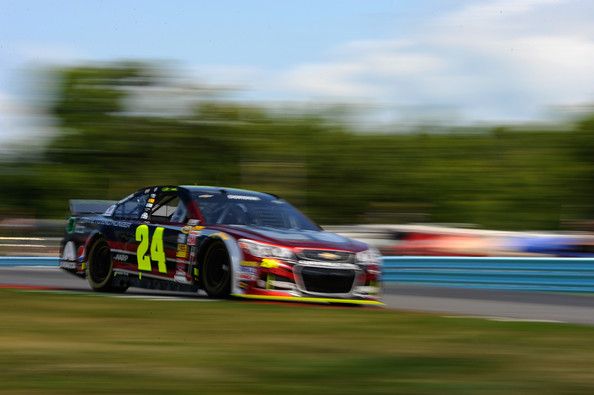 "I'm super excited," Gordon said. "I think the type of year that we are having certainly has given all of us confidence in what we are doing and our race cars. I think Watkins Glen has kind of been a target on our radar because we have run so poorly here recently. You start to lose confidence in what you are doing, your team loses confidence in their car and you get off track and lost a little bit.
That is the way it's been for us the last few times we've been here. With the type of race cars we've been bringing to the race track this year we had hoped with all the effort put into it that it would pay off for us here."
Those cars have gotten faster and stronger for Gordon each race, which interestingly, seem to pick up the pace even after each round in knockout qualifying.
"I have no idea," Gordon remarked. "I honestly thought especially even today I thought for sure that we would drop off, Pocono last week the same thing. It's really incredible to see the lap times get better. I think that is just a credit to the teams and to the drivers of when you make a lap you are always making slight little mistakes. Whether you are under driving it or over driving it or turning in too late or too early and so, when you get a second chance at it, you have that in your memory of, 'OK, the last time I went through here I needed to do something different and you apply that and it works.'"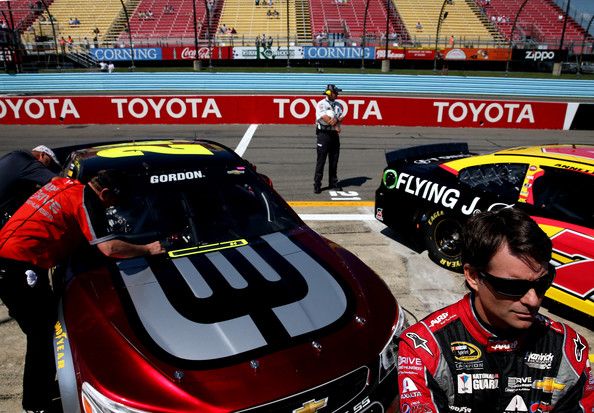 This year, it would seem like the No. 24 team has been able to apply that something different and make it work each race weekend. Rarely have they been off and on race days where they may not have the winning machine, the pit crew reels off pit stops, their driver remains composed, and their crew chief is focused atop that pit box.
On tracks that they may have struggled or compiled a poor result in recent years, their focus has been on cashing in on opportunities for a solid finish. Once they're at a venue that they've had a strong handle at, it's almost as if there's no stopping this Hendrick Motorsports brigade.
Right now, NASCAR's newest 43-year-old in the Sprint Cup ranks is looking at scoring win number three of 2014 and his 91st of his storied career. Those accolades may parlay into the conclusion of Gordon's 13-year-old "Drive for Five" campaign, an impressive accomplishment for the driver currently in the midst of adding to his future NASCAR Hall of Fame numbers.