On some race days, a driver and team may have a car that they'll dub as a winning machine or a "fifth place car," and they'll either wind up getting a better finish or a result that leaves them wanting more as they load up for the ride back to North Carolina. For Jeff Gordon and his No. 24 Drive to End Hunger/AARP Real Possibilities Chevrolet SS team, Sunday's Quicken Loans 400 at Michigan International Speedway was a race where they had a car good enough to nab their second win of the 2014 season.
Instead, due to the track position game via see-saw pit strategies, they settled for a sixth place showing, retaining their points lead but leaving the Brooklyn, MI superspeedway looking at Victory Lane instead of being there. Having last won at Michigan in 2001, Gordon could only wonder about the day that could've been had the game of opposite pit stops not taken place.
"The car was exceptional," Gordon said. "In my opinion, that car belongs in Victory Lane. We lost some track position and when we lost track position we knew it wasn't going to handle good."
From the onset of the race, Gordon kept pace with pole sitter Kevin Harvick, trailing his No. 4 Budweiser Chevrolet for the opening laps before passing his Hendrick Motorsports engine ally for the lead on lap 19. Overall, the 43-year-old Vallejo, CA native on two occasions for a total of 36 laps, with the race's third highest driver rating (117.2) and a chassis that has been a front running, race contending machine at Fontana, Darlington, and Charlotte.
However, Gordon and crew chief Alan Gustafson tried their hardest but the see-saw or opposite of the leader pit strategy game played out. The turning point for the No. 24 team was when they decided to change four tires on lap 103 when the majority of the lead lap contenders took right sides and fuel.
For the remainder of the race, it was a matter of adjusting to a fast car that struggled in traffic. Gordon's dominant machine became a loose, ill handling beast, unable to truly make up for track position until lap 164, when Gustafson decided to put his driver in a position to charge hard and steer away from heavy race traffic.
Although Gordon would find himself 20th and a lap down, he put the spurs to his No. 24 Chevy, charging by then-race leader Kurt Busch, getting them back on the lead lap and solidly picking up positions thanks to a final stop to change right sides and fuel to make it to the finish.
While running out of laps, the two-time Michigan race winner picked off positions like a bandit in the night, climbing inside the top-10 with less than 10 laps left in the 400-miler and eventually scoring a sixth, just a few circuits short of making a bid for a battle for fifth against teammate Kasey Kahne. Once he clambered out of his No. 24 ride, as typical, the pit cap was put on with his sunglasses, with some sweat from a Sunday afternoon drive and some optimism in a day that had more potential than shown.
"Sixth was not really indicative of the racecar or what I felt like we were capable of, but we'll certainly take it," Gordon said.
Last year, Gordon was nowhere in contention for strong finishes at Michigan, getting swiped in a grinding early race wreck in the June race on lap six, limping to a 39th place finish while the August race was a total struggle in the Irish Hills with a forgettable 17th place performance. It would seem like the No. 24 team worked in earnest over the off-season to refine those cars and in practice sessions, they have focused on establishing long, green flag run set-ups, and for the most part, it's worked to their advantage.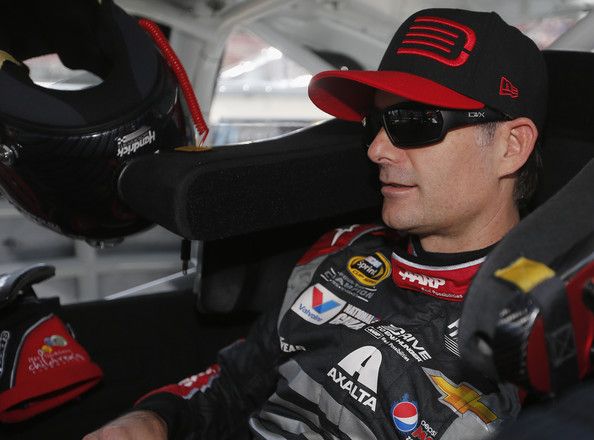 In concert with those solid set-ups, Gordon has been mentioning how he's been having more fun behind the wheel. With a win and the points lead as the season reaches the halfway point, the 2014 season is easily Gordon's strongest showing since that near magical campaign seven years ago, which ultimately saw the 89-time race winner place as a runner-up to Jimmie Johnson for the championship.
Perhaps this time, Gordon and Gustafson are prime and ready to make a serious bid at the Cup. Sonoma Raceway plays host to the Cup circuit, which is a track that Gordon has won on five occasions (1998-'00, '04 and '06). Surely, it's been a while since the Golden State racer has visited Victory Lane at this 1.99-mile road course but as the Billy Joel song goes, "This Is The Time" for Gordon and company to make it happen and score a second victory in this young season to truly affirm a spot in the Chase this fall.
As a matter of fact, these next several races are solid shots to score an additional victory to truly cement that berth to make the Chase Grid, as the Cup tour makes stops at Kentucky, Daytona, Loudon, Pocono, and Indianapolis. Gordon's won at all the upcoming tracks except Kentucky Speedway, with a personal best finish of fifth in 2012. If there was a track that this hardy bunch would love to cross off their list of things to accomplish in 2014, a win at the Sparta, KY track is definitely atop their priorities.
Ultimately, the number one goal for the four-time Cup champion and his young No. 24 team is winning the Sprint Cup title and hoisting that trophy over twilight conditions at Homestead-Miami Speedway. Before they can be in position for the championship, it's about collecting race victories and that is certainly not out of the question for a team that's part of the Hendrick Motorsports campus, who've won the most prestigious stock car prize 11 times. Maybe that 12th Cup will be earned by the man who got future NASCAR Hall of Fame car owner Rick Hendrick his very first one - Jeff Gordon.