For a driver and team that's already clinched a Chase Grid spot, Jeff Gordon and his No. 24 Axalta Chevrolet SS crew are not letting up at all. On Friday afternoon, the 43-year-old racer scorched the track record at Michigan International Speedway with a track record, pole winning effort of 206.558 mph. Overall, it was the seventh fastest qualifying effort in NASCAR Sprint Cup racing history, an impressive feat considering the evolution of the cars and with this 2-mile superspeedway.
Instead of electing to use the No. 24 car that scored a sixth at MIS last June, crew chief Alan Gustafson decided to field the same chassis that won at Indianapolis Motor Speedway last month. Fast, tenacious, and strong on any kind of run, it's a car that's certainly got Gordon smiling, especially after winning his 76th career Cup pole. As for the tremendous speed, the Vallejo, CA native pointed to the track and cars.
''I don't know where to start,'' Gordon said. ''You can point at the repaving of the racetrack. This track is smooth - has a tremendous amount of surface area where the tire can get a lot of grip to it. The next thing is the cars.''
No matter what factors contributed to the blistering pace set in knockout qualifying, it's safe to say that the No. 24 team continues its momentum that seemed to start at the beginning of the season. Currently second in points with two wins (Kansas and Indianapolis), seven top-fives, and 15 top-10's through 22 races, it's been the kind of season that's got the makings for a fifth championship in the offing.
Gordon took to Twitter, as he tweeted, "I sure am having a lot of fun driving the great racecars #team24 @AxaltaRacing r bringing to the track! Awesome pole today @MISpeedway!"
With four races until the Chase's kickoff event at Chicagoland Speedway, some would think that this would be a time for the No. 24 team to not be too concerned with strong performances and results until next month. Then again, every race counts and momentum and confidence can certainly go in unison down the stretch, even for an experienced racer like Gordon and a crew chief such as Gustafson.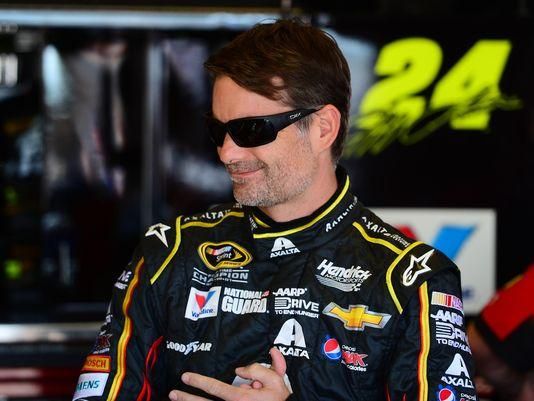 Last weekend was a good example of the No. 24 team, while having locked up their postseason spot, not letting up on their performance and goals. Although they were relegated to 34th place result at Watkins Glen due to electrical issues, Gordon had one of the fastest cars on the track and could have easily been contending for the win late in the going. Instead of having their tail between their legs, they kept on digging for the best possible result, even if they lost the classic points lead.
Fast forward to this weekend at MIS and it's starting off much like it did at The Glen with another pole position and track record. Very seldom does this Hendrick Motorsports brigade succumb to consecutive weeks of struggles, so the No. 24 team is certainly going to be a factor come Sunday afternoon. The four-time Cup champion has scored 18 top-fives and 26 top-10's in 43 prior starts at this venue.
It could be the makings of a third win at this superspeedway and for the 2014 season. All of these could be pivotal in terms of sitting atop the Chase Grid points lead come next month. Currently, Gordon and Gustafson are focused on wins and maximum points for the remainder of the regular season. Michigan, Bristol, Atlanta, and Richmond are all strong suits for the No. 24 team, which may be bad news for the competition.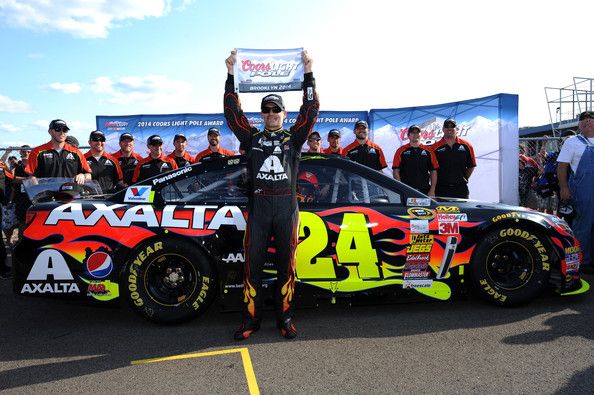 In other words, don't expect any let up from the driver, crew chief, and No. 24 team, as they're determined to hoist the Cup at Homestead-Miami Speedway in November. Instead, expect this racer, whose only "mistake" during this race weekend was forgetting to shave today, to keep at it like it's a championship race each week.
Combine that with a crew chief who's just as ambitious at netting his first Cup series title and a young pit crew that's about as ready to continue the No. 24 team's legacy and it adds up to a potent combination that's ready to make it happen this year.