It was only a matter of time at the right track and right circumstances for a team that's won six NASCAR Sprint Cup championships since the 2002 season. At last, Jimmie Johnson and his No. 48 Lowe's Racing Chevrolet SS team broke through and won their first race of the year, capturing Sunday night's Coca-Cola 600 at Charlotte Motor Speedway. Winning this race for a fourth time, it was a victory that not only put them in position to make the Chase field, but also silenced the critics' main question: "When are you going to win, Jimmie?"
Johnson's response to that five month old question was quite stoic. After the race, he said, "It's great to win. But believe me, I promise you, all the hype and all the concern and all the worry, that was elsewhere. That wasn't in my head. There are plenty of voices in my head, I'm not going to lie, but we've had a great race team."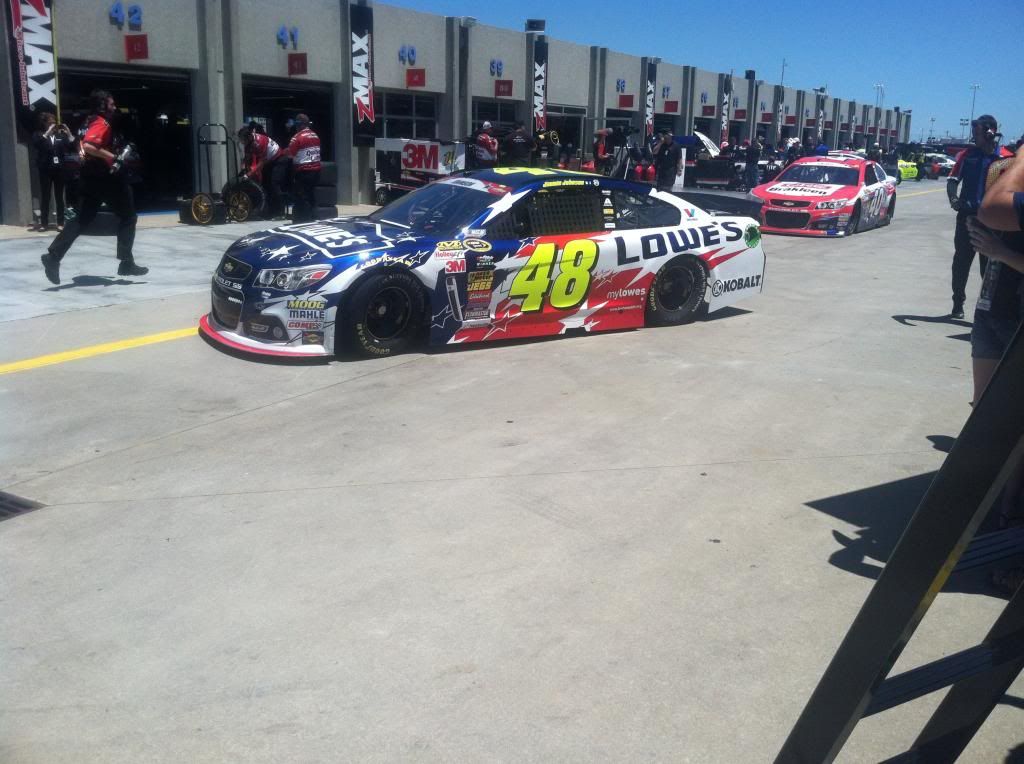 Those voices of dissension were perhaps illustrated in recent races, when some disagreements between Johnson and his crew chief Chad Knaus were aired on NASCAR programs and during coverage of the races. However, those clips were nothing more than frustration that most teams endure at any point of the racing weekend, but were greatly illustrated because of the success of the No. 48 team.
Starting from the pole, Johnson and his No. 48 Chevy led a total of 164 laps on 10 different occasions, ultimately taking command of the race away from Matt Kenseth with nine laps left in the 600. Rarely challenged all evening long, it was a patented, classic, dominant performance for Johnson at Charlotte Motor Speedway, taking his seventh overall victory at this 1.5-mile speedway.
From the moment the car was unloaded from the hauler on Thursday afternoon to the moment it was loaded back for the short drive back to the No. 48/88 campus, Johnson and his No. 48 team made sure it was a race where it was pretty much at their fingertips. Ultimately, they prevailed and the sudden thoughts of when his first win happening have shifted to the number of races this bunch will win for a seventh Cup title in 2014.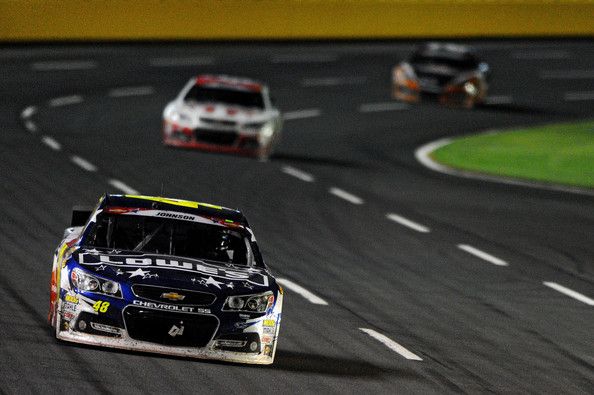 Sure, the urgency to win may have been there but make no mistake; this No. 48 team has been ready to break their way into the winner's circle and the focus from this team was on at maximum setting. There was a sense of focus that perhaps spoke for them more than any press release or conference could do for this entire outlet from the Hendrick Motorsports campus. Now with that first win wrapped up, it could open the floodgates for multiple wins in the coming months, as they now sit sixth in the points standings.
Meanwhile, Kevin Harvick found himself as the bridesmaid once more in a Cup race, although his No. 4 Budweiser Chevrolet wasn't quite the class of the field on Sunday evening. Still, having led the race for 100 laps on five different occasions, if Johnson and his team flinched towards the finish, it may have been this Stewart-Hass Racing collective who would have collected the checkered flag and trophy. Harvick's strong performance boosted him up to the 12th spot in the points race, just five positions behind Joey Logano to nab the lead in the projected Chase grid.
Kenseth and his No. 20 Husky Tools/Home Depot Toyota Camry placed third, nailing down a solid podium finish to trim his deficit from points leader Jeff Gordon to 11 markers. While it wasn't a winning effort for this Joe Gibbs Racing effort, it was still a great, strong performance that's kept them in the hunt for a Chase seed and for a win this season. Hovering inside the top-five mostly all evening long, it's only a matter of time before that first win's in the books for the 2003 Cup champ. Their steady run kept them in the second spot for the points, finding themselves just a moment or two away from being in the same situation as Johnson and his No. 48 team did this past weekend.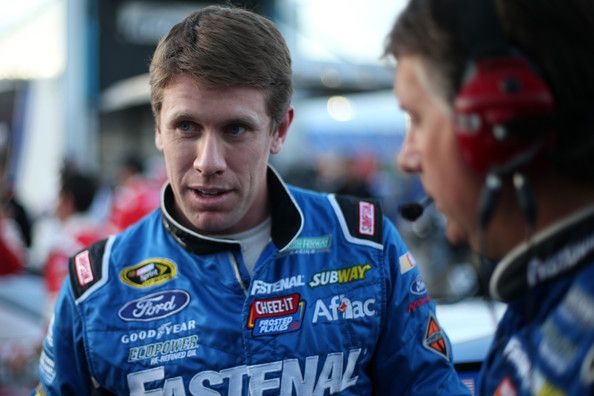 Carl Edwards and Jamie McMurray, the top-two finishers from the NASCAR Sprint All-Star Race, placed fourth and fifth, compiling strong runs for their respective teams of Roush-Fenway Racing and Chip Ganassi Racing with Felix Sabates. It wasn't quite the same results from the previous weekend but overall, both drivers and teams compiled some good runs at CMS. Edwards and McMurray both came from deep in the field to place in the top-five, charging from the 22nd and 26th starting positions before carving their way towards the front of the field.
Brian Vickers, Jeff Gordon, Paul Menard, Kyle Busch, and Brad Keselowski rounded out the top-10 finishing order at Charlotte. Vickers' amazing finish continues his tremendous comeback season in Cup with his No. 55 Aaron's Toyota team while Gordon's steady seventh was a remarkable achievement in itself, considering he suffered back spasms from the first day of the 600 race weekend. Busch overcame a crash during "Happy Hour" practice and a back-up car to nail down his fine ninth-place performance while Keselowski and his No. 2 Miller Lite Ford team salvaged an otherwise middling race.
Kurt Busch nearly completed the Indy-Charlotte double race attempt, starting off with an impressive sixth-place finish at the 98th Indianapolis 500 with his No. 26 Andretti Autosport Honda entry before making the 90 minute helicopter commute down to Concord, NC and Charlotte Motor Speedway. Despite missing driver's introduction, which relegated him to starting shotgun in the field, he would find himself inside the top-10 before his motor expired after 271 laps with his No. 41 Haas Chevrolet SS from Stewart-Haas Racing. Although it wasn't quite the finish they were looking for in the 600 and served as a microcosm of their Cup efforts this season, Busch took the grueling but remarkable task with stride, possibly mulling over another double race attempt for 2015.
Other notable finishes include Tony Stewart (13th), Kasey Kahne (14th), Dale Earnhardt Jr. (19th), and AJ Allmendinger (23rd).
Here's a look at the top-16 in points as the NASCAR Sprint Cup circuit heads to Dover International Speedway for the Autism Speaks 400, with the information in parenthesis indicating the team, manufacturer, and number of wins, if any:
Jeff Gordon (Hendrick/Chevy/1 win)
Matt Kenseth (Gibbs/Toyota)
Kyle Busch (Gibbs/Toyota/1 win)
Carl Edwards (Roush-Fenway/Ford/1 win)
Dale Earnhardt Jr. (Hendrick/Chevy/1 win)
Jimmie Johnson (Hendrick/Chevy/1 win)
Joey Logano (Penske/Ford/2 wins)
Brian Vickers (Waltrip/Toyota)
Brad Keselowski (Penske/Ford/1 win)
Ryan Newman (Childress/Chevy)
Greg Biffle (Roush-Fenway/Ford)
Kevin Harvick (Childress/Chevy/2 wins)
Kyle Larson (Ganassi/Chevy)
Denny Hamlin (Gibbs/Toyota/1 win)
Austin Dillon (Childress/Chevy)
Paul Menard (Childress/Chevy)