Sure, it wasn't a bump and run or a controversial last lap spin for the win, but Joey Logano willed his No. 22 Shell/Pennzoil/Hertz Ford Fusion to Victory Lane by passing one of NASCAR Sprint Cup's greatest legends in Monday's rain-delayed Texas 500 at Texas Motor Speedway. The 24-year-old Middletown, CT native made a nice inside pass to get by Jeff Gordon, a previous Texas race winner, to nab his first checkered flag of the racing season. Leading 108 of the 340 laps run at the Fort Worth, TX venue, it was a complete race weekend for the 2009 rookie winner, who was relieved to come home with the big "W."
''When you've got like 40-something laps after the last pit stop and a pretty sizeable lead, all you're thinking is where's the white flag, where's the white flag,'' Logano said. ''Then you go into Turn 1, and you see the 41 up against the wall, please, no caution. You get so mad that you can barely control yourself.''
Logano must've felt what Gordon was pondering when he was leading in the waning moments of the Auto Club 400 at Fontana, CA two weeks ago, just about a lap away from the white flag and a possible first win in 2014. Instead, the caution came out and the No. 24 team, whose car was great only on long runs, was a sitting duck on the final restart of that race.
Fortunately, for the Team Penske racer, Logano had a good enough car in the short run to not only stave off the challenges of his competitors on the last restart of the Texas 500, but he was also able to draw a bead on Gordon's No. 24 Chevy and made the winning pass on the last lap. The win was important for the Penske organization, as it essentially locked both of their full-time Cup entries into the Chase, barring the possibility that more than 16 teams win at least one race after the fall Richmond race.
For Gordon, while it wasn't a victory, to be in that position to steal the checkers before settling for the runner-up spot was somewhat of a great takeaway from the extended race.
"We got a pretty good restart," Gordon said. "Joey was right on me and I was pretty loose through turns 1 and 2. I wish I would have gone a little bit higher down in turns 3 and 4. He got a run off of turn 4. He got in the back of me and I thought I was going to wreck. So, at that point I was like, 'Second would be good.'"
Ultimately, it was a fine performance for the No. 24 Axalta/Texas A&M Engineering Chevy team, who not only brought home their first podium finish of the year, but they also sit atop the points lead after seven races. Their fine finish was made due in part to a bold pit call by crew chief Alan Gustafson, who along with Brian Vickers' No. 55 team, came into the pits for two fresh right side tires. As a result, Gordon took the second spot while Vickers nabbed a fantastic fourth-place effort.
Additionally, Gordon and the No. 24 team were the high water mark for the Hendrick Motorsports organization, who otherwise struggled in Monday's race. Teammate Kasey Kahne gained 21 spots to finish 11th while Jimmie Johnson limped to a 25th place finish, two laps off the pace. Johnson's race was hampered by an early accident involving corporate teammate Dale Earnhardt Jr., who went into the grass on the quad oval, causing the No. 88 National Guard Chevy to jump up, lose traction, and crash twice into the outside retaining wall. Behind Earnhardt was the No. 48 Lowe's Spring is Calling Chevy of Johnson, whose windshield was cracked from a flying piece of rubber in addition to a damaged front end that about ruined the handle of his machine.
''I just didn't know I was that close to the grass and made a mistake,'' said Earnhardt. Although his Chevy was totaled, he emerged from the accident unscathed and later apologized to his fans for the curtailed race on Twitter, tweeting, "That wasn't fun. Sorry 2 the fans of the 88 team. Feel bad for my guys and the 48 team also. Made a mistake there that was costly for every1."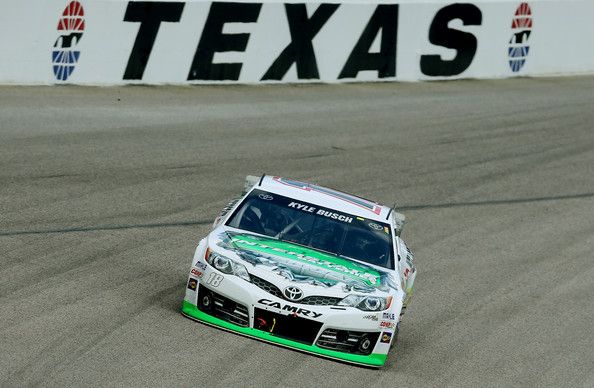 Defending race winner Kyle Busch brought his No. 18 Interstate Batteries Toyota Camry to a strong third-place finish while rookie contender Kyle Larson logged in a competitive fifth-place result, his second in the past three races.
Even with the battle for the win decided rather easily on the last lap, Busch and Larson put on the "Kyle and Kyle Show" for an exciting duel for third, ultimately won by Busch on this race day. Still, it was a great battle and race for the two drivers and teams, who now sit respectively fifth and 15th in the overall points standings.
Rounding out the top-10 were Greg Biffle, Matt Kenseth, Clint Bowyer, Paul Menard, and Tony Stewart. Interestingly, two Fords, four Chevrolet, and four Toyota teams placed in the top-10 finishing order in the 500-miler, as the Blue Oval won their second spring race in the past three years.
Notable finishes include Kahne (11th), Aric Alimrola (12th), Brad Keselowski (15th), Martin Truex Jr. (18th), David Gilliland (22nd), David Ragan (35th), and Kevin Harvick (42nd). Harvick's promising day was shortened by an engine failure after 28 laps, a frustrating streak that the No. 4 team looks to snap at Darlington Raceway (Live on Saturday, 6:30 PM EST on Fox).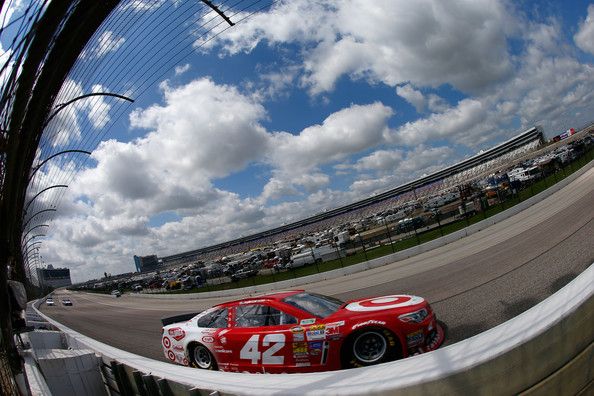 Overall, Monday's Texas 500 saw 18 lead changes among 9 drivers, with seven cautions slowing the race down for a total of 49 laps. Texas's 18th spring race produced an average speed of 134.191 mph, with Logano taking the win over Gordon by a margin of 0.476 seconds.
Here's a look at the current top-16 in points, with the info in parentheses indicating the team, make, and number of wins (if any) applicable with each contender:
1) Jeff Gordon (Hendrick/Chevy)
2) Matt Kenseth (Gibbs/Toyota)
3) Carl Edwards (Roush-Fenway/Ford/1 win)
4) Joey Logano (Penske/Ford/1 win)
5) Kyle Busch (Gibbs/Toyota/1 win)
6) Dale Earnhardt Jr. (Hendrick/Chevy/1 win)
7) Jimmie Johnson (Hendrick/Chevy)
8) Brad Keselowski (Penske/Ford/1 win)
9) Brian Vickers (Waltrip/Toyota)
10) Paul Menard (Childress/Chevy)
11) Ryan Newman (Childress/Chevy)
12) Austin Dillon (Childress/Chevy)
13) Denny Hamlin (Gibbs/Toyota)
14) Tony Stewart (Stewart-Haas/Chevy)
15) Kyle Larson (Ganassi/Chevy)
16) Greg Biffle (Roush-Fenway/Ford)