Joey Logano had the complete weekend, starting from the pole and finding himself in Victory Lane at Michigan International Speedway.
Having a fun time trying to figure out who'll make this year's Chase for the NASCAR Sprint Cup championship field? Well, when it comes to positions eighth through twelfth, it's probably as tricky as figuring out a trigonometric formula. The battle for the two wild card seeds is very complex, but racing fans wouldn't want it any other way.
With prolific racers like Jeff Gordon, Ryan Newman, and Paul Menard on the outside looking in, one driver who's putting some control of his fate for a playoff position is Middletown, CT's Joey Logano. Not only has he been stepping up his performances in the No. 22 Shell/Pennzoil Ford Fusion this year, but he's found himself in the thick of the Chase picture with a win on Sunday at Michigan International Speedway.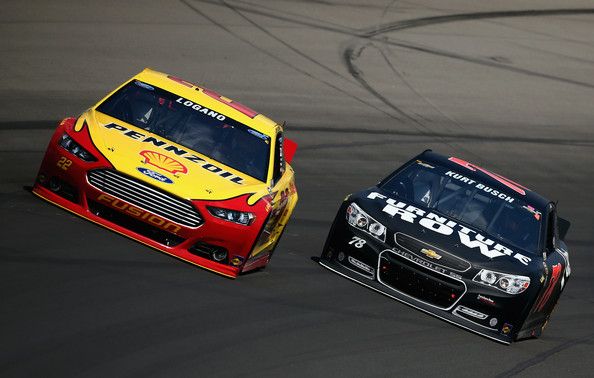 Starting from the pole, Logano clearly asserted himself as the man to beat on three different occasions at the front, leading for a total of 51 laps. Running in the top-10 virtually all afternoon long, very few racers challenged the '09 rookie winner, perhaps truly facing competition with Kurt Busch and and Greg Biffle. Otherwise, there weren't many challengers who could put on a legit battle for the lead with the Penske Racing talent.
Perhaps towards the final laps of the Pure Michigan 400, Logano had a moment or two to truly step it up for the win. On this Sunday, he would not be denied from Victory Lane, putting the afterburners on and being in position for the win, reassuming command of the race when Mark Martin ran out of fuel in the final three laps. From that point on, it was all Logano to the finish line, including a spectacular burn out along the frontstretch.
After doing some Goodyear tire doughnuts for the Michigan race fans, Logano proceeded to Victory Lane, taking the wheel out of his car and soaking in on the celebration with some excitement.
Reflecting on the victory, Logano said, "I knew he (Mark Martin) was two laps short, but I really wanted to get by him in case they were fooling with me. They were getting great mileage and I knew (Kevin Harvick) behind me, he was about the same speed as me. Just getting that clean air would have been so much."
And it truly was, as he pulled away without having to worry about another chapter to "The Closer" of NASCAR having a Kyra Sedgwick winning moment in 2013 - for now. Finishing right behind Logano was Kevin Harvick in his swan song season with Richard Childress Racing. Harvick felt he was very close to a different outcome for the race result.
"I just mistimed that last restart there," Harvick said. "I was rolling pretty good on (Martin), and going to beat him to the start/finish line and I had to check up and that allowed the 22 to kind of make it three-wide and get under me and we had to fight back from there."
Still, it was a solid showing for the pride of Bakersfield, CA native, who maintains his spot in the top-10 points position and provisionally the fourth spot if the Chase began now.
Placing third was Kurt Busch, whose strong performance vaulted him from 11th to ninth in the points race. An impressive showing for the driver of the Furniture Row Racing Chevy SS, the 2004 Sprint Cup Champion has shown some strength in the summer as a legit Chase contender.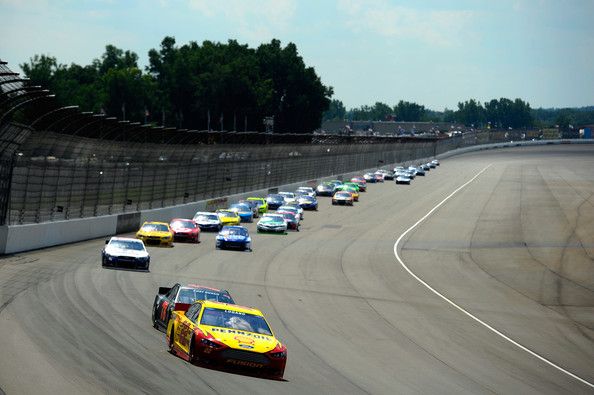 Sunday's victory for Logano and Team Penske may have given this young team with a legitimate chance to play spoilers in the race for the Sprint Cup championship. Save for the No. 22's tumultuous campaign in 2012, it's a return to prominence as a brigade ready for race wins and to be a Chase contender. Couple that with a young raw talent like Logano and a solid crew chief like Todd Gordon and that spells out a combination with plenty of potential.
Rounding out the top-10 finishers were Paul Menard, Clint Bowyer, Marcos Ambrose, Kasey Kahne, Jeff Burton, Greg Biffle, and Carl Edwards. In all, Richard Childress Racing's drivers had solid showings, all within the top-10 while Hendrick Motorsports' racer Kahne rebounded from his 31st starting spot to a strong seventh spot showing. Other notable performances included Juan Pablo Montoya (11th), Brad Keselowski (12th), Austin Dillon (14th), Jeff Gordon (17th) and Denny Hamlin (20th).
The Chase picture will continually get either clearer or complicated with Bristol Motor Speedway next on the schedule with Saturday night's Irwin Tools Night Race (Live at 7 PM EST on ESPN on ABC Sports). "The World's Fastest Half-Mile Oval" will play host to the NASCAR Sprint Cup Series drivers and teams with extreme speeds, crunched up sheet metal, and frayed tempers all in the confines of Bristol, TN. Who'll step up and who'll fall apart? Stay tuned!