Saturday night's Toyota Owners 400 won't be remembered for the 20 lead changes among eight drivers or the fact that it saw 24 teams finish on the lead lap at the 0.75-mile Richmond International Raceway. Instead, it'll be recalled as the race that Team Penske's Joey Logano asserted himself as a bigger NASCAR Sprint Cup championship contender, as he won his second race of the 2014 season, scooting by Jeff Gordon, Matt Kenseth, and teammate Brad Keselowski in the final four laps at "The Action Track." Probably narrowly rivaling Logano's win will be the post-race scuffle between Casey Mears and Marcos Ambrose, two of the sport's usual mild mannered racers whose tempers flared in the form of thrown (and landed) punches, namely on the former.
No matter how one slices this race, it was a classic NASCAR short track race, with paint trading nearly all race long, including from the onset of the 400-lapper, as pole sitter Kyle Larson tangled with Clint Bowyer, which sent the 2014 Sunoco Rookie contender into a spin in turn one, just grazing the SAFER barrier with his front clip. Despite his early race adversity, with some solid teamwork and repairs to the No. 42 Axe/Target Chevy SS, Larson would rebound to place 16th in his Cup debut at Richmond.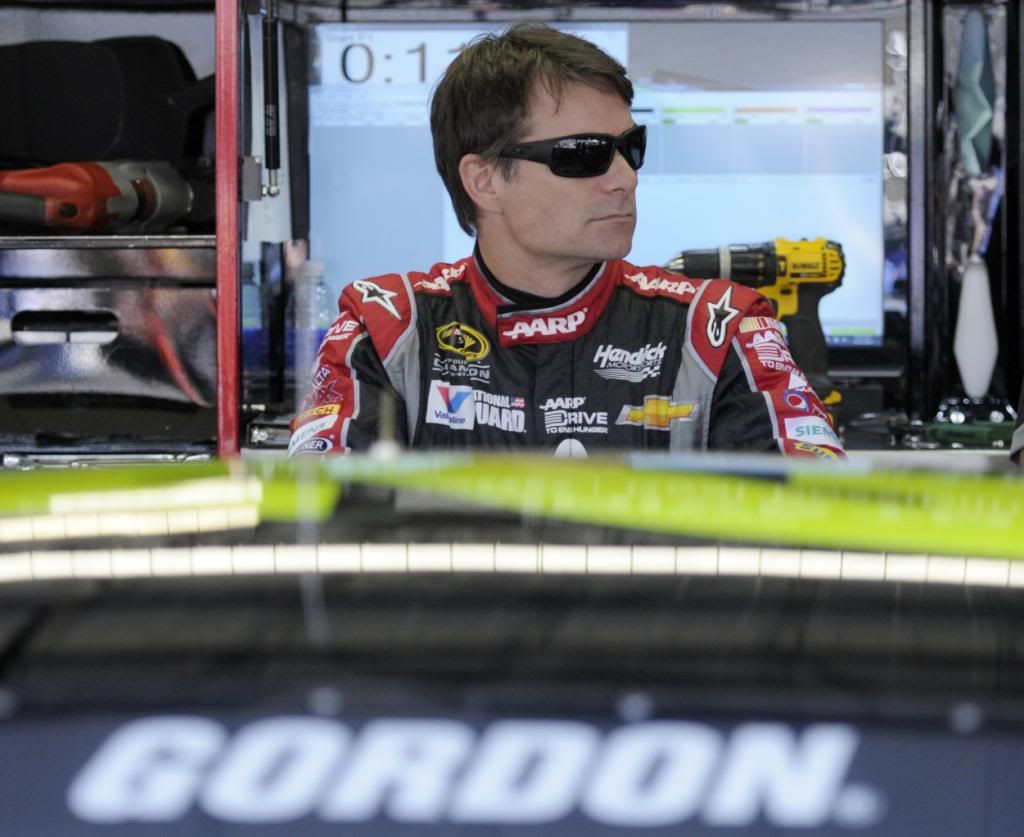 Early in the going, Jeff Gordon and his No. 24 Drive to End Hunger/AARP Real Possibilities Chevy SS effort marched their way to the front of the field, going from the 25th starting position and landing into the top-10 by lap 43. With a car that was excellent on long runs and some lightning fast pit stops all race long, the four-time Cup champ found himself in the lead by lap 103, leading over 43 percent of the race. The two-time Richmond race winner made a strong bid to take home his first win at the Dominion State track since 2000 in his most dominant performance since the spring Martinsville race in 2012.
Lurking behind Gordon was Team Penske's Joey Logano and Brad Keselowski, who continued their early season success by trading the lead with Gordon and as a duo, the duo led for a combined total of 160 laps. Impressively, this trio led over 83 percent of the Toyota Owners 400, as they rarely found themselves out of the top-five all evening long. As the race progressed, late challenges by Hendrick's Dale Earnhardt Jr. and Joe Gibbs Racing's Kyle Busch and Matt Kenseth truly made the spring Richmond race into a harbinger, with each racer's cars either being a strong short or long run machine. Translation: it was every race for themselves and every pit crew's chance to put their driver into position to win late in the event.
A rash of cautions would come out in the final 31 laps, as debris, a small accident involving Denny Hamlin, Kyle Busch, and Brian Vickers, and fluid laid down by JJ Yeley turned round nine into a short track, Saturday night challenge. Kenseth and his No. 20 Husky/Home Depot Toyota crew kept their driver in the lead while some restart lane strategy was put into play by Gordon and the 24 team. Instead of exiting pit road in the second spot, which would've resulted in a restart on the outside line, Gordon opted to drop to third place, with Earnhardt taking the position as the leaders lined up for one of the final restarts.
Initially, that strategy looked like it was going to backfire on Gordon, as Kenseth and Earnhardt had a strong restart while Gordon was passed by Logano to take the third spot. Following the caution involving Busch, Hamlin, and Vickers, Kenseth maintained the late lead while Logano, Keselowski, and Gordon would stalk the 2003 Cup champ for the win. The quartet bumped and raced each other hard, not holding anything back with the final 10 laps of the race ticking away, as Kenseth had to play defense before Logano snookered by him for the lead and win while Gordon made a three-wide pass on the backstretch to take the second spot. Busch would charge his way to take the third spot while Keselowski and Kenseth rounded out the top-five.
Placing sixth through tenth were AJ Allmedinger, Dale Earnhardt Jr., Ryan Newman, Carl Edwards, and Martin Truex Jr. Allmendinger collected his second top-10 of the year for his No. 47 Bush's Grilled Beans/JTG Daugherty Racing Chevy team while Earnhardt took his sixth top-10 of 2014. Edwards would rebound from running in the sub-20's to rally home in ninth position while Truex finally took his first top-10 finish of the season for the No. 78 Furniture Row Racing Chevy team. Notably, six-time Cup champ Jimmie Johnson, who's a three-time winner at Richmond, struggled in his No. 48 Lowe's/Kobalt Tools Chevy, with tire issues relegating the No. 48 team to a 32nd place finish, four laps off the pace.
While most of the top-10 were reflecting on their strong performances or busily arguing about who faulted the other for the win, a post-race donnybrook between Casey Mears and Marcos Ambrose ensued in the garage area. Mears and Ambrose were visibly upset with each other, with a punch thrown at Mears' face before a crew member threw a counter hook towards Ambrose. Following their exchange, NASCAR announced that they would investigate the post-race incident, with the sport's vice president of competition Robin Pemberton saying that they didn't "think it was anything too severe."
Overall, the Toyota Owners 400 was completed with an average speed of 93.369 mph, or 400 laps completed in three hours, 12 minutes, and 47 seconds. Logano bested Gordon to the stripe by 0.946 seconds.
Here's a look at the current top-16 in points, with the info in parentheses indicating the team, make, and number of wins (if any) applicable with each contender:
1) Jeff Gordon (Hendrick/Chevy)
2) Matt Kenseth (Gibbs/Toyota)
3) Carl Edwards (Roush-Fenway/Ford/1 win)
4) Kyle Busch (Gibbs/Toyota/1 win)
5) Dale Earnhardt Jr. (Hendrick/Chevy/1 win)
6) Joey Logano (Penske/Ford/2 wins)
7) Brad Keselowski (Penske/Ford/1 win)
8) Jimmie Johnson (Hendrick/Chevy)
9) Ryan Newman (Childress/Chevy)
10) Brian Vickers (Waltrip/Toyota)
11) Greg Biffle (Roush-Fenway/Ford)
12) Austin Dillon (Childress/Chevy)
13) Kyle Larson (Ganassi/Chevy)
14) Denny Hamlin (Gibbs/Toyota)
15) Tony Stewart (Stewart-Haas/Chevy)
16) Marcos Ambrose (Petty/Ford)