Kasey Kahne and Jeff Gordon have truly made strides on their bids to be players in the Chase for the NASCAR Sprint Cup title. Will it be good enough to be locked in by Richmond?
Nearly two years ago, Rick Hendrick reorganized his four NASCAR Sprint Cup Series teams to essentially make them a powerful force all across the board. With some personnel changes on the No. 48 Lowe's Chevy crew following their fifth series title, the 10-time Cup championship winning owner implemented a tremendously bold move by restructuring the Nos. 5, 24, and 88 teams. Seen as a risky maneuver during the 2010-'11 offseason, it's perhaps one of the most ingenious decisions that's strengthened Hendrick Motorsports as a whole.
Atop the points standings is five-time Cup champ Jimmie Johnson, seemingly where he's felt most comfortable since his first title in 2006. Sitting fifth in points is Dale Earnhardt Jr., while campus teammates Kasey Kahne and Jeff Gordon find themselves in the eighth and ninth positions heading into Round 22 at Watkins Glen International. For a team that grew out of a dream by a man who thought outside the box in 1984, nearly 30 years later, that concept has grown into a dynastic force in NASCAR racing.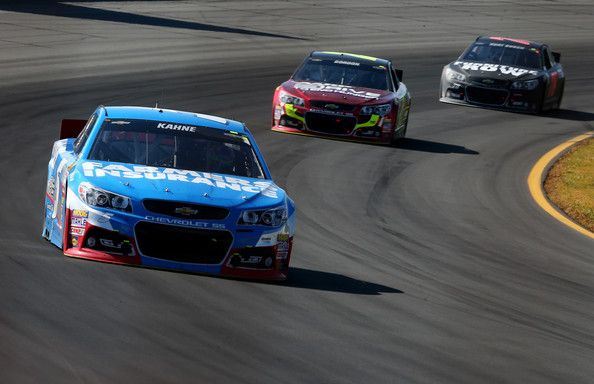 Kahne and Gordon have been through a similar situation with their similar mirror performances, where they stood 11th and 13th in the standings at this time last year. The Nos. 5 and 24 teams have stepped up their performances in 2013, upping the ante especially when the race to the Chase starts to heat up. Vastly improving on their efforts from the '12 season, is it safe to say that the two streaky racers and teams have found their stride at last?
Well, why not? To say the least, their stock (no pun intended) has risen just like gas prices have across the country. Witness:
In the past five races, the Farmers Insurance Chevy team has steadily picked it up, with an average finish of 11.6 while the Drive to End Hunger/Axalta Chevy brigade has averaged a 12.2 finishing position in that same time span. Their only hiccups were at Daytona in July, where Kahne and Gordon placed 32nd and 34th respectively. Otherwise, they've been stout and right up there with the usual suspects for race wins and top finishes.
With the winding 2.45 paved road course of Watkins Glen International in the Finger Lakes of New York coming up this weekend, it could be a weekend to truly capitalize on maximum points and locking up a seed in the Chase. Gordon's a four-time winner at this facility, having most recently won in 2001 while Kahne's best finish was a 13th last season. It's the kind of opportunity that could truly propel (or derail) both drivers' odds of being a contender for the Sprint Cup championship this year.
Following a strong second place effort at GoBowling.com 400 at Pocono, Gordon talked about his perspective and chances of winning at WGI.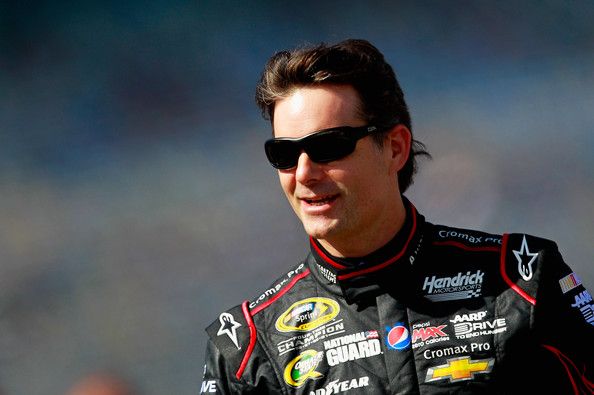 "I feel good about our road course program this year," Gordon said. "We finished good at Sonoma (second to race winner Martin Truex Jr. in June). Felt like we learned a lot at the end of the second half of the race at Watkins Glen last year. We kind of more did a test more for Watkins Glen than we did for Sonoma prior to Sonoma, so I'm hoping that pays off."
Last year's Watkins Glen race was a promising finish blown by a few squandering moments, starting with an ill-handling racecar that prompted multiple adjustments that set the No. 24 team in the the 20's for a majority of the race. Finally hitting on a combination that made Gordon one of the fastest cars on the track, an oiled down course caused the usually flawless road course expert to spin out of the final corner, impacting the inside retaining wall and limping home to a 21st place effort. Following their disappointing result in '12, it's safe to say that they'll look at capturing the checkered flag on Sunday.
Meanwhile. Kahne and his No. 5 team, led by crew chief Kenny Francis, will arrive at the famed road course, coming off the heels of their dominant win at Pocono. Capturing their second win of the season, it more than likely helped gain some valuable bonus points come reseeding time after the Richmond race in early September. Additionally, it was more than just bonus points earned - it was a good shot in the arm for this competitive team.
"It gives myself confidence and gives the whole team confidence, Kenny, and the pit crew guys and everybody that's part of it," Kahne said with regards to his win and strong performances in recent times. "It closes the gap. If we finish in the top 10 and get into the Chase, it will be closer to Matt (Kenseth) and Jimmie (Johnson) who already have four wins. So I think wins are key for sure."
With only five races remaining before the start of the Chase, it's time to either step it up or pack it up for a strong bid to be a championship contender.
If there's any team and driver capable of being a true contender for the NASCAR title, it's the Nos. 5 and 24 teams of Kasey Kahne and Jeff Gordon.
After all, they've played the game of "catch up" before last year and wound up placing fourth and 10th in the final points rundown. Only time will tell just how strong and competitive these two efforts will be when the green flag waves, starting at Watkins Glen (Live, Sunday 1 PM ET/10 AM PT on ESPN).