It wasn't a dominant performance nor a showing in which Kasey Kahne showed a lot of muscle for a majority of Sunday night's Oral-B USA 500 at Atlanta Motor Speedway. Instead, it was a race that saw tremendous teamwork by the No. 5 Farmers Insurance Chevy team, as crew chief Kenny Francis and company worked to make that car handle at the right moment and right time, en route to an uplifting win to clinch a spot in this year's Chase for the NASCAR Sprint Cup championship field.
''That was just an unbelievable way to make the Chase,'' Kahne said. ''It was all I could think about. I knew Atlanta was a better opportunity for myself than going out to Richmond. I just knew that tonight we needed it.''
Kahne and the No. 5 team showed they needed it the most and the result was getting a pivotal win that has them completing the third straight season in which all of Hendrick Motorsports' brigade has made the Chase field. The Enumclaw, WA native joins points leader Jeff Gordon, six-time Cup champ Jimmie Johnson, and two-time Daytona 500 winner Dale Earnhardt Jr. to represent the Rick Hendrick stable heading into the final 10 race stretch.
Starting in 10th position, Kahne dropped as low as 21st on lap 20 as the track transitioned form dusk to evening conditions. Hovering between sixth through 18th for the next 240 laps, the 34-year-old kept on digging and searched for different lines as the race progressed. Towards the final stretch of the race, the No. 5 team finally hit on a combination that brought the car to life, making ground up on the dominant race leader Kevin Harvick.
On a restart with 23 laps left in the original race distance, Kahne, much like teammate Gordon, had one of the restarts of his life, one where he showed that he wasn't going to be denied of a pivotal victory at Atlanta.
"That's what I felt like," Kahne said. "I felt like that all night. I felt confident. I stayed with it all night. We were good and we were bad and we were back to good. I stayed really under control and positive throughout the race, and the guys just kept working hard, and they kept making adjustments. And at the end we had the speed again. I just kept telling myself, do not spin the tires.
Whatever you do, coming up second and third gear, don't spin the tires, just take your time on the throttle. And if you do that, you're going to have a great opportunity here because I knew that everybody was going to spin a little bit."
It had been over a year since Kahne last enjoyed a victory, as he whooped it up at Pocono Raceway's winner's circle for the GoBowling.com 400. Now with an important win under his belt and one that couldn't have been more timely, he won't have to feel the pressure of a last minute effort at Richmond for next Saturday's Federated Auto Parts 400 (Live on Saturday at 7:30 PM ET on ABC).
"There won't be as much pressure on us for awhile now, I guess," Kahne said. "Just to make it, I mean, that's just such a -- it was winding down, we were -- I don't know. I feel like making The Chase, there's a lot of pressure and you don't really see that again until probably late in The Chase."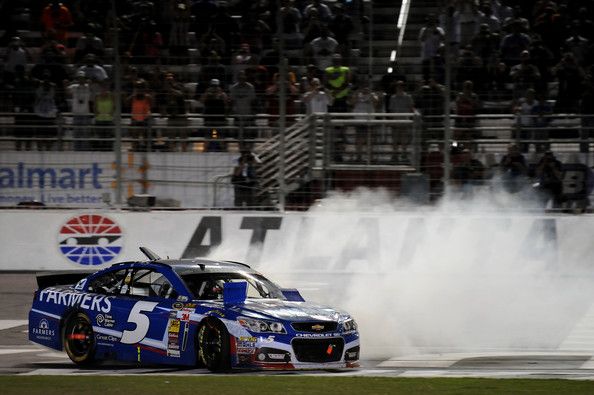 While the pressure's off for a bit with Kahne, the intensity for another race win with Kevin Harvick's No. 4 team is definitely at a high point. Although Harvick led a race-high 195 laps, the Bakersfield, CA native was sequestered to a 19th place finish after losing spots late in the going.
Harvick lost track position on pit road, which prompted for more criticism of his pit crew following the race. Adding insult to injury, he was collected in a late-race mangle involving Paul Menard on the penultimate restart, with not much to show for despite a truly dominant and fast car.
Coming home in second was Matt Kenseth, who by virtue of his consistency all season long and a healthy margin over 16th position in the standings, clinched his spot in this year's Chase Grid. Like Joe Gibbs Racing teammate Denny Hamlin, who placed third, Kenseth pointed out that their team has improved in the past few months.
"We all ran good in Kentucky and New Hampshire as a group, last week we ran pretty good," Kenseth said. "So, I feel like we have been steadily gaining on it. We wish we were a little bit faster and was out there dominating races and winning more races for sure, but I feel like my team's really operating at a high level."
Hamlin took to Twitter with gratitude for his team's effort and a salute to the newest entrants for the Chase, tweeting, "Wish we could have capitalized at the end. Pit crew was on fire. Thanks to them! Congrats to @kaseykahne and @mattkenseth on making Chase!"
Rounding out the top-five were Jimmie Johnson and Carl Edwards, past winners at AMS who were looking to sustain some of their momentum from Bristol. In this case, these two Cup forces continued their top-10 ways and look to close out the regular season with a strong performance at Richmond.
Placing sixth was Danica Patrick, an impressive feat for the sophomore NASCAR Sprint Cup racer. Coming from the 27th starting spot, the driver of the No. 10 GoDaddy.com Chevy found herself in a position to capture her first win in a stock car but took the checkers with her career best finish.
Ryan Newman, Kyle Larson, Aric Almirola, and Greg Biffle rounded out the top-10, while other notables included Dale Earnhart Jr. (11th), Kurt Busch (13th), Joey Logano (14th), Kyle Busch (16th), Jeff Gordon (17th), Paul Menard (18th), Kevin Harvick (19th), Michael Annett (21st), and Ty Dillon (25th, Cup debut).
Overall, Sunday night's Oral-B USA 500, won by Kasey Kahne, was slowed by 10 cautions for 56 laps. Race winner Kahne compiled an average speed of 131.512 mph and was among the six different drivers who traded the lead on 21 occasions.
Here's a look at the Chase Grid points standings heading into Race 26 at Richmond International Raceway:
Jeff Gordon (Hendrick/Chevy/3 wins)
Dale Earnhardt Jr. (Hendrick/Chevy/3 wins)
Joey Logano (Penske/Ford/3 wins)
Brad Keselowski (Penske/Ford/3 wins)
Jimmie Johnson (Hendrick/Chevy/3 wins)
Carl Edwards (Roush-Fenway/Ford/2 wins)
Kevin Harvick (Stewart-Haas/Chevy/2 wins)
Kasey Kahne (Hendrick/Chevy/1 win)
Kyle Busch (Gibbs/Toyota/1 win)
Denny Hamlin (Gibbs/Toyota/1 win)
Kurt Busch (Stewart-Haas/Chevy/1 win)
Aric Almirola (Petty/Ford/1 win)
AJ Allmendinger (JTG-Daugherty/Chevy/1 win)
Matt Kenseth (Gibbs/Toyota)
Ryan Newman (Childress/Chevy)
Greg Biffle (Roush-Fenway/Ford)
Author's Note: This race recap is dedicated for my mom as a birthday gift as this race was run on her birthday! Happy Birthday, Mom! I also dedicate this to a good friend, Taylor, a great racing fan on Twitter!