Racing and life are so similar in that there are cases where the best moments can be the ones that are almost unexpected. For 22-year-old Kenzie Ruston of El Reno, OK, she put on the race of a lifetime with her No. 96 Ben Kennedy Racing Chevy team last weekend at Iowa Speedway, starting from 15th spot and coming home in a career best runner-up showing.
In spite of the spectacular result, which propelled her from 10th to sixth in the K&N Pro Series East points standings heading into Round 13 at Watkins Glen International, Ruston reflected that it wasn't easy pickings, despite her optimism prior to the race itself.
"Well, I feel like as soon as we unloaded off the truck, I had a lot of confidence," Ruston said. "We didn't have that raw speed right off the truck, but we had a really, really good race pace. I had a really good feeling about the weekend. I'm not the best qualifier, and I need to get better at that for sure. I didn't have a lot of confidence in our qualifying run, and I would be happy if we qualified top 15.
I felt like that was right about where we would qualify, and in the race I kind of just steadily moved up, moved up, moved up, and we were running right around the bottom, and then Sergio Peña kind of moved up to the top groove and was like a half a second faster than the field and caught everybody off guard right before the break, and I tried to go up there and we were way, way, way too tight to run at the top."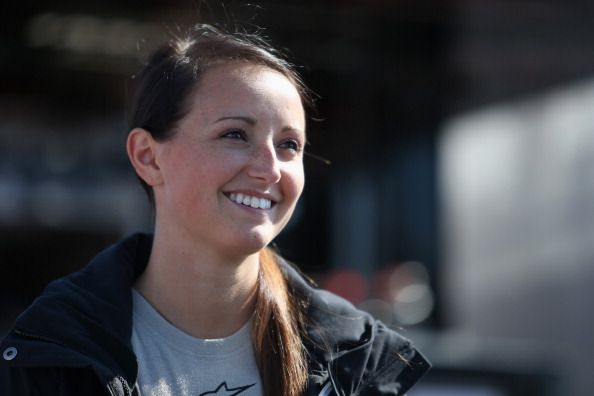 Like the determined racer wanting to close it all out right, Ruston and her No. 96 team reconvened during the halfway break and they hit on the near winning combination last Friday evening's combination event. It's safe to say that those changes truly lit that fire in her eyes in nearly sealing the deal.
"We made huge adjustments at the break," Ruston said. "We went like five rounds up on the track bar and put a rubber in the right rear and a couple other little things to free me up so we could run up top, and definitely that's one of the best changes we have made at a break this year. I think the car really came to life, and it showed. We were chasing Brandon Jones down as fast as we could, just kind of ran out of laps.
I got a bad restart that last restart, spun my tires a little bit, and let Cole Custer and Ben get away from me, and I had to chase everybody back down. But I just can't thank my guys for working their tails off this weekend and giving me a good car."
Still, the runner-up finish was quite remarkable, as it serves as a testament to the solid teamwork with the crew back the Ben Kennedy Racing shop and those working on Ruston's car at each race. Speaking like a driver ready to experience her breakthrough moment, she reflected on the weekend as one that saw promise.
"I wasn't that confident in taking our steel car there," Ruston said. "We haven't had the best luck with our steel car this year at the big places, but I feel like we made huge, huge adjustments on it before coming to Iowa this weekend, and I feel like it definitely paid off. It's disheartening me being a racer knowing we had the best car right there at the end, but I feel like in another sense it was kind of a win starting 14th and being my best finish on a big track and even their best finish on a big track."
Now she heads to the 2.45-mile road course at Watkins Glen, NY for her first start at this winding facility. Adorning the Bully Hill Vineyards sponsorship for the race, it's safe to say that her team, spearheaded by crew chief by Michael Fritts, is focused on bringing home a solid finish at this challenging track.
"We've been really, really putting all our effort into getting the car right, and this is a brand new car that we've built for the road course races," Ruston explained. "They didn't have a road course car last year, so they've been putting all their preparation into getting this car right so we can come out at Watkins Glen and get us a victory. I have not been able to get any testing in, but hopefully -- I have a lot of help from Ryan Eversley here on the Continental Tire Sports Car Series, and he gave me a pretty big notebook on Watkins Glen, and I have a shift map and everything, so I've been studying my hardest, so hopefully we can just put all that into this weekend."
That moment of putting it all together could happen at this very unpredictable track, where there's no telling how some of NASCAR's next best young racers will fare at this tough and fast course. Although it may be an intimidating challenge for Ruston, she knows what it'd mean to win at this track or at any of the remaining circuits on the schedule.
"Oh, it would mean the world to me," Ruston said. "Winning races is what it's all about. That's why we get in the car every weekend. When you're winning races, your name gets out there, and that's what you've got to do. You've got to win races and have good weekends, and hopefully we can do that before the year is up. Should be super exciting when I win my first K&N race.
When it comes to that moment when she does capture her first checkered flag, it's anything goes for this congenial, driven, and bold racer, who is pretty much up for anything once she's a NASCAR K&N Pro Series winner.
"I haven't quite figured out what I'd do for my victory celebration yet," Ruston admitted. "I don't know what I'd do. I mean, especially like a burnout or something like that, maybe go around the track backwards. I don't know, we'll see. We'll have to figure it out when the time gets here. It might just be spur of the moment."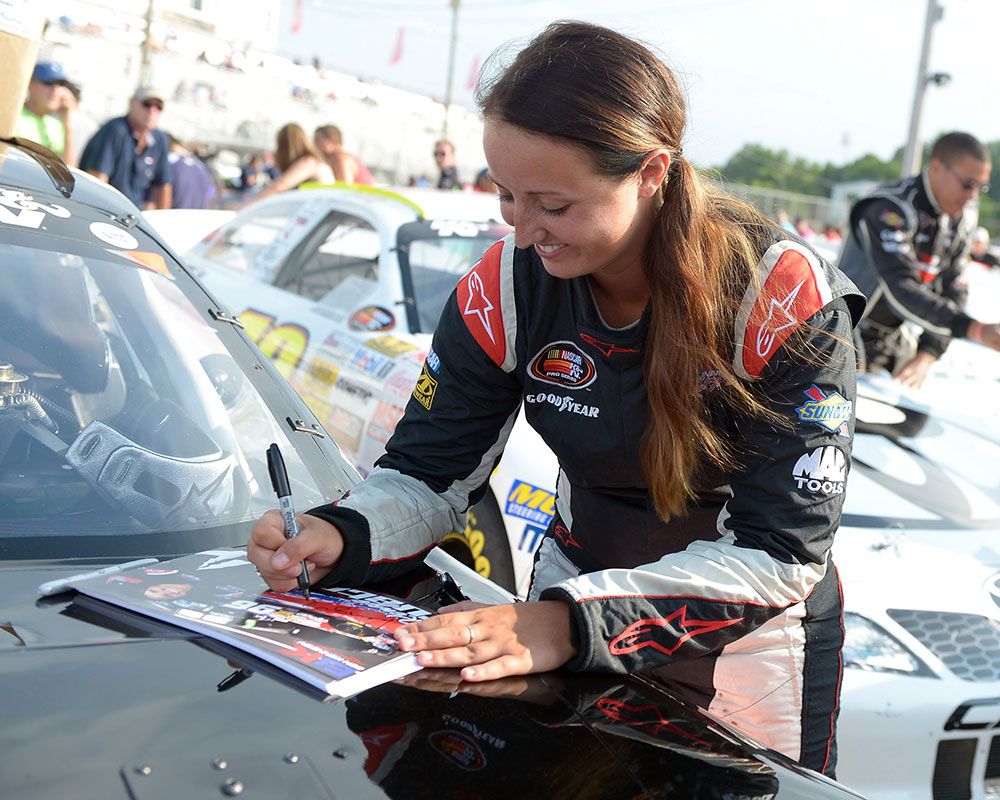 For now, life may seem like a blur for Ruston but when she's able to reflect on this season, she may be able to smile and look back at not only her team's performance at Iowa, but perhaps at Watkins Glen as the track that truly set their confidence sky high for a solid points finish. Smiling and always taking each race one at a time and a popular driver with the race fans, that winning moment might just be history that's truly waiting to happen in the world of NASCAR.