Stock car racing can often test a driver and team in terms of their patience and poise, frustrating them when there's valleys but enticing them when there's peaks in the arduous journey. For 22-year-old Kenzie Ruston of El Reno, OK, the 2014 NASCAR K&N Pro Series East season has been a year that's seen those low moments, including the accidents at Bristol and Richmond, and those amazing performances, such as a fourth at Pensacola and third most recently at Langley Speedway in Hampton, VA.
It would seem like the chemistry between Ruston and her No. 96 Ben Kennedy Racing Chevy team, led by crew chief Michael Fritts, has certainly gelled to a point where they're sitting ninth at points and like the famed standard, "the best has yet to come." Earlier in the season, Ruston acknowledged those struggles, realizing that while her cars have been fast, the performances didn't back up her team's capabilities.
"Our cars have been fast each week but we've just not gotten the finishes that we deserve," Ruston said. "It's definitely hard when you have so many bad weeks in a row and you're trying to boost your confidence back up and tell yourself not to give up. I know everybody deals with it differently but I try to tell my people, 'Well that's behind us and we've gotta move on to this week.'"
Moving on is exactly what Ruston and her No. 96 team have done since Richmond, logging a 13th at Iowa before reeling off their current run of three consecutive top-10 finishes. She impressed the critics with a third place result at Langley, tying her best career finish in this series at Greenville. With seven rounds remaining in the 16-race season, the opportunities to win races are certainly there for this exciting young driver and her ambitious, diligent No. 96 team. It all starts off at the "Magic Mile," otherwise known as New Hampshire Motor Speedway.
Although her most recent race at Loudon, NH wasn't too kind (crash-related 20th DNF), one has to think that Ruston is prepared for the 1.058-mile asphalt arena, which serves as the largest oval on the K&N Pro Series East circuit. She proudly tweeted a picture of her team working on her No. 96 Chevy that she'll race next Friday, saying "The boys are getting her ready for New Hampshire!! @ Ben Kennedy Racing."
Call her a prophet or simply a racer that knows about the capabilities with her team and her talents, but the recent success and strong performances may have been echoed in an interview here on TPF on May 4th.
"Coming into this year, I definitely wanted to win a couple of races and be there fight for the championship," Ruston said. "The further this season's gone along, we've had a couple of weeks. I feel like if we can win a couple of races and be there in the top-3 by the end of this season, that'd be a win."
With races like a fourth at Pensacola and a third at Hampton, perhaps this trend continues next week in The Granite State. Racing is a lot like life with ups and downs, and it's all about rising through it all. During those struggles, a driver and team can truly identify who they are in terms of weaknesses and strengths. While most of these drivers and teams certainly don't enjoy the struggles, it's those moments where the chemistry is defined.
Clearly, this is a group that has a strong bond, great ambitions, and their eyes on checkered flags in the foreseeable future, showcasing their consistency with two consecutive top-six finishes to start the season at New Smyrna and Daytona and this recent run of success has certainly got to make the Ben Kennedy Racing team licking their chops. Not to mention, Ruston has shown the ability to overcome adversity, earning the respect of her peers and more than duplicating her strong performances last season in this exciting racing division. Smart, patient, and very much like Carl Edwards, the racer that she shadowed last year, it's no secret that this member of the NASCAR Next movement is a driver to watch in the coming years.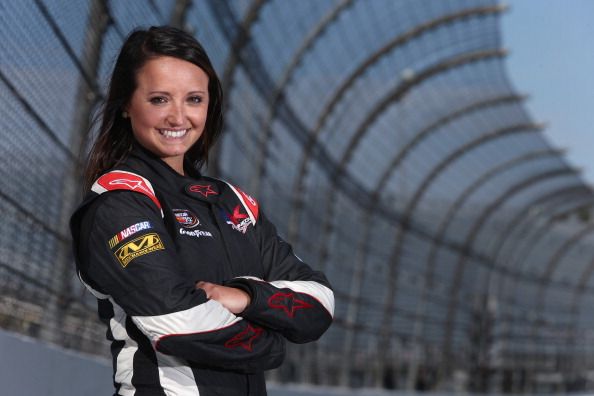 For now, it's about watching this brilliant young racer climbing up the NASCAR ladder and as she said, "I've always wanted to move up at my own pace and never wanted to rush myself. I always wanted to accomplish myself in every level before I go up to the next."
That patience alone is an example of Ruston's maturity as not only a poised driver, but also an individual who won't bite off more than she can chew. Instead, she's all about being in the moment and realizing her potential and abilities when she's ready. Time can only tell if this patience will pay off for this stock car talent but what's certain is that on any given race day, whether as a fan, a member of the press, or even a rival driver or crew member, Ruston and her No. 96 team certainly embody that fresh competitive side to NASCAR racing that is engaging, interesting, and most of all, a fun story to watch.
Their next moment is to be realized and it might just be a winning moment with smiles or a solid finish that speaks volumes about this young racer's tremendous abilities to be truly one of the next superstars of this sport. For now, Ruston and her No. 96 team are preparing for the Granite State 100 and prepping up their steel chariot for the battle ahead, and next Friday's race could truly be one that captivates the racing audiences with how this exciting group fares.