If there's been a driver who's certainly worked diligently in redeeming themselves with racing fans and peers on and off the track, it's Kurt Busch, the pride of Las Vegas, NV. The 2004 NASCAR Sprint Cup champion went through a tumultuous period from 2009-'12, perhaps needing to find himself and coming to terms with his competitive nature while learning to harness his aggression with grace. As a driver who definitely puts forth 100 percent on effort, heart, and determination, it's easy for the critics to come hard on Busch during that time period, but he's certainly made tremendous stride towards gaining the respect of his competitors, fans, press, and most of all, his team.
It was a long road for the 35-year-old racer, who immediately worked his way into the Sprint Cup scene after an impressive runner-up points finish in the NASCAR Camping World Truck season which saw "The Outlaw" win twice in 2000. From there on, Busch adapted to the Cup cars, learning the nuances of the elite ranks of NASCAR in 2001 before finding his winning stride in '02 with four victories that netted him a third-place points finish. He'd duplicate his win total a year later, although he'd drop to 11th in the final points ranking.
Consistency would be the name of the game in 2004, winning the spring Bristol race and sweeping the Granite State challenges en route towards his first Sprint Cup championship. In just three full seasons, it was a meteoric rise for this highly talented young racer, who seemingly had what it took to reel off wins and titles. However, the following seasons saw the ups and downs of Busch's NASCAR career, in which he would excite the fans with his electrifying wins at places like Bristol, Atlanta, Dover, and Sonoma before the struggles and adversities would surface for this aggressive racer.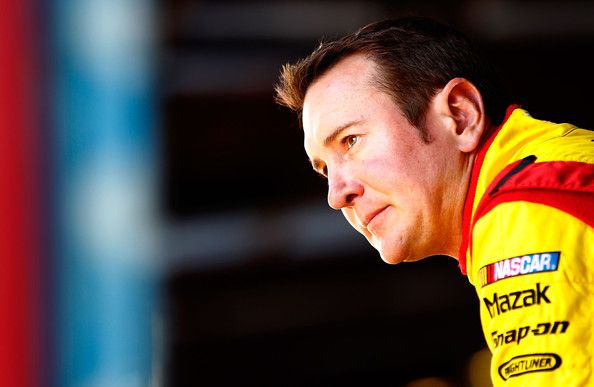 ​Perhaps while being scrutinized by the press and even his competitors, Busch had to search for himself and his happiness with being a racer, where the demands to satisfy sponsor, team owners, and virtually everyone around him was as paramount as being behind the wheel of his stock car. For outsiders, the life of a stock car driver seems luxurious and seamless, but for Busch, the fun factor and happiness with being a competitive, talented driver were not coalescing. Things like an ill-handling racecar would upset Busch, as he would take the radio to vent his frustration, much like most of us when the pressure in the office job gets stressful.
After seeing his Roush-Fenway and Team Penske tenure ending in somewhat difficult terms, Busch worked hard in 2012 to find that balance. At times, he seemed to embody the role of NASCAR's "bad boy," with sound clips of his tirades going online on YouTube more frequently than the accomplishments which he'd earn with his teams prior to the difficult years of 2009-'11.
Car owner James Finch fielded the No. 51 Chevy Impala in 2012, where Busch wheeled his machines towards the front but often not seeing the results matching his efforts for this independent team. However, car owner Barney Visser and his No. 78 Furniture Row Racing Chevy team took a chance with Busch, recognizing the potential for this raw and talented driver to realize his potential once more in NASCAR Sprint Cup racing. Joining Visser's organization for the final six races of the season, Busch would give a preview of what would come in the following year, reeling off three straight top-10 finishes at Texas, Phoenix, and Homestead-Miami.
Last season was simply magical for Busch and the No. 78 team, needing a bit of time to acquiesce with one another before rallying to score 11 top-five finishes and 16 top-five results, earning a Chase spot and placing 10th in the overall points standings. Coming close to scoring some victories, particularly down the stretch with runner-up efforts at the fall races at Richmond and Kansas, Busch truly reminded everyone around him that he hadn't forgotten how to wheel a racecar and could ge tthe job done on any given day.
It was nearly a year ago in which Busch was signed to drive for Stewart-Haas Racing, driving a brand new fourth team, which would become the No. 41 Haas Autmoation Chevy SS organization led by crew chief Daniel Knost. At first, the move to SHR seemed a bit unusual, considering how he was pairing up with Tony Stewart and Kevin Harvick, a pair of racers in which he had some prior incidents with in his Cup career. Burying the hatchet and coming together as a team, Busch has worked diligently with working on the chemistry and communication of his No. 41 team.
Like most new teams, there's the growing pains with adapting to a new system and regime, which showed in the first three races of 2014 with finishes of 21st, 39th, and 26th at Daytona, Phoenix, and Las Vegas. Flashes of brilliance would soon follow, with a third at Fontana and an exciting win at Martinsville taking Busch and his No. 41 team right into the top-20 in points. Just as they were beginning to hit on a strong streak of race results, those struggles returned, not in the form of radio tirades, but rather, six straight finishes of 23rd or worse, which saw crash-shortened races at Texas, Darlington and Talladega as well as a motor issue at Charlotte.
Instead of succumbing to those disheartening results, Busch and his crew kept on digging, compiling a solid month of June with an 18th at Dover, a third at Pocono, 13th at Michigan, and a pair of 12th place finishes at Sonoma and Kentucky. Sure, those weren't record breaking statistics, but if NASCAR racing could evaluate team morale and momentum, it's likely that this hardy bunch thought, "Well, we've got ourselves a chance to win races once more."
Their steady results continued with another third place finish, this time happening at Daytona during last weekend's Coke Zero 400. Although Busch was disappointed that he came up short with a possible win at "The World Center of Racing," he led the most laps (36) and raced wisely, maturely, and lived by the Richard Petty belief:
"The best that you could do any given day is to put yourself in a position to win and let circumstances dictate the outcome."
Truly, Busch lives to that belief and wears his heart on his sleeves, a quality sometimes lost with some racers. Never vanilla but rather himself, he's come to terms with who he is as an individual, embracing that he's competitive, determined, and never forgetting to have fun with being in the sport of NASCAR. Earlier this year, he competed in his first Indianapolis 500, placing sixth before nearly completing the Memorial Day Sunday double at Charlotte before an untimely motor issue curtailing an impressive day of racing.
Still, the road towards happiness and redemption is nearing its completion and the best way to finish it off is with a Sprint Cup championship. Having won at Martinsville earlier this season, Busch is a lock for the Chase Grid but a second win would perhaps give some security for one of the 16 postseason spots. This weekend's race at New Hampshire Motor Speedway offers an excellent shot at a second victory, given how similar the Loudon, NH speed arena is with Martinsville Speedway.
While it's been six years since he last visited the winner's circle in the Granite State, if there's a track that's definitely got the makings for Busch to capitalize on his Cup and Chase competitors, it's NHMS. Much like Busch's exciting career, the only way to know how he'll fare this weekend is to turn the page.
Nowadays, there's a lot more brighter days in his world, with a strong balance between racing and his life outside the track. More than the right adjustments to the car or track conditions, perhaps the key to Busch's phoenix like rebirth in this sport is how he's more content and at peace with everything, which translates into more years of wins, championship bids, and great moments that await him.