Kyle Busch has enjoyed a season as sweet as a bag of peanut or chocolate M&M's in 2013. Can this sweetness continue onto Talladega and beyond?
In years' past, the press and fans have often waited for Kyle Busch, the 28-year-old Las Vegas, NV native to have his usual struggles in the Chase for the NASCAR Sprint Cup Championship battle. After all, these 10 races are filled with pressure and the critics have often felt that the aggressive but highly talented racer didn't have the strength and patience to take on the pressure of these final 10 races when the contenders and pretenders separate from Joliet, IL to Homestead-Miami, FL. Say what you want, but most usually think the driver of the No. 18 M&M's Toyota Joe Gibbs Racing machine couldn't handle the heat.
Wrong. Absolutely false on all accounts. This is 2013 and the balance between a wise and still tenacious Kyle Busch is out on the track, knowing when to choose his battles as that force that trades paint just as quickly as driving with finesse to be up there battling weekly for victories at any given track.
It's resulted in his best year thus far, with four wins and a fifth place points position just halfway into this season's postseason action. Save for his struggles at Kansas Speedway with his 34th place crash related DNF, it's been a splendid postseason run with a pair of runner-up finishes at Chicagoland and Loudon as well as two fifth place runs at Dover and Charlotte. Does that mean Busch is completely happy?
Again, not at all. Following his fine performance last Saturday evening at Charlotte Motor Speedway with his fifth place finish, Busch said, "It's good to finish top five but it certainly stinks. We're not good enough. It's frustrating, man. I'm beating myself up every week trying to figure out what I've got to do to be better, and I don't know what it is."
Considering his adventurous first 100 miles during the Bank of America 500, when his left front tires were loosened up on what was scheduled to be a four-tire stop, Busch sped out of pit road thinking it'd be a two tire and fuel reprieve.
Instead, "Rowdy" had to return back to his pit box to properly complete his stop, putting him at the rear of the field and certainly having the makings for a difficult night at Concord, NC. However, that stop only lit a fire under Busch, who drove the wheels off his Camry and back into the top-five, battling with the Hendrick quartet of Jimmie Johnson, Kasey Kahne, Jeff Gordon, and Dale Earnhardt Jr.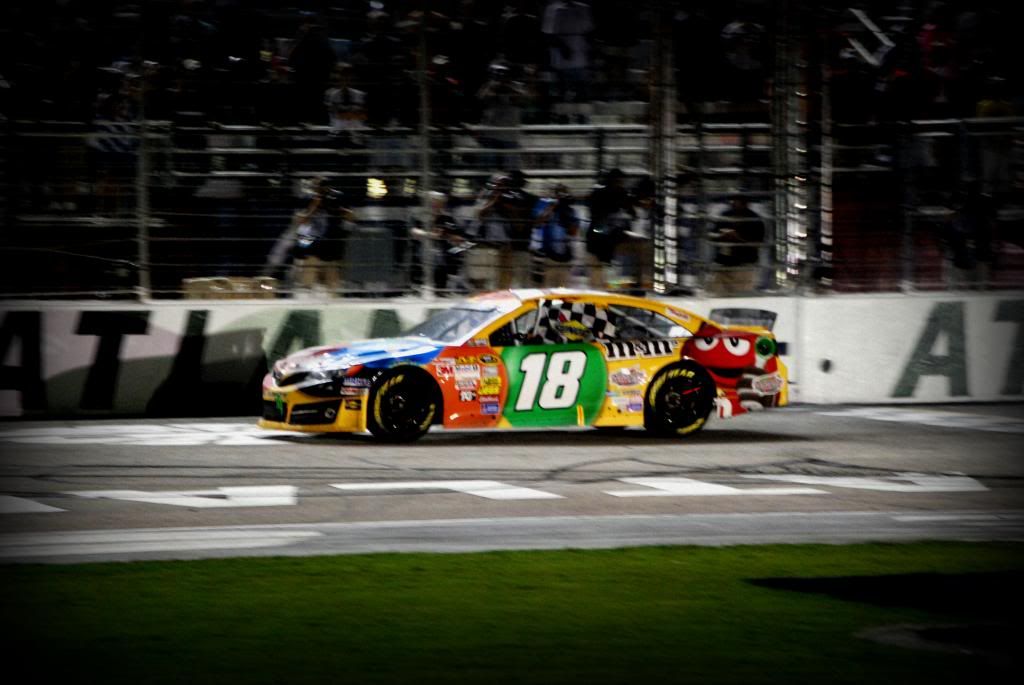 As the race went on, the No. 18 car got stronger but ultimately, all that determination was good enough to net "just" a top-five finish for the racer whose approach is "all or nothing." Ultimately, it's that determination and chip on his shoulder that's kept him in the hunt even after the Kansas race two weeks ago. With wins at Fontana, Texas, Watkins Glen, and Atlanta, he's shown that willpower and the guts it takes to capture the checkered flag at any track, any time.
Those who might wonder why Busch is very precise when it comes to his performances need not look further - he's equally a student in the classroom as he is like the knights of Medieval times battling on those not so friendly confines.
"I work hard through practice, I work hard through the week, I study film, I do everything I need to do but it's not paying off," Busch said.
Still, there's five more races remaining and there's still a good chance for Busch to capture his first NASCAR Sprint Cup championship.
It's not to say it's been a smooth Chase but it's one where he's rarely been rattled. Even after his incident with Brad Keselowski in the Nationwide Series race at Kansas, with the latter announcing vengeance at some point, Busch's focus is still on winning down the stretch and hoisting the Cup at Homestead-Miami Speedway.
However, Talladega Superspeedway is the next arena to tackle and it's a venue where Busch experienced the joys of Victory Lane in 2008. It's also where he was collected in a multi-car crash this past May, which Busch and his peers realize is the inevitable intangible when it comes racing at this mammoth 2.66-mile arena.
"I think Talladega is definitely the biggest test for everybody," Busch said. "There's certainly too many variables. It's so wide open that you just have no idea. Anybody can go into that race and win it. You saw it in the spring with David Ragan and David Gilliland being able to team up at the end."
Like most racers, Busch ultimately just wants to have a weekend at Talladega with his car (and himself) in one piece. Sure, a win would be great, but the championship contender realizes what the more realistic objective is with this Sunday's Good Sam RV 500 (Live at 2 PM EST on ESPN).
"We just need to go through that weekend and have a good, solid picture of what we want to achieve. And of course that's a top 10 finish. Anything less that that is going to hurt us," Busch said.
He's got a solid supporting cast, which starts with his crew chief Dave Rogers. Think of him as the head coach of the No. 18 M&M's team who spearheads this JGR organization's efforts into the battlefields, often keeping his driver and team focused even when adversities are encountered. There's also that solid pit crew who's among the fastest in the sport, servicing that steel chariot in fine fashion.
Of course, Busch's wife Samantha is just as instrumental to keeping him focused and motivated come race day. Next to that 800 horsepower Camry that keeps Busch rolling fast on those high banks, if there was a bigger catalyst that inspired this sensational racer to those wins and focus of a champion, it's Samantha who proudly shows her support through social media and at the track.
Always the first to praise her man and also to first to console him and his throngs of enthusiastic fans, she definitely plays a huge role with this racer's focus to winning on any given race day, certainly a trait that's relatable for any of us who put forth an all-out effort everyday.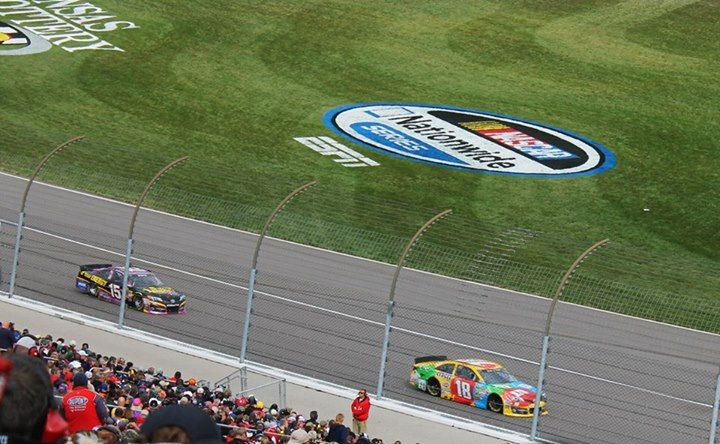 Sunday's race at Talladega is a tremendous test for all the Cup drivers and teams, with so much uncertainty surrounding the event that doesn't subside until the checkered flag's unfurling.
One driver's mistake can be the difference maker as to who still battles on for the title for the remainder of the season and for those who are just vying to place in the top-10 for the final points rundown.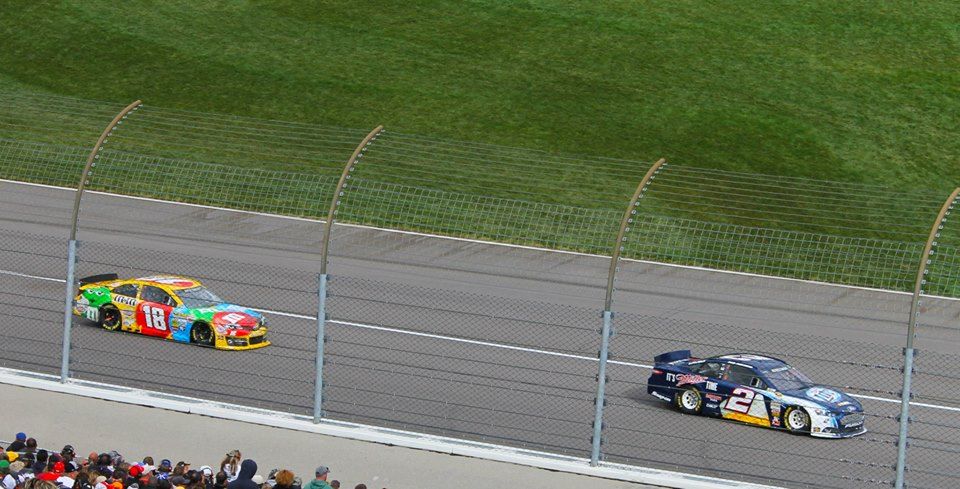 No matter the outcome this Sunday, make no mistake: Kyle Busch is going to give it 100 percent on the track and make certain he puts himself and his team in position to not only leave Talladega in one piece, but to also nab their fifth win of the year. Now that's strategy that's not bad at all for the driver who's shown temperance with aggression and patience, all traits of a champion.
Author's Notes : Major acknowledgement to my good friend Kristen Murphy for the sweet shot of Kyle Busch "lighting 'em up" after his win at Atlanta. Also special thanks to the lovely Allison Dunny for her pictures of "Rowdy", first in the seemingly calm, but intense picture racing at Kansas Speedway with Clint Bowyer as well as the No. 18 battling Cup champ Brad Keselowski.