Kyle Busch had a career season in 2013 with four wins and a fourth place points finish in the NASCAR Sprint Cup points standings. Did Rowdy mature as a driver?
If there's a driver in NASCAR Sprint Cup racing who absolutely races at 100 percent, no matter the position, the stakes, and lap in the event, it's Kyle Busch. Not to say that the rest do not give it their all at every race, but Busch absolutely drives each lap like it's his last one, driving the wheel off his No. 18 M&M's Toyota Camry, often wearing his heart on his sleeves with his on and off-track actions.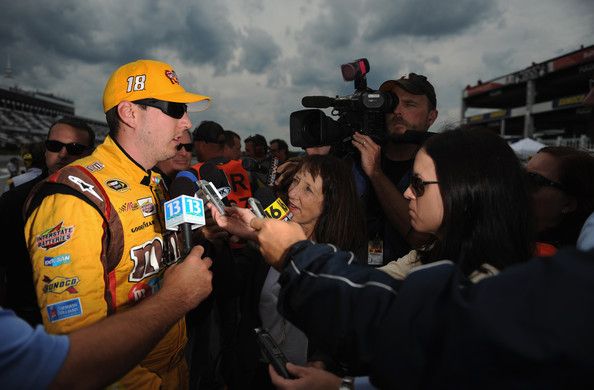 Where in past years, that passion may have landed him in some conflicts with his peers or the press, in 2013, the world got to see a matured, mellowed, but more focused Kyle Busch whose eyes were set on winning races and the Cup championship.
Certainly, like most other racers, he had his moments where his radio communication would've made Tony Soprano think highly of him, but at the end of the day, it wasn't the Kyle Busch that we knew before who'd blow up at others or take himself out of races.
Although he didn't come home with the coveted Cup trophy, his four victories, which came at Fontana, Texas, Watkins Glen, and Atlanta were certainly highlights that epitomized his transition from an aggressive raw talent to a well-rounded, balanced, and hardy racer whose results finally mirrored the effort behind the wheel.
Rarely did we see that "blow up" moment for Busch, as he took the high road all season long. Even when he had his brief dustups with Kasey Kahne during the Talladega and Darlington spring races, there was this sense of a different, wiser racer.
That could be attributed to the strengthening of Joe Gibbs Racing team as a whole, with the arrival of Matt Kenseth during the off-season. Having a veteran and previous champion like Kenseth on campus had to be a valuable channel for Busch and his No. 18 team to turn to throughout the season.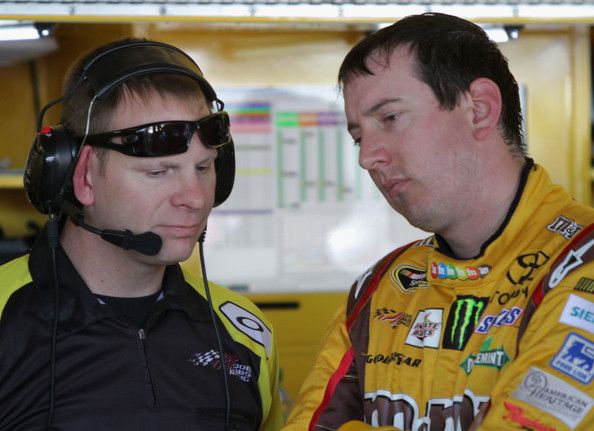 Also consider the amazing leadership of crew chief Dave Rogers, who kept his driver and band of brothers in check with a calm, cool composure even during some stressful moments like at Atlanta when the car was just off for most of the race. Or how about races like Charlotte in the fall, when he kept his troops' focus with their eyes on the prize?
Countless examples come to mind with explaining or analyzing the great turnaround season for Kyle Busch. After missing the Chase in 2012 and seeing their season implode in the Richmond fall race, it would've been easy for this promising group to split up and go their separate ways.
Instead, it brought them closer together and particularly in a season full of change with a new Gen-6 car, new teammate, and a Toyota Racing Development engine that had difficulties early on in 2013, this was nearly mission accomplished for Team 18. Busch's victory at Fontana was truly impressive, as he played the role that he often doesn't on race day. Instead of being the hard charging, paint trading driver in the lead, he lurked in third spot behind Denny Hamlin and Joey Logano.
As Hamlin and Logano tangled in turns 3 and 4, it was Busch who drove by them and took the checkered flag home in nearly "Cole Trickle" style. Quite a change in roles for the man that often call "Rowdy," as he drove like the hero instead of the antagonist.
Their Chase wasn't too bad, starting off with a pair of runner-up efforts at Chicagoland and Loudon before placing fifth at Dover. A crash-related 34th-place finish at Kansas may have been their undoing for a title bid in 2013, but this train still kept on chugging along. Placing fifth at Charlotte and Talladega, their faint title hopes were alive until a 15th at Martinsville and 13th at Texas eliminated them from the championship picture. Making a habit with "going for two," Busch and his No. 18 team scored seventh place finishes at Phoenix and Miami to close out the year.
All in all, it was a great year Rowdy, his team, sponsors, and fans. Lots of smiles were seen from Kyle and Samantha Busch, gleefully enjoying their successes in Cup, Nationwide, and Camping World Truck Series races. It's not to say that the fire and aggression from Busch has completely waned away. Instead, it's a more methodical and cunning racer who's picking his battles and not provoking them with his peers. This attitude and his overall A- performance in 2013 has to be enough reason to think that next season could be an even better one for this No. 18 bunch.
Their only weakness would have to be emotions. Yes, we're human and we're prone to our moments, but as long as Busch, Rogers, and the crew don't beat themselves up badly if a mistake happens on the track or on pit road, they've got a ton of potential to hoist the Cup at Homestead-Miami Speedway next year.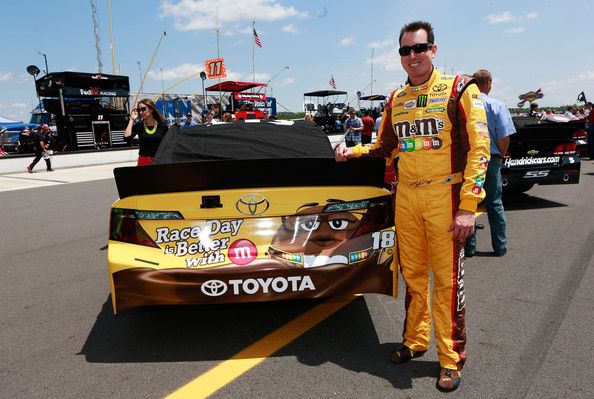 The best part is that we've not seen the best of Busch quite yet and for the rest of the Cup garage, that is absolutely bad news as the pride of Las Vegas, NV is merely getting warmed up.
Ready for the Kyle Busch Show in 2014? Enter stage, Daytona, and participant Kyle Busch in his No. 18 machine.
Turn the page.