Sometimes, in struggles, individuals can truly find out who they're all about, dig deep, and find out the limits and strengths of their chemistries, bonds, and personalities. While it can result in drastic changes or make those in that moment reconsider their passions, for Martin Truex Jr. and his No. 78 Furniture Row Racing Chevy SS team, they know that eventually, all of these hard times will result in brighter, sunnier results in the NASCAR Sprint Cup circuit.
In a season that's seen only three top-10's from a team that made the Chase field last year and a driver who took the checkers at Sonoma with Michael Waltrip Racing, it's not indicative of what this combination's abilities when running on all cylinders.
From the new aero package and getting acquainted with the team's on-track leader in crew chief Todd Berrier, it's taken some time for Truex and Furniture Row Racing to get used to the changes. Still, Truex acknowledges that the team's chemistry is strong, in spite of the difficult showings thus far in 2014.
"Oh, yeah, for sure I think we have," Truex said. "I really feel like we're all on the same page and we're all confident in each other. Things are really, from a team standpoint, I feel like everything is going really well. It just seems like we can't -- we just can't put our finger on what exactly we're missing or doing wrong. I feel like we're all working together the way we need to, and the communication is good. Really I don't feel like we're missing anything in that department."
Truex and his No. 78 team have shown flashes of brilliance, including a sixth at Dover, ninth at Pocono (June), and a 10th at Richmond. Clearly, this is a group where once the bad fortunes are out of their system fully, they're capable of compiling a strong run such as last year with previous driver Kurt Busch.
Berrier's experienced those successes of wins and making championship bids, placing fourth (2006 and '08) and fifth ('03) with Kevin Harvick, indicating that with the right personnel, car, and driver, they're able to contend for the checkers come race day.
One thing that even the best in this sport cannot control is fate. Often, drivers and teams like Truex and Furniture Row can show up at the track, bust their tails, and even if all of the effort is put forth on getting the maximum speed and effort from their car and on pit lane, it's those mechanical gremlins or grinding accidents that impede the best in NASCAR.
That said, the 34-year-old Mayetta, NJ native points out that they're trying to figure out those issues.
"Yeah, I mean, it's been kind of a mystery to be honest," Truex said. "I think a lot of it has been -- we've had a lot of mechanical failures which we obviously need to figure that out and we're working on that, but as far as the communication and working together and staying positive and looking at the right things, I feel like we're doing all that, but at the end of the day when you're not getting the results you want, you have to look at everything.
Certainly we're doing that and talking each week about what we can do better, each and every one of us, so we're constantly looking in the mirror and saying what can I do better, what can I do better, and it's just a work in progress and things we've got to figure out."
Perhaps this weekend's race at Watkins Glen International is exactly what the doctor ordered for this hardy bunch. Simply put, this is a great shot for Truex and his team to capitalize on a winning moment in this dark and cloudy year.
His track record truly indicates that he could be a factor on Sunday, with three top-fives and five top-10's in his past eight starts. Although he's not led a lap there, he's finished all of the laps in which he's competed at this 2.45-mile road course that's not exactly an easy weekend drive in the Finger Lakes region of New York.
Another reason to consider Truex and his team as a contender for the win at WGI is that they tested at this facility a couple of weeks ago, gathering data and working on getting their car ready and right for the weekend. Sure, they may not feel they're quite there yet to make the Chase but if this two-time Nationwide Series champion racer has any say on how those laps go, especially if near the front, it's anything goes.
"Any time you can see the lead, you're going after it," Truex said. "It doesn't matter what the situation is."
Look for that familiar black base and red numeral No. 78 Chevy SS to be making some noise for a solid performance as they'll go for the win in the Cheez-It 355 at The Glen. Hail Mary racing may be what it takes to turn around this season for this independent effort, who ultimately have displayed hearts of champions, starting with car owner Barney Visser and the shop personnel who work behind the scenes in getting their weekend chariot rides ready for the battles on the track.
Just don't expect the mild mannered Truex to be around his younger brother Ryan, a fellow Cup competitor who's gunning for rookie honors with the No. 83 BK Racing Toyota efforts.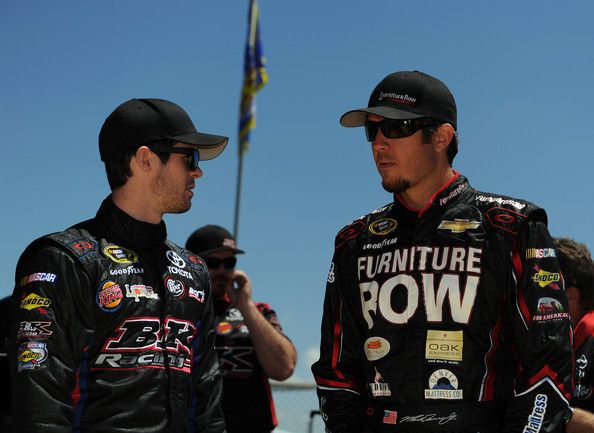 "He's always doing pranks," Truex explained. "I don't know what he does. He likes to play on the phone. Every weekend it seems like at some point he takes a picture of somebody on an airplane and somehow he draws on the pictures and posts them on Twitter and all this mess. He's always up to something. He's the quiet, sneaky one.
Yeah, but he's always plotting and scheming things. Simple things, like if you're sitting in a chair he'll walk by and pull on your shoelace and untie your shoe. He's always up to something. I can't keep up with that. I've got too much other stuff going on."
That "other stuff" that's happening is the focused, keen racer looking to find the silver lining in a season that hangs in the balance of either being salvageable or one that requires this entire group to go back to the drawing board. Chances are, they'll find a way to right this storm out, sooner than later.