Competition is the name of the game in NASCAR and if anyone's up to the challenge to be a big media personality, it's Carly Hayward. Our friend from "the north" stops by to talk about her racing story here on TPF!
In any sports field, regardless of the era, those who are successful will endure through their struggles and adversities to become amongst the strongest and most driven individuals in their trades. Racing is no different in that one's journey into this particular sport is one where you have to absolutely give all, sacrifice your comforts, and take chances to gain confidence in your abilities to distinguish yourself from your peers, on and off the track.
Carly Hayward of Erin, Ontario, Canada is a rising and upcoming media personality and journalist who's looking to make her way into NASCAR racing. The senior student at the College of Sports Media in Toronto developed her passion for stock cars back in 2008, when she became immersed with the sport on TV. Much like any young prospects in the sport, she pays particular attention to her strengths and works hard to hone her craft and skills to become one of the top, leading writers and on-camera personalities of this industry.
Personally, I've seen how difficult it is and how easy it is to put the racing dream aside, but the struggle itself is what makes these visions and desires worthwhile. Much like myself, Hayward is just as driven and that's probably what makes her such an engaging colleague and peer to established and new, fresh faced media members.
Hayward has the same enthusiasm and tenacity that I see in myself, and I can't help but realize while I interviewed her for this latest feature story on The Podium Finish, there's a lot of myself with who she is professionally. She realizes how difficult this sport is in terms of having to promote one's work and to network, but like champions on the track, she's absolutely in the mindset to turn some heads with her original approach and channel her personality and genuine perspective with NASCAR racing. In some ways, she's like a Brad Keselowski-type who absolutely wants to show us that she's got something to prove and to be honest, she's going to be a great media starlet in this ever changing sport.
Posting YouTube clips on her channel to recap races in the Sprint Cup ranks, she combines professionalism with her original style where you feel like you're actually in the bar, living room, or at the track watching the event unfold but in a way where it's with someone who knows what's happening. Beautiful, charming, and absolutely knowledgeable with NASCAR racing, I'm not only pleased to present this latest interview story on TPF, but I'm also happy to introduce our latest member of our stock car team!
In her own words, let's "skitter, scatter, let's ski-dadder," and without further ado, let's get to know The Podium Finish's newest staff contributor Carly Hayward right here, right now! Ladies and gents, let's get 'er done!
Rob Tiongson : For the fans at home who are just reading about you, tell TPF Nation a bit about yourself and how you got into the sport of NASCAR and auto racing.
Carly Hayward : I'm a student in my final year at the College of Sports Media in Toronto, Ontario. CSM is a sports centered broadcasting school for Radio and Television and without it I wouldn't be on the way to my dream of working as a reporter in NASCAR. My passion for NASCAR began only about 5 years ago where I was regularly exposed to watching races. Skeptical at first, I thought they only the drivers only turned left...how wrong I was!
After learning the rules, strategy and passion involved my view completely changed and I became one of those Canadians who loves NASCAR, but not so much hockey. Over the last summer I was lucky enough to work with the NASCAR Canadian Tire Series (a NASCAR Home Tracks series) doing media work and hope to continue again next season.
RT : When you watch a race, do you take notes and observe what goes on or do you just straight watch it and then take down your thoughts on it afterwards?
CH : I usually make small notes during the race, not the obvious things, but things I think of while watching or storylines I see developing throughout. The best part about NASCAR is things can change so quickly and that means your story can too so, for me, I like to have lots of storyline options to follow and see unfold.
RT : Based on what we've seen thus far in the 2013 season, which racers and teams have surprised you the most and which do you feel have been lacking somewhat this year?
CH : Martin Truex Jr continues to surprise me all the time. Since I am fairly new to the NASCAR world (comparitively) I have to say seeing him develop over the last five years has been amazing, especially the last 2. He is steadily becoming more and more consistent on the track, and despite the drama at MWR from Richmond I can see him coming out even stronger next year.
An obvious flop this year was Denny Hamlin, although it wasn't really his fault he didn't make the Chase, he could have made it in with a couple of wins. It seems as though he wasn't really in the game when he came back. He will be back again next year in top form so I'm not too worried.
Another is Brad Keselowski. The 2012 Champ just didn't seem to have it this year. Whether it was risky pit calls or equipment that just lacked he just did not have the magic he had last year. Teammate Joey Logano had a standout year though!! Making the Chase for the first time, and pulling out his third career win in his first year with Penske makes Logano look more like a threat in the coming years.
RT : How popular is NASCAR up in Canada? Is it mentioned as often as F1 or IndyCar with the motorsports coverage by the media there?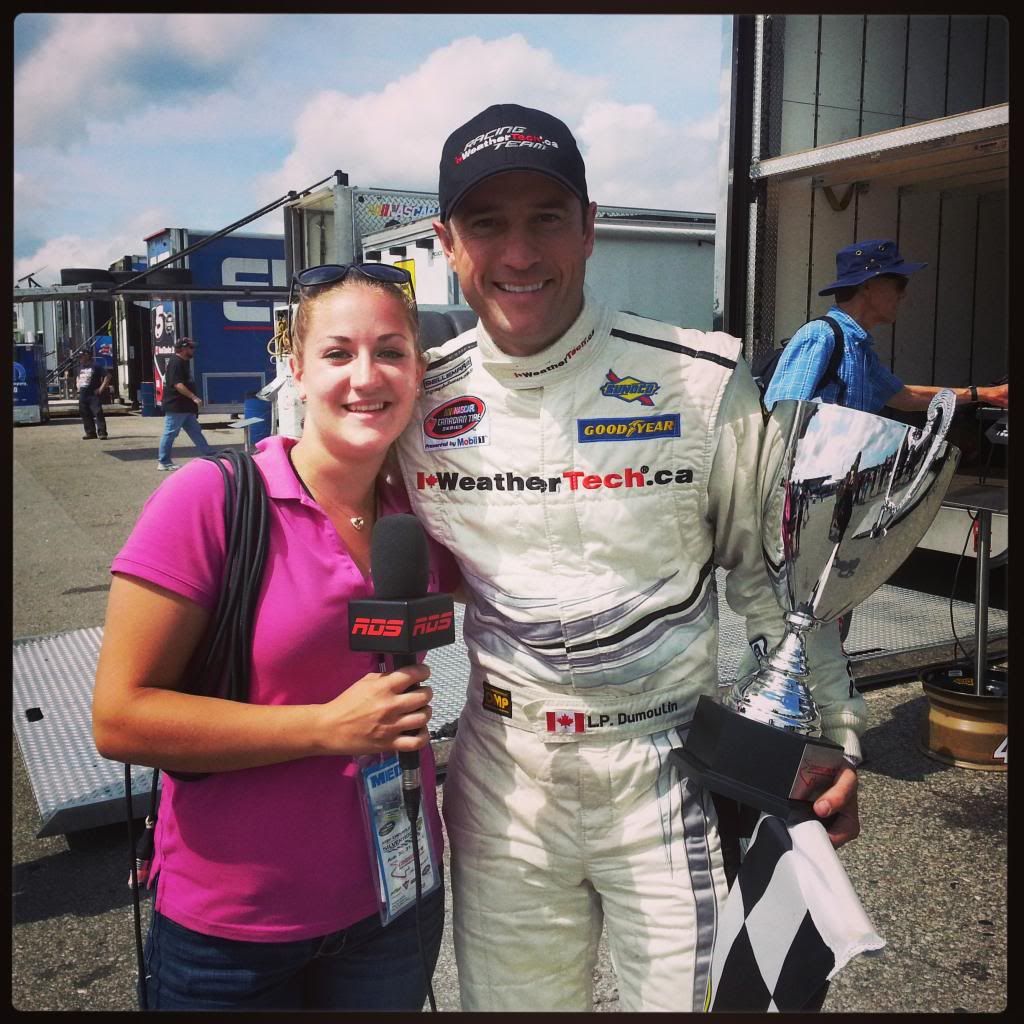 CH : NASCAR is fairly popular in Canada. Of all the provinces Quebec would be the most motorsports influenced, but more on the Indy and F1 side. In Ontario there are several short tracks as well as a road course which draws a lot of the racing crowd here.
Working with the NASCAR Canadian Tire Series, I saw first hand how popular NASCAR is when the trucks came to Canadian Tire Motorsports Park in Bowmanville. Over the weekend there were more than 100,000 fans recorded there, with 70,000 in attendance for the truck race.
Other races I attended with just the Canadian Tire Series circuit still brought upwards of 15,000 at some tracks. The Honda Indy held in Toronto had over 75,000 fans over the weekend (more than 10,000 more than last year) so motorsports are definitely becoming more popular in Canada.
We have two major TV sports stations, TSN and Sportsnet. TSN airs every NASCAR and F1 event, while Sportsnet has Indy Car.
RT : What draws you back to racing as a fan and as a journalist?
CH : I love the sound, smell and feel I get when I'm at a track. The rumble in my stomach, the smell of gas and burning rubber and the impact guns whirring is amazing. Even when I can't be at a race I still get that happy, excited feeling while watching at home.
RT : Have you attended a race and if so, what was your take away from that experience? If not, which track would you like to check out for your first ever event?
CH : I've only been to Michigan International Speedway, three times. The first time I went was the June race in 2010 and I fell in love. That was the day I decided I wanted to be a NASCAR reporter. Walking around in the pits and feeling the buzz of excitement gave me goosebumps. I enjoyed the experience so much that for my birthday in July I got tickets for the August race at MIS! I had to go back and get that feeling again.
Since starting school I haven't been able to go south of the border to watch a race (no $$$) but my dream is to go to the Bristol night race. Other tracks I would love to go to, Daytona, Martinsville (so much history!), Talladega and, of course, Indianapolis Motor Speedway!
RT : Would you say that your social media outlets on Twitter and YouTube have helped in terms of promotions of your work and career?
CH : I like to think so! I'm not always the most consistent on my Twitter or YouTube account (something I am working on!) but they definitely help with self-promotion. Still trying to get over the 99 followers hub though! (laughs)
RT : Away from the computer and the tube watching races, what are some of the things that you enjoy doing?
CH : I have a broad range of interests, like really broad, but to narrow it down I love going to races, spending time with family and friends, running, nature, reading, tea, fantasy, my PS3, country music, folk metal and my little hometown of Erin, Ontario. :)
RT : What would be your ultimate goal in terms of your career plans in racing?
CH : My ultimate goal is to be a pit road reporter for NASCAR. I really love being in front of the camera and talking about my biggest passion...racing!
RT : Does part of you have that desire to go behind the wheel of a stock car and experience exactly what the drivers of NASCAR endure on any given race day?
CH : I would love to experience what the drivers do on race day, but maybe as a passenger instead! I couldn't imagine what it feels like to be going around those turns so fast and so low, definitely something I would love to feel!
Author's Notes : I'd like to personally thank Carly Hayward for taking the time for making this interview possible for the fans here on TPF! Carly will be contributing in the near future to provide her insights and thoughts on the NASCAR races as well as providing her take on the hottest issues in racing. If you'd like to interact more with Carly, "Follow" her on Twitter and "Subscribe" to her YouTube page right now. All pictures are courtesy of Carly Hayward. Thanks so much and let's do some racing soon!