Jeff Gordon and Kyle Busch couldn't be from far different ends of the racing spectrum. But there's a lot in common with these top NASCAR talents, and it's more than their need for speed!
NASCAR Sprint Cup racing can truly be a sport where even the best find themselves stymied by the ever changing climate of this competitive, high speed modern era version of Roman chariot races. Such gladiators who are perennial race event and title contenders can run into a season of struggles and adversities that would even make the best wonder if they've still got what it takes to be a winner in racing, much less a legit force on the track.
Such was the case for Jeff Gordon and Kyle Busch, two of the top talents and names in the Cup ranks who endured difficult and sometimes arduous 2012 campaigns. While Gordon and his No. 24 crew made the Chase in dramatic fashion with a surprising runner-up at Richmond, Busch failed to make the cut and some wondered if that was the end for the No. 18 team. Some thoughts ventured towards branding the M&M's Joe Gibbs Racing bunch as a group that completely lost their way to be true championship contenders. As for Gordon, his Chase was middling, overshadowed by his controversial clash with Clint Bowyer at Phoenix International Raceway last year.
Busch and Gordon, although in somewhat opposite ends of the racing spectrum, would remain focused and prepared to make their statements for a strong 2013 season. Despite the transition to the Generation 6 cars and some early season jitters for both drivers, "Rowdy" and "Four-Time" would hit their stride as the year progressed. And did it ever show.
For 28-year-old Busch, he and his No. 18 Toyota became regular fixtures in the Cup victory lane scene, scoring wins at Fontana, Texas, Watkins Glen, and Atlanta. Las Vegas, NV's pride and joy would then go into celebration mode, performing his patented burnout and bow to the crowd before giving the big smooch to wife Samantha with total joy and happiness after a "four hour shift in the office." Not to mention, that team, led by crew chief Dave Rogers, has been nothing but sensational all year long, showing grace under fire and that killer instinct to keep on winning and crushing the field during their victories.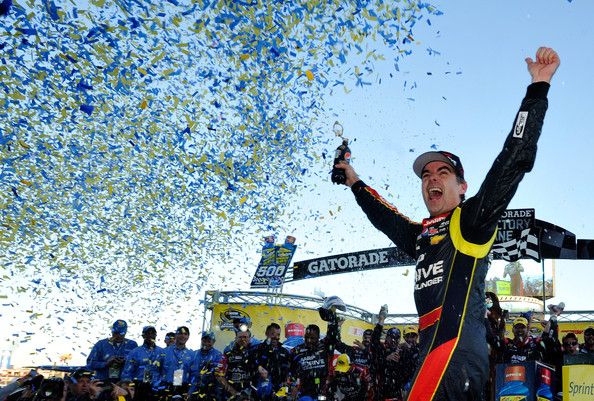 Meanwhile, it was a case of the tortoise and the hare for Gordon, as the 42-year-old four-time Cup champ struggled for a majority of the year before hitting a rhythm in the summer following their "medicore" 10th place effort at the July Loudon race. Soon, he became a regular fixture in the top-10 race rundown, even at times battling with Kyle Busch, Jimmie Johnson, and Matt Kenseth for race wins. Eventually, those persistent performances would be rewarded with a pivotal victory at Martinsville in October, notching career victory No. 88 in vintage Gordon style thanks to steady leadership from crew chief Alan Gustafson and the Drive To End Hunger pit crew that's gotten the job done each race day.
Both drivers and teams have found themselves dueling consistently for strong finishes and wins, dueling cleanly but competitively for a rivalry that's probably not as noticed by most critics and fans. It's not to say that it's anywhere the Allisons versus Cale Yarborough feud of the sport's "heroes and villains era" but it's a fun healthy rivalry where there's a lot of respect between these two iconic NASCAR forces. That mutual respect shows, especially when both drivers find themselves battling for the same position, seemingly with both drivers stepping up their game no matter if it's a battle for the lead or 15th position.
Something that Gordon and Busch share in common is that they've been writing their redemption stories from dismal 2012 campaigns to a year much like a musical band scoring four top-10 singles in the Billboards. Simply put, this duo haven't forgotten how to win or race in this sport. Sure, it's easy to fall behind the curve ball when there's changes in the rules, new fresh talent that drive each lap like it's a qualifying session, or a tire compound that's harder than figuring out how to "dodge and burn" or do "vectors" on the latest edition of Adobe Photoshop.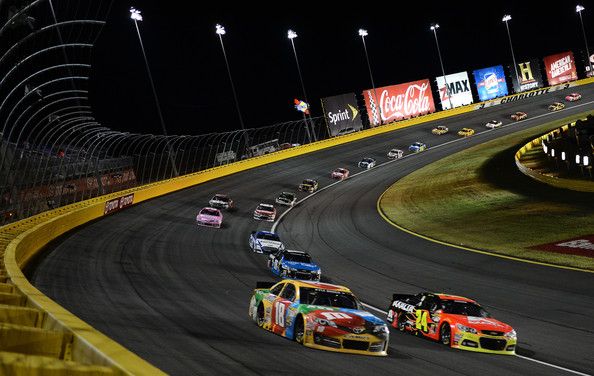 Ultimately, what it comes down to is that these two titans of NASCAR, one a legend and the other a raw fresh talent ready to hoist a Cup, are absolutely prime to contend on any given race day, season, track, and circumstance in the Sprint Cup world. They're about two of the most dedicated, toughest, and most competitive drivers in this sport, wanting nothing but to win races and getting disappointed at the realization of placing second after a hard day's work in their tin cans.
Homestead-Miami Speedway is their next chance to win. Clinching a race victory at the season finale would be bragging rights between now and the Daytona 500 race weekend in 2014, something that Gordon got to enjoy last year. Aiming to repeat that feat, look for the No. 24 Axalta Chevrolet SS team to have a formidable challenger in the form of Busch and his No. 18 M&M's Toyota Camry brigade ready to make like "Nationwide-style" near South Beach with a "rowdy win."
How's it all going to play out?
Is it decided by that last pit stop, the car's handling, or a lapse with the equipment or driver?
Much like a good book, turn the page about 267 times and you'll know exactly how "Chapter 2013" turns out for the "Redemption Tale of Jeff Gordon and Kyle Busch," with a little help from Hendrick Motorsports and Joe Gibbs Racing. Stay tuned, friends. Homestead-Miami Speedway could be site of a wonderful, exciting chapter for both drivers...and a pair of fans who are learning what racing is truly all about!
Author's Notes : I dedicate this piece to my family and friends who've stood by me, encouraged me, and kept me upbeat this year personally and with my racing ambitions. Consider this article as my thank you gift for the love and care for me! Also, I dedicate this article to my love, Allison, who's made race days interesting again and I look forward to our adventures at the track together next year.