Road course races tend to bring out the most savvy of driving skills in NASCAR racing and that certainly applied in Sunday afternoon's Chevrolet Silverado 250 at Canadian Tire Motorsport Park in an exciting last lap battle pitting Ryan Blaney and German Quiroga. Coming to the stripe, Blaney put the spurs to his No. 29 Cooper Standard Ford F-150 to take a narrow victory over Quiroga's No. 77 Otterbox Toyota Tundra by just 0.049 seconds.
Coming off last weekend's NASCAR Nationwide Series win at Bristol Motor Speedway, Blaney kept his winning ways up, this time in his main racing series with the Truck division. Blaney battled Quiroga in the final eight laps, as the two distanced themselves from the rest of the field in the ultimate race restart.
Despite briefly losing the lead in turn nine, Blaney made a crossover pass on Quiroga with enough drive off the corner to take the checkers that echoed last year's duel, except with a cleaner and closer finish at the start/finish line.
"I had to protect as best I could," Blaney said. "He was able to get to my left side, and I didn't think he could stay out there. But I got really, really loose underneath him there in that corner. The old-school short track racing cross-over move, I guess, worked on him. It's nice to go out there and race clean with a guy, and put on a great finish for the fans."
Sunday's race win was the chocolate chip to a cookie of a season for Blaney (if you will), which has seen the 20-year-old racer score eight top-fives and 10 top-10's through 14 races thus far in 2014. Now 13 markers behind points leader Johnny Sauter, the second year Brad Keselowski Racing racer, who sits third in points, looks to capitalize on another winning opportunity at the series' next stop at Chicagoland Speedway on Friday, September 12th for the Lucas Oil 225.
It's been a relatively strong year for Blaney, who finished sixth in his rookie campaign in the Truck ranks last season. He's scored seven straight top-seven results from Dover in June through the Pocono race last month before a pair of shaky results at Michigan (21st) and Bristol (13th).
Otherwise, he's been steady, focused, and within striking distance of graduating from the Truck ranks in style with a championship in sight. The High Point, NC native's quickly climbed his way up the NASCAR ladder, earning a Truck ride for the past two years with a Nationwide seat awaiting and the famed No. 21 Wood Brothers Racing Ford in the Cup Series awaiting him in 2015.
Crew chief Chad Kendrick's kept his driver and team poised for a strong run at the title, while spotter Ross Chastain, Blaney's Truck teammate last year, played a part in Sunday's exciting duel from atop the spotter's stand. With eight races left on the schedule, the focus now turns to Joliet, Loudon, Las Vegas, Talladega, Martinsville, Texas, Phoenix, and Homestead-Miami, where anything can and will happen down the stretch.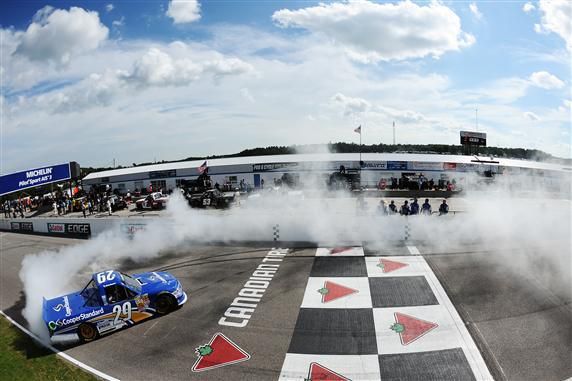 For now, Blaney, Kendrick, Chastian, and Brad Keselowski Racing can enjoy this win for a week, which is the team's second straight win after their truck owner's namesake took the checkers last week at Bristol Motor Speedway. Perhaps like DJ Khaled, all they'll be thinking about "is win, win, win no matter what."
Here's a look at the top-10 in points in the NASCAR Camping World Truck Series as the circuit prepares for Race 15 at Chicagoland:
Johnny Sauter (ThorSport/Toyota/1 win)
Matt Crafton (ThorSport/Toyota/2 wins)
Ryan Blaney (Keselowski/Ford/1 win)
Darrell Wallace Jr. (Busch/Toyota/2 win)
German Quiroga (Red Horse/Toyota)
Ron Hornaday Jr.
Joey Coulter (GMS/Chevrolet)
Timothy Peters (Red Horse/Toyota)
Ben Kennedy (Turner Scott/Chevrolet)
Jeb Burton (ThorSport/Toyota)
Author's Notes : This recap is for two great friends and TPFers, Shelby Parrack and Emma Blaney! Shelby was at MoSport and enjoyed the race on Sunday from the track while Emma's always a Team TPF family member. No more glass boxes for you, Emma!