Young 21-year-old Stephanie Borchelt got to experience the thrill of a lifetime, interning with Hendrick Motorsports. Learn about her inspirational story right now!
When it comes to chasing down dreams, it is often the ambitious and those driven by hunger who find ways to succeed and fulfill their wishes and desires. The climb up the ladder of success isn't always easy, but the struggles and sacrifices along the way are what define champions.
Their stories have chapters that are continually written and etched by adversities, success, and perseverance. When individuals band together as one, the results are often amazing and make previously unattainable dreams within reach.
In the case of 21-year-old Stephanie Borchelt, she got to experience and fulfill those racing dreams through her internship with Hendrick Motorsports. Working in the Vehicle Design Department of the Hendrick Motorsports campus, the young talented Motorsports Engineering major implemented classroom concepts from the Indiana University Purdue University Indianapolis campus with lessons at the shop and on the track with the Nos. 5, 24, 48, and 88 teams.
Borchelt experienced what many motorsports buffs could only dream about, which was getting to be an intergral member of a winning team in NASCAR racing. She's approached this opportunity with humility and class as well as with enthusiam, realizing how tough it is to just make it in auto racing. Much like today's contemporaries who drive up the ranks to make it to the big leagues, Borchelt is striving hard to find her way into the racing world on a more full-time basis.
For now, she's had the summer of a lifetime with Hendrick Motorsports, relishing every day of her internship with a team that's experienced tremendous success across the board. You'll get the sense that the same winning formula that drives Team Hendrick is the exact one that propels Borchelt to give it her very best with all that she does, even with her stint with HMS.
Despite her busy weekend with the teams preparing and racing at Bristol Motor Speedway, I interviewed Borchelt about her racing story as well as her internship at Hendrick. Throughout this piece, you'll find she's quite relatable, friendly, and very humble.
Of course, she's competitive and much like the team she's interned for this summer, she strives to be the best in her field. Perhaps it's that concept that both sides will take away from each other, as Borchelt and HMS aim for long-term success.
It is my honor to interview an integral member of a team that knows a lot about winning and climbing up the racing ladder. With that in mind, sit back, relax, and let's do some "Shop Talk with Stephanie Borchelt, Hendrick Motorsports Intern!"
Rob Tiongson : For the readers at home who don't know about you, tell them a little bit about yourself and how you got your start into the racing world.
Stephanie Borchelt : First off, I have a huge family. I am one of six and have been competitive my entire life. From school to hobbies, I always wanted to be the best of whatever it was I was doing. Since I was so competitive in school, I was lucky enough to have my choice of colleges to attend.
I ended up choosing IUPUI to follow my dream of being in NASCAR. Through the school, I learned the essentials of design and vehicle dynamics which allowed me to be a good candidate for my first job at Vance and Hines Motorsports. Through connections with the school, I got an interview with Hendrick Motorsports and the rest is history.
RT : Originally born in Missouri and essentially a Hoosier State native, was racing something that you knew you had to be a part of?
SB : Being so competitive, I always knew I had to do something that would use all of that energy. When I was introduced to the sport at 13, I was absolutely hooked. From that point on, it was the only thing I would think and dream about. I spent all of my energy trying to find a way in to the sport and through hard work, I eventually made the right connections and found a spot for myself in the NASCAR world.
RT : Who were some of your heroes personally and in the world of motorsports when you were growing up? What drew you into racing and more specifically, NASCAR?
SB : I am all about being the best, and when I grew up the best was Jeff Gordon. I spent a lot of time studying his team and the rest of Hendrick Motorsports to try to figure out what made them so good at what they did. My personal hero, like many others I'm sure, would have to be my mother. She has taught me most of the important lessons in life and continues to teach and push me as new challenges arise.
I was drawn into racing by the very nature of racing itself. Puzzles have always fascinated me and I love to try and figure out how to make things work better than they do now. A race is just a big puzzle, as it has many complicated parts, including some that a team does not control, but it is still fundamentally a huge fascinating puzzle. NASCAR attracted me because it is what I know. I grew up watching it and, even though I have tried, the other forms of racing do not grab my attention like NASCAR does.
RT : You work as an intern with the teams at Hendrick Motorsports, one of the most illustrious and prolific organizations in racing and all of sports. How much of an honor is it that you get to work with members of Kasey Kahne's and Jeff Gordon's crews?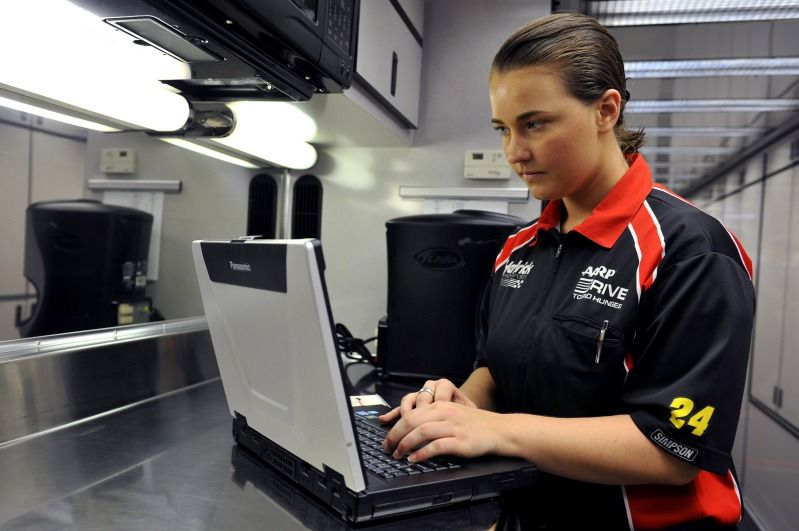 SB : I actually work as a Vehicle Engineer for all four cars (Nos. 5, 24, 48, and 88). It is a huge honor to work for an organization such as Hendrick Motorsports that has the prestige and history that Hendrick has.
It has been absolutely amazing to work with and learn from the best people in the business.
Growing up I always wanted to work with them since they are the best in the sport, but to actually have it happen and to get to walk into that shop every morning is unbelievable.
RT : I understand you're a senior now in college – first of all, what school do you attend and have you been able to apply what you've learned in the classroom with your internship at Hendrick as well as your experiences on the track?
SB : I am attending IUPUI (Indiana University Purdue University Indianapolis), a mouthful I know, but definitely worth it. The good thing about my school is that it has the only Motorsports Engineering degree in the country. Our classes are specifically tailored to teach students what they will need to know for a career in the racing world and are taught by faculty members who used to be in racing. My classes range anywhere business classes to data acquisition to vehicle dynamics and have helped me tremendously both at the shop and at the track.
RT : What are some of your duties as an intern with the Hendrick Motorsports teams? Do you have some input with the setups for the cars or strategy throughout the racing weekend?
SB : As a vehicle engineering intern, I was responsible for anything the engineering department wanted to throw at me. I spent most of my time designing parts for the cars or testing various systems. Shop engineers do not have an input on the setup for the cars on the weekends; this is left to the race engineers to figure out. Since I was a shop engineer, I just did my best to give the teams the best parts possible and let them figure out the best way to put the parts together.
RT : Do you see yourself continuing as a member of the racing community even upon completion of your internship at Hendrick?
SB : Definitely, I have dreamed of working in racing for a long time. My time at Hendrick Motorsports has only convinced me further that this is really what I want to do.
RT : Let's do a little bit of Free Association, Stephanie! Tell me the first thing that comes to your mind with the following:
Teamwork.
SB : Important.
RT : Leap of faith.
SB : Risky but necessary.
RT : Success.
SB : Hard fought.
RT : Passion.
SB : ..is born in you.
RT : Favorite racetrack.
SB : Bristol.
RT : Friends and family.
SB : Loving.
RT : Where you see yourself in five years.
SB : Working for a NASCAR team.
RT : Did you ever imagine being so young and getting to experience and take part in opportunities that some individuals have dreamed about as far as your internship is concerned?
SB : Of course, I dreamed about it, but actually getting to do the exact thing that I set out to do when I was 13 when I am only 21 was farther than I thought I would be. I feel extremely blessed to be in the position I am in and catch myself smiling for no apparent reason all of the time.
I can't describe what I feel when I walk into that shop, but I know that I am a very lucky person to have all of this happening for me.
RT : What advice do you have for young students and professionals who want to put their foot in the right door with being in auto racing?
SB : You need to get an education. The way the racing world, and the world in general, is evolving there is very little to differentiate you from everyone else that wants in to a race team. Find a small local team, whatever series it may be, and get on their crew so you can gain actual hands on experience to back up your college training.
That being said, never give up on your dream. Somewhere there is a door just waiting for you to knock on it. Keep trying and making yourself better and eventually something will happen for you. Just look at me, I had no racing experience before I went to college and two years later, I was working for Hendrick Motorsports for the very driver I grew up watching. Just keep working hard and it can happen for you.
Author's Notes : I would like to thank Stephanie for taking the time out of her busy schedule to allow me to interview this past weekend for The Podium Finish. Also, I'd like to thank the kind staff at Hendrick Motorsports for providing the photos of Stephanie working alongside No. 24 crew chief Alan Gustafson as well as of Stephanie working hard in the transporter during the race weekend.
I would also like to dedicate this piece to everyone who's believed in me, from family, friends, and those who believe in me chasing my dreams. Stephanie's story inspires me and for those who might feel discouraged along the way to achieve their goals in life, remember to have ambition and hunger along the way - anything is possible!