It may be too late before any of us appreciate Jimmie Johnson's sixth NASCAR Sprint Cup title this year. Why all the love for Johnson?
Whether you like him or not, whether his stats are debated as amongst the greatest or not, make no mistake - Jimmie Johnson and his accomplishments in NASCAR Sprint Cup racing will not be fully appreciated until he hangs up the helmet and firesuit following his final race in this competitive stock car series.
When all is said and done, there's no telling just how remarkable Johnson's career will be, as he'll likely amass more wins and championships as long as he's healthy and has that desire to strap up behind the wheel of his No. 48 Chevrolet. Johnson's focus, intensity, and dedication put forth with NASCAR racing is second to none, only matched by his crew chief Chad Knaus' intellect and passion to push the cars, his driver, and team to their limits at any race, any track, and any time.
If one were to tell you that Johnson and Knaus would score 66 victories, tally 182 top-five finishes, and 272 top-10 results in 435 starts through 13 years back in 2000, it'd seem ludicrous. Truly, it'd seem like Jeff Gordon and his No. 24 team would continue their dominance and that others like Tony Stewart and Kevin Harvick would lead the sport in the 21st century. Surely, Gordon, Stewart, and Harvick have compiled some good numbers in the past 13 years, but nobody's come close to the excellence and dominance of the No. 48 team.
Despite coming up short for rookie honors in 2002, a year which saw Johnson score three wins and a fifth place points effort. Far beyond what anyone expected, it's safe to say those Lowe's ads that saw Jeff Gordon continually ask if Johnson was "ready to win" proved quite prophetic. Safe to say that even this guy writing this article would've figured that some clean faced El Cajon, CA native would rewrite the NASCAR history books and dominate Cup racing in ways that now some say put him up with the late Dale Earnhardt and the legendary Richard Petty.
Consider this - Johnson won his sixth NASCAR championship at 38 years, 61 days of age, making him the youngest to accomplish this feat since Petty when he was 38 years and 144 days old. Meanwhile, Earnhardt was 42 by the time he hoisted his sixth Cup trophy just 20 years ago, going on to win his seventh in '94. Arguably at his prime in terms of skills and health, it's safe to say that Johnson will continue to challenge for more titles and wins in the coming years. The only thing that'd stop Johnson from truly rewriting the history books is his health or stronger competition on the Cup circuit, something that's bound to happen.
Sure, Johnson didn't win in 2011 and '12, years in which Tony Stewart and Brad Keselowski enjoyed their claim to the Cup trophy while the bearded one was sixth and third respectively. Frustrations mounted and some wondered if the 48 team would ever mount a challenge to winning a sixth Cup title. Game, set, and match with that goal in 2013.
Prior to this season, Johnson fans reveled with the championships from 2006-'10, which saw a Daytona 500 win, three Brickyard 400 victories, and five consecutive series titles that stymied the competition during those years. At one point, fellow Cup racer Kevin Harvick claimed that Johnson "had a golden horseshoe up his," well, you know. Not that anyone would care to dig inside and find out but if so, it must be a pretty lucky one for the living legend of NASCAR (just don't smell it or something like that). In either case (and to save us from the images), let's just say that Johnson and that 48 team became the benchmark and standard of success for Cup racing.
Fast forward to this year, where the expectations were there for Johnson to finally get the monkey off his back to win his sixth NASCAR Sprint Cup championship. If there was ever a way to start the year off on a strong note, it happened in amazing fashion with a win at the Daytona 500. Johnson's second "Great American Race" win was followed up by a runner-up at Phoenix, sixth at Las Vegas, and a crash-related 22nd at Bristol.
Following a somewhat mediocre 12th at Fontana, the blue No. 48 Lowe's Chevrolet SS returned back to the winner's circle at Martinsville. A sixth at Texas, third at Kansas, 12th at Richmond, fifth at Talladega, fourth at Darlington, and 22nd at Charlotte would wrap up the spring portion of Johnson's performances. All told, they were up there, battling for wins, running into a few hiccups, but asserting themselves as the points leader.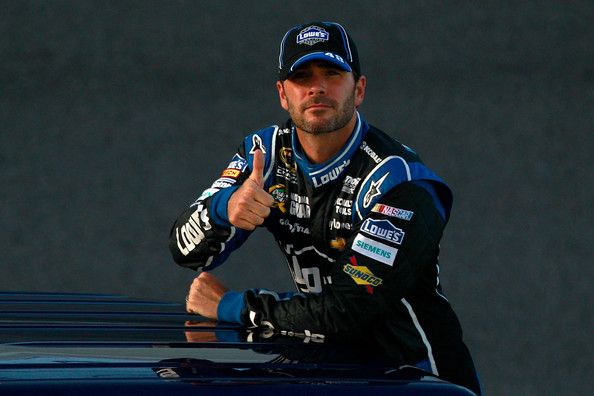 When spring became the summer, the pressure of those double file restarts mounted on Johnson and Team 48, starting with a controversial late-race penalty at Dover that resulted in a 17th place effort. In spite of their Monster Mile struggle, they'd score their third win of 2013 at Pocono, only for that to be met with a 28th crash-related result at Michigan. Not one to stay down for too long, this resilient crew would go on to a five-race streak of top-nine finishes from Sonoma to Indianapolis, squeezing in win number four of the year at the July Daytona race.
Perhaps the 48 team experimented following their 13th-place at the August Pocono race, as their only solid finish was an eighth at Watkins Glen. Motor issues at the Brooklyn, MI speedway forced the Cup champ to place 40th, while crash-related results of 36th at Bristol and 28th at Atlanta had some wondering if the team lost their way. All things considered, a Chase seed was locked so it was a cinch for this group from there on out.
Truth be told, they got all their bad luck out of the way starting in the Chase, starting the playoffs with finishes of fifth at Chicagoland, fourth at Loudon, a win at Dover, sixth at Kansas, and a fourth at Charlotte. Despite their strong performances, Johnson would trail points leader Matt Kenseth for most of the Chase. That said, it didn't stop this team from pursuing their sixth Cup.
Finishes of 13th at Talladega, fifth at Martinsville, a resounding victory at Texas, third at Phoenix, and a ninth-place effort at Homestead-Miami, FL were the catalysts to Johnson's new title as "Six-Time." His sterling results provided car owner Rick Hendrick with his 11th overall Cup championship in the team's 29-year history, while cementing a future spot as a future Motorsports Hall of Fame and NASCAR Hall of Fame racing talent.
All told, it was a great year where struggles rarely derailed this team from their mission of a sixth NASCAR Sprint Cup championship. From a former NFL quarterback who truly didn't understand the implications that are involved in racing and questioned Johnson's place as an athlete to those sweet six moments in Victory Lane, who's better than this racer?
What truly makes Johnson click? Truly, it's safe to say that Johnson's success can be attributed to his working out via runs and cycling; it also aids in mental preparation, as he observes the attitude of his car and the lines of each track, it's total perfection that this group searches for, whether with driver Johnson or crew chief Chad Knaus. There's also car owners Rick Hendrick and Jeff Gordon, who absolutely believed in Johnson long before the masses formed in the Cup garage by 2002. Having an amazing family life helps too, as Johnson often acknowledges and credits his wife Chandra for being the rock of his life and family, which includes daughters Genevieve and Lydia.
Not many brag on the pit crew but this is one of the most solid and fastest teams in the trenches of the track, orchestrating amazing choreographed four-tire stops like The Beatles performing live hits or ZZ Ward belting those high notes with ease. Without this component of Johnson's NASCAR efforts, it's safe to say that those wins and titles wouldn't be possible. More times than not, they get the job done and often advance Johnson up the leaderboard, much like the guitars strummed by rock bands like REO Speedwagon and U2.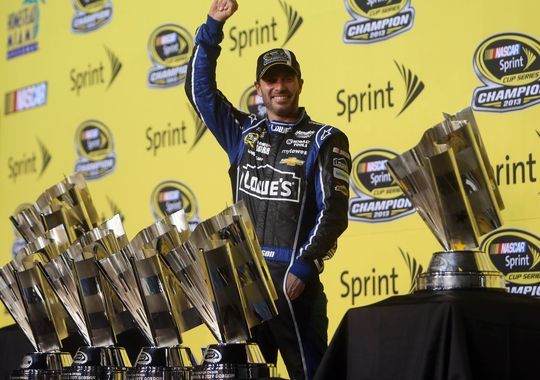 To answer the question, "How is Jimmie Johnson so good and wins so often," simply put, this group and driver just simply want it more than anyone else. They're deadly quiet, not provoked by the paint trading or finger wagging of an angry racer following a day at Martinsville or crazy restarts like at Homestead-Miami. Instead, they're all about this: "How can we make ourselves better from the following race?" Such an amazing team like Johnson, Knaus, and the 48 collective getting better probably would scare a lot of folks.
News flash: this whole bunch is bound to get better in the years ahead - don't be surprised before the end of this decade that Johnson and company absolutely change the landscape and success stories of NASCAR Sprint Cup racing. No matter your position on the pride of El Cajon, CA, this is a group worth watching, appreciating, and praising when all is said and done. Cherishing what they're doing now is truly an acceptance that we're experiencing our generation of the true legend of NASCAR, which when you think about it - it's not so bad after all.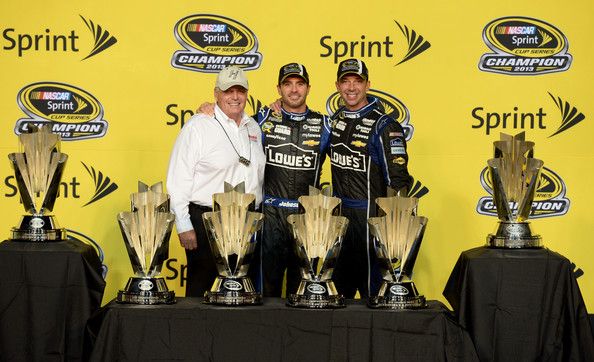 Could a seventh Cup title be possibly in the cards of Johnson and the No. 48 team in 2014? Well, why not? Just may not be so easy to hand the title yet to this group, as he'll at least have 42 more hungry rivals who'll view this bunch as the prey. Then again, this Lowe's group may just not surprise us all and win the Cup in rather anticlimactic fashion.
Ready to see history happen, friends?