After gutting out a 2010 season in which she tackled a wrist injury during a race at South Boston Speedway, Natalie Sather has been making tremendous gains and strides this year at "America's Hometown Track."
Egyptian racer Rami Serry is often noted for saying the following:
"Racing is not just driving fast, it's a way of life."
If that's the case for the famed drift car driver, then the same can be said for 26-year-old Natalie Sather of Fargo, ND.
After gutting out a 2010 season in which she tackled a wrist injury during a race at South Boston Speedway, the third-year NASCAR Whelen All-American late model series racer has been making tremendous gains and strides this year at "America's Hometown Track."
Sather's had quite the stellar late model season down in South Boston, VA, scoring 13 top-fives and 15 top-10 finishes in 17 races. Her consistency has propelled her to the second position in the track championship hunt, sitting just behind points leader Philip Morris.
While Sather's friendly, congenial, and mild mannered, when it comes to the Fargo native behind the wheel of her No. 94 Chevy from Sellers Racing, she's tenacious, aggressive, and cunning.
When the boys of South Boston mash in her fender or trade paint during a Saturday night race, what does she do?
Exactly what a winner does - she stands up for herself, as she hangs it on the line, giving it her best every race, even by playing hardball at full speed during the cool months of April and May and the summer months of June, July, and August.
So what's made the difference for Natalie Sather from 2010 to this season at the 0.4 mile short track?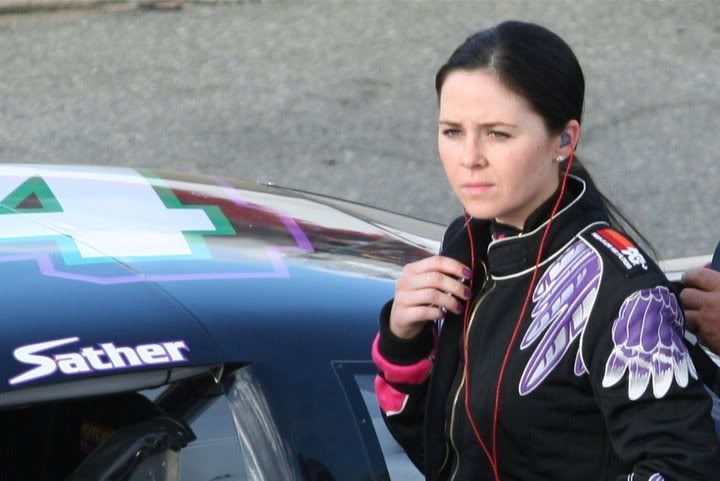 "What makes this year versus the 2010 year (so different) is that I now have a year of experience under my belt," said Sather. "Breaking my wrist was a huge setback but at the same time, I really had to focus on how to improve my driving and work through the injury."
Pushing past the pain, Sather and her No. 94 team worked hard to get through that adversity, building on some strong top-five and top-10 runs late last year.
Not only did they compile strong performances and finishes, but they also developed chemistry as a potent force in the late model ranks.
"Last year, we were a new team and right away were faced with a big challenge," Sather said. "After my surgery, we really had to pull together as a team and figure out how to work through it together."
After starting 10th in the track's season opener and scoring a 17th DNF in the second race of the season, the young racer went off on a torrid streak of top-10 finishes.
South Boston's third and fourth race of the season were twin-75's, which perhaps showed racing fans during the April 2nd event that she was determined to make tremendous headway to the front.
Scoring a 12th place in the first of the twin races, she gathered herself up and with excellent teamwork, she found herself finishing fifth.
At the time, it was her career best finish at the track, which was impressive considering how far she came along in a year.
Just as Bachman Turner Overdrive sang "You Ain't Seen Nothin' Yet," Sather showed competitors and fans that they hadn't seen the best from her, as she went on a 10-race top-five streak. During that run, she accomplished the following:
Sather

scored three runner-ups (second twin May 7th race, June 4th, and second twin June 18th race)
Logged in a trio of third place finish (first twin June 18th race and both July 23rd twin races)
Recorded two fourths (May 14th and first twin May 28th race)
Compiled four fifth place finishes (second twin April 2nd race, April 23rd, first twin May 7th race, and second twin May 28th race)
Although her 10 consecutive top-five finish race streak came to an end with a sixth on July 1st, she'd score another top-five two weekends ago and most recently placed third in both SoBo twin races last weekend.
Much like another Midwest hero in the late Alan Kulwicki, Sather has had to work hard for her performances with limited sponsorship - remaining true to herself while surrounding herself with some of the sport's best personnel.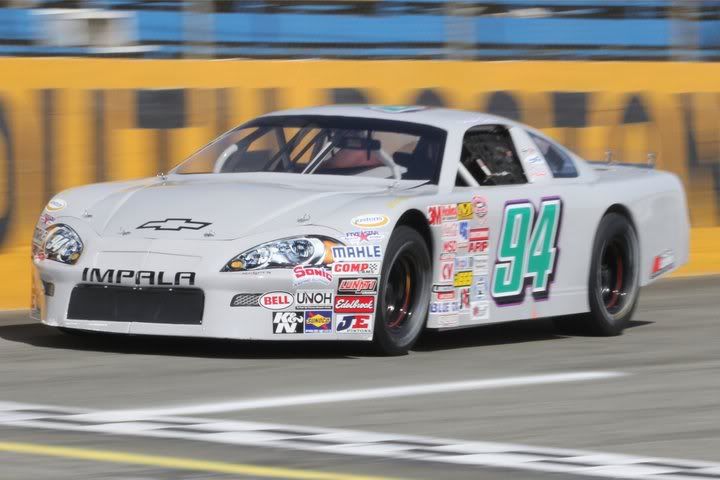 Despite her car's grey base paint scheme, she runs it as well as a full-funded effort, which is a testament to her crew at Sellers Racing.
"I feel this ultimately made us a stronger team," Sather said. "We got a chance to really communicate and that had really carried us over to running well this season."

With just five more races remaining before the big 200-lap season finale at South Boston Speedway in October, Sather's goals have increased much like her ambition and will to win on any given race day.
"I would like to remain second in points at South Boston Speedway and continue climbing up the national NASCAR Whelen All-American Series points," she said. "We have had consistent strong finishes week in and week out and if we continue working hard, we will be able to obtain the finishes we need in order to stay on track for a good finish to the 2011 season."
Just like with life, racing has no guarantees or certainties. However, Sather has shown that by persevering through adversities and relishing on her successes, she could very well be climbing up more than just a step up the racing ladder.
Keep track of Natalie Sather for the rest of 2011 because you might be witnessing a star in the making in terms of a budding stock car talent in the top three touring series of NASCAR.