Team TPF is handing out some awards and superlatives to NASCAR and IndyCar drivers. They're not titles - they're epicness!
With the racing season past the halfway point, it's time to reflect and look back on some of the best…and not so memorable racing moments and drivers thus far in 2013. Consider it like your high school yearbook, except it's one if they had it just halfway into your senior year. Take each category with a bit of fun and enjoy it – and if you agree or disagree with our points, let us know! Without further ado, here's our superlatives of 2013 (so far), starting with Isabelle!
Best Color Scheme – Sebastien Bourdais
Bourdais's color scheme has been entertaining to me for the past couple seasons, but in a good way. I LOVE it (otherwise it wouldn't be Best Color Scheme!). The way his suit has been set up, it almost looks like a superhero outfit with the big McAfee M on his chest in a shield. I don't think that's what they were going for, but my inner kid and I love it anyways. Someone also pointed out in May that his car looks like a Diet Coke can, and as a Coke fan, I've loved it ever since.
Best Rivalry – Scott Dixon vs Alex Tagliani
This rivalry hasn't been on track, but still there. I'm not even sure rivalry is the right word, but it's close enough. In case you've missed it, Scott Dixon and Alex Tagliani had a competition with each other for a few months to raise money for their charities. The one who raised the most won and the loser has to ride around the Indiana State Fair on a tricycle in a pre-determined costume. Since Tagliani lost, he has to put on a beaver costume. If Dixon had lost, he would've had to put on a sheep costume. I think this is a fun competition, and it's for a good cause, so this gets Best Rivalry.
Bad Luck Brian Moment – Sebastien Bourdais
During the post-race ceremonies for the 1st Toronto race, Bourdais's trophy fell and broke. It was one of his best weekends in a very long while, and then that happens. Fortunately, someone glued it back together later that night and it looked like new. It's one of those unlucky but funny moments, you know?
Fairy Tale Moment (IndyCar) – Tony Kanaan
He finally won his first Indy 500 after roughly 15 years of trying. I think that might be all I need to say.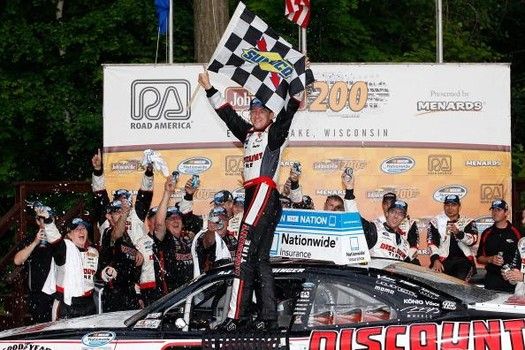 Fairy Tale Moment (NASCAR) – AJ Allmendinger
After being suspended for failing a drug test and going through NASCAR's Road to Recovery program, he came back to racing in NASCAR as well as racing a few races in IndyCar and a Grand Am race in the near future. This past June, he won a race and proved that he deserves his spot in pro racing again.
Worst Year – JR Hildebrand
He crashed within the first 10 laps of the Indy 500 and was later dropped by Panther Racing. I'm not sure if he's found a ride for the rest of the season in another series or if it's too far along at this point. I hope he can find a ride with another team in IndyCar or at least a ride in another racing series. He's obviously got the talent, it's just a matter of who'll pick him up and getting the sponsorship. I would be sad if he couldn't, but I'm pretty sure he can.
Most Approachable – Simon Pagenaud, Helio Castroneves, and Sebastien Bourdais
I have three down for this one because I think they are all really easy going and relaxed with the fans. Although I only met him once, I felt immediately comfortable with Pagenaud. He's pretty open about stuff, if you ask him questions. We had a nice chat about his foster dog Hufflepuff this year at Indy. Once you find him, Helio Castroneves will always give you an autograph, even though it means you have to walk and talk at the same time the majority of the time (it's understandable, he's one of the most popular drivers in the paddock – he's right when he told me this year at Indy that if he stopped, he wouldn't get anywhere). Sebastien Bourdais, when you catch him at a good moment, is really sweet. The first time I met him, he made sure that there wouldn't be a glare from the sun in the picture I got with him. He's always stopped and given me an autograph and a picture when I've met him.
Least Approachable – Tony Kanaan and Marco Andretti
This will be tricky to talk about because I know there will most likely be readers who are diehard TK and Marco Andretti fans, so I'll do my best not to make too many people angry. Don't get me wrong, I recognize they're busy and I like their teams, it's how they treat their fans that bugs me. I have not met TK in two years, nor have I seen him around the garages in the same amount of time. While he was awesome the last time we met, he's dropped off the face of the Earth since. I have also heard not-so-pleasant stories from other race fans about how he's blown them off. I have not met Marco Andretti in the three years my family has had garage passes, and I haven't seen him at all. I don't think I've heard of anyone meeting him, come to think of it.
Best Sense of Humor – Josef Newgarden
In almost everything he does, he is the comedian of the paddock. From making a Harlem Shake video to his antics in IndyCar's mini-series The Offseason, I've always found something to laugh about. He's dancing, making jokes about himself, and over exaggerating things so the fans can have a good chuckle. As a fan, I greatly appreciate it and hope he keeps it up.
Best Accent – Dario Franchitti
I admit I've always loved the accents from his next of the woods, so it's not a surprise that I like his the most. I'm also part Scottish myself, so I guess it's even less of a surprise that I like his the most.
Most Improved – EJ Viso
I remember a couple years ago, almost every crash seemed to involve EJ Viso. He had nine DNFs due to contact with other cars throughout the course of two seasons (I'm not including the Vegas race, which involved most of the field and resulted in Dan Wheldon's death). I think that's more than most drivers. Now he's only had DNFs due to issues with the car, which have been rare.
Now here are Rob's superlatives in IndyCar and NASCAR!
The "Don't Call It A Comeback But Instead It's a New Chapter" Moment – Brian Vickers
This one definitely goes out to Brian Vickers, who's not only earned himself a full-time NASCAR ride in 2013 with a quality Nationwide Series team with Joe Gibbs Racing's No. 20 Dollar General Toyota, but also perhaps a full-time ride in the Sprint Cup Series in 2014 with his win at Loudon just two weeks ago. Always a top-quality driver with aggression and guile intertwined, it's no surprise that he's had the success he's earned. It's not a comeback as he always had this skills – it's an amazing moment, however, that this new chapter of the Thomasville, NC native is off to an awesome start!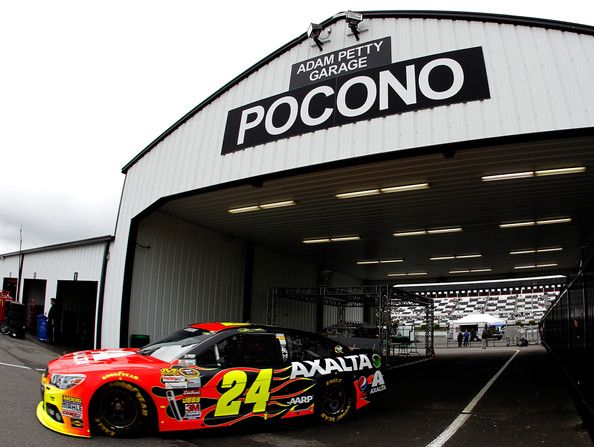 Coolest Paint Scheme in NASCAR – Jeff Gordon's No. 24 Axalta/Cromax Pro Chevy SS
It's always a great sight to see when there are flames on a racecar and the driver who's carried these liveries well since 2001 has continued that excellence despite the new logos of Axalta Performance Coatings and Cromax Pro adorning the No. 24 Chevy instead of DuPont Refinishes. Just seeing that orange and yellow flamed car on the black base is almost as cool as seeing the old rainbow machine. However, it doesn't look cool being hauled away by a tow truck….nor any car at all.
"JR Hildebrand" Moment in NASCAR – Jimmie Johnson's Restarts at Dover, Michigan, and Kentucky
Not exactly what you'd call a great event for "Five Time," but let's be honest, his restarts at those three summer races were rather costly for JJ and Team 48. Absolute frustration for them - they could have easily scored at seven wins in 2013 but currently net four victories thus far. They won't be messing up on restarts any time soon, much like Jeff Gordon won't miss a shift on restarts like his '95 Pocono 500 snafu.
Coolest Customer in the Garage Area – Kasey Kahne
Seriously folks, is there a driver in the NASCAR garage who isn't cool as ice on and off the track as Kasey Kahne? The envy of most men, the heartthrob for most ladies, he's approachable to his fans, accessible to the media, and despite his success in racing, he's a consummate professional and the kind of guy who doesn't have that "ego" like some superstar athletes. Behave yourself ladies, I know, I know.
Anything Is Possible Moment (NASCAR) – David Ragan
He slayed the Goliaths, conquered a 33 degree, 2.66-mile superspeedway beast in Alabama, and with an underfunded effort, Mr. Ragan piloted his No. 35 Front Row Motorsports Ford Fusion to a popular win in the May classic. Drafting is the equalizer but considering how significant the victory was for the Georgia native as well as for FRM, a team that hadn't won in any level of NASCAR prior to May '13, this was a special moment for sure and proved anything is possible!
Anything Is Possible Moment (IndyCar) – James Hinchcliffe at St. Petersburg, FL
It was only a matter of time but it was a moment when the popular Canadian driver took home his first checkered flag at the IndyCar season opener at St. Pete. After that win, it's as if the driver of the No. 27 GoDaddy DW-12 Chevy from Andretti Autosport has caught on with the victory lane fever with additional trips to the winner's circle at Brazil and Iowa.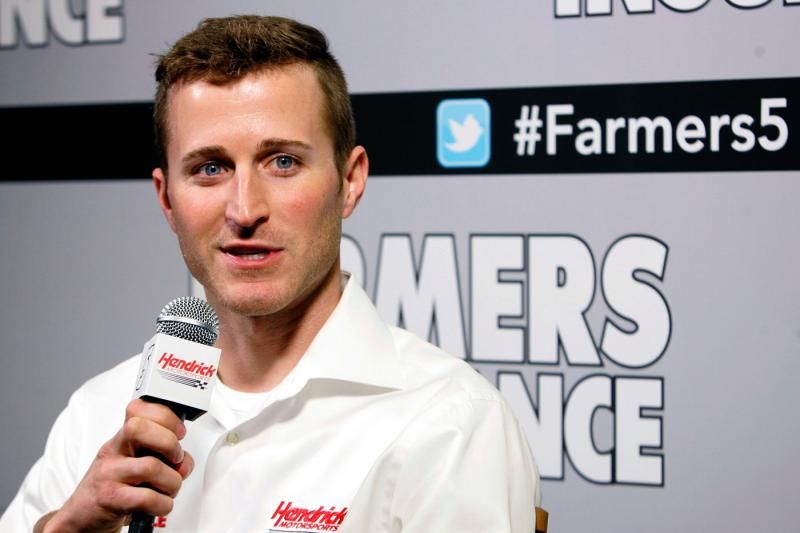 Coolest Hairdo…Until You Realize It Looks Better on Nate Reuss – Kasey Kahne
OK, don't hate ladies, but you gotta admit….it was a valiant try during the offseason when Kasey decided to have all party on the top and business on the sides and back. I admit, I've tried the look because the guy from fun. has this style (Nate Reuss) and plus, Tom Brady's tried it out. And honestly, it works well with them. However, for some of us guys, we're best to keep it clean cut and cropped! Nice try though, Kasey.
The "Hey, I Deserve a Nationwide Ride and Danica Patrick Isn't The Only Lady" Award – Johanna Long
ML Racing is doing the best they can to make sure that bright and upcoming NASCAR star Johanna Long has an opportunity to compete in the NASCAR Nationwide Series. But she absolutely deserves a chance to race full-time and show that there's more female talents in stock cars besides the pride of Roscoe, IL. Just imagine what Johanna could do if she's with one of the Cup-affiliated Nationwide efforts?
Lovin' the New Job and New Car Smell Award – Matt Kenseth
Ultimately, in the long run, it's probably a great move for Joey Logano to be with Penske Racing. However, the best short term move of the year has to be Matt Kenseth at Joe Gibbs Racing with the No. 20 team, because they're so addicted to winning, they might just help net a second driver's title for the Cambridge, WI native. Four wins (Las Vegas, Kansas, Darlington, and Kentucky) thus far has the competition going, whoa, now wait a moment here!
Best Quote of the Year…So Far Award – Austin Dillon
When a certain TPF columnist/editor fielded the question, "Why do you wear the cowboy hat?" to popular NASCAR driver Austin Dillon, she received perhaps the most amazing sound clip of 2013. Austin replied back, "I wear the cowboy hat because the chicks dig it." True or false, that's perhaps the most hilarious but perhaps true statement of the season for guys who want to show some…well, swag!
Authors' Notes: The above was our opinions and express those of Rob Tiongson and Isabelle Beecy, who both love racing, enjoy the action, and are looking to realize our motorsports dreams! If you want to get more of our thoughts, check back each week for our race recaps and if you have any suggestions, comments, or ideas you'd like to share with us, tweet them to us at @ThePodiumFinish and @indyfan1994!