By now, you've probably gotten your fix of The Wizard of Oz, getting in your lines from Dorothy, the Cowardly Lion, The Tin Man, and the Wicked Witch of the East when it came time to prepare for Saturday night's 5-Hour Energy 400 at Kansas Speedway, right? OK, maybe not. However, for what it's worth, this race, the final one before Charlotte Speedweeks, is a pivotal event for the NASCAR Sprint Cup drivers and teams before two quality weeks at virtually their hometown. At 1.5 miles and with variable banked corners at 17-20 degrees, Kansas is one of the fastest and brutal tracks on the Cup trail. Sure, she looks inviting with nice smooth pavement and plenty of lanes to choose from, but she will punish the motor and certainly the sheet metal when all is said and done.
Just ask Kyle Busch, who has yet to get a handle of the newly reconfigured speedway, completed between the spring and fall races of 2012. To say the least, he's probably felt like he's been inside a pinball machine, with three wrecks in each of those starts. Before one can consider conquering this Midwest destination, they'll have to consider at least surviving it. The speed is quick, with average lap speeds nearing 195 mph, the action is intense, and by golly, it's nothing but hold your breathe, tighten those seatbelts, and just give it a go and leave your fears in the hauler racing action like only this 15-year-old track could provide. When the lap count's up and the burnout's over, someone will have earned the victory and it'll be as gratifying as it gets...until Charlotte.
Last weekend's race at Talladega undoubtedly was cruel to everyone on the Track Talk crew, as all our picks wound up getting collected in wrecks. Emerging from the sheet metal carnage was Carl Edwards with his 30th place finish, and our very own Shelby Parrack was victorious! As a result, she hosts this week's edition of Trending Topics and we introduce two new members to our team! Yours truly, Ashley Hobbs, Matt Kacar, and Nick Brincks welcome Courtney Clement and Ashley Parris Hull to the TPF Track Talk crew, and they'll certainly be vying for wins so that they can make some noise in the Chase. Without further ado, let's get right down to it and talk about the four pressing issues in NASCAR racing!
Trending Topics by Shelby Parrack
Question 1
Twitter was a little crazy this weekend, as one of the main topics was Brad Keselowski after his on track incident with Danica Patrick. Brad found himself 6 laps down but still up front racing with the leaders, so what are your thoughts on this? Do you think he had the right to be up there trying to get his laps back or should he have been in the back and let the drivers on the lead lap race?
Clement : As a driver, I think Keselowski did the right thing trying to get his laps back. Any other racer would have done the same thing. However, I think the other drivers have every right to be angry with him. He was so far behind, he really didn't have much of a chance of getting back.
Hobbs : A driver should never just give up and lay back. However, when you are 6 laps down at Talladega and you are not eligible for the lucky dog and won't be unless you can miraculously get an entire lap back on your own, that calls for some brain power. Brad should not have given up but when you know the cards are not in your favor currently, I think he should have backed off a bit and not been putting his car in a position to where it was when he took out so many great cars.
Kacar : I believe Brad did have a right to be racing there with the leaders. But should he have is a different story. If the roles were reversed and he got caught up in a wreck that a car 6 laps down started he would be as mad as those other drivers were at him.
Brincks : He had every right to be up there, but he was racing way too aggressively for being 6 laps down. If he could have earned one or two laps back the hard way, he could have gotten on the same lap as Jamie McMurray. Instead, McMurray kept getting lucky dogs and eventually finished 1 lap down after being 7 down at one point. There's no question Keselowski's car was fast, but he was slicing and dicing, dodging traffic, changing lanes quickly, all while 6 laps down. It's one thing to simply get in line and move toward the front, but you shouldn't be blocking and racing lead lap cars that hard when you're six laps down. He spun, wrecked a lot of cars, and drivers will surely race him differently now. I don't think other drivers will cut him any slack for a long time.
Hull : It's Talladega. At the end of the day, racing is racing. It shouldn't have even been an issue. He has as much right as anyone to be up there racing. Instead of focusing so much on the rules, they need to let these boys race and have fun. That's what they did coming up into the ranks of NASCAR. So let them keep doing it!
Tiongson : It's a double-edged sword with NASCAR racing. If you don't race hard, you're accused of stroking but if you race hard, you have moments like we saw with Brad Keselowski at Talladega. His racing may have not made a lot of his peers happy but it's damned if you don't, damned if you do and Keselowski and Team 2 paid dearly for trying to fight hard to get laps back.
Question 2
At this point in the season, do you feel like one manufacturer is "ahead" of the rest?
Clement : I think it's safe to say that Chevy is "ahead" of the rest. I don't really have reasoning other than four wins have been with Chevrolet cars.​
Hobbs : On any given race day, Chevrolet has an average of 21.6 cars on the track (or 50.23% of the field) to Ford's 11.8 (27.44% of the field) and Toyota's 9.6 (22.33% of the field). With a (relatively) small number of cars on track each weekend, one would think Toyota should have the best average finish while Chevrolet, having the most cars on track, one would think they would have the hardest time coming up with a good average finish but odds are in their favor of one of the bow ties grabbing the victory.
My statistical conclusion is that the data tells us Chevrolet, as a whole, has the best overall cars on track each weekend. With the most cars on track, the odds favor them (Chevrolet) to go to victory lane over Ford and Toyota, and their average finish tells me that those teams have things figured out to where even the low budget teams are running fairly well. Ford may be tied with Chevrolet for wins but with fewer cars on track, you would expect their average finish to better that of Chevrolet, and so far this season they are not, but they are not too far behind either. With all that said, Chevrolet has the slight edge in overall performance over Ford, while Toyota needs to step up their game.
Kacar : I want to say Ford because of how fast TEam Penske has been all year but the fact it that Roush is a Ford team but they are slow almost every week. It has really been a season of parity so far.
Brincks : If you look at the top ten in the point standings, there are 4 Chevys, 3 Toyotas, and 3 Fords. Ford has 4 wins, Toyota has 2 wins, and Chevy has 4 wins. Of those 4 Chevy wins though, only one of them came from a driver in the top 15 in points and that was Dale Jr. Ford has 7 fully funded cars and three teams (Penske, Petty, and Roush with Ford) while Toyota has 2 fully funded teams with five cars (MWR and Gibbs with Toyota). Chevy has many more teams (Ganassi, RCR, Hendrick, Stewart-Haas combine for 13 cars). Based on results per car, I give Ford the upper hand. Three of their drivers have won, and they came from two teams. To me, Penske is the best team so far, so that has probably inflated Ford's stock because Roush Fenway has been less than spectacular this season, although Edwards does have the one win. Looking at the numbers and results, there seems to be some parity within the manufacturers and that's great to see. Chevy has a small lead in the manufacturer standings over Ford, but Toyota isn't far behind. The fact that no manufacturer is clearly ahead, in my opinion, is great for the sport.
Hull : I feel like Ford has had one of its strongest years in a long time. You have had the Penske boys win poles this year, and get victories. Carl Edwards has also won, and has put up some strong numbers this year. Even the drivers for Richard Petty Motorsports have been having a solid year. I remember when Aric Almirola was up there at Bristol fighting Carl for the win. Marcos Ambrose has been doing pretty solid so far as well. So I believe that Ford has been the manufacturer to beat this year.
Tiongson : Maybe the numbers show parity but it sure seems like Ford has done its homework over the offseason. Clearly, that nose fix has helped and namely, Team Penske has been quite active with their strong results. Overall, it's still a Chevy type of series, but Ford isn't lurking too far behind these days.
Question 3
Ryan Blaney will be attempting his first ever Sprint Cup Series race this weekend in Kansas for Team Penske. How do you think he'll do in his first attempt?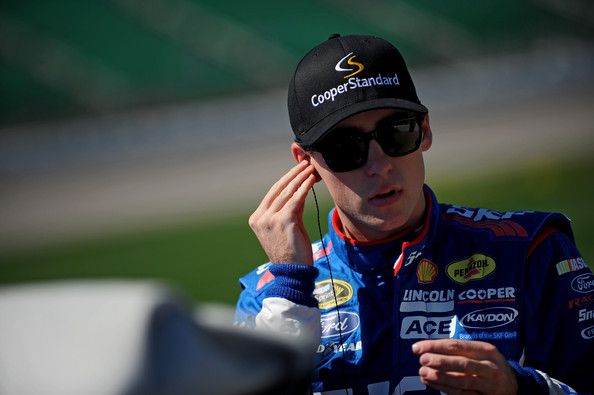 Clement : It will be great to see him out on the track racing in the Sprint Cup, but I don't think he'll do anything too impressive. With it being his first ever attempt in this series, I think he'll be a little cautious with it all.
Hobbs : A first rookie run in Cup will always be a learning experience and that will be the case for Ryan Blaney. For his sake, I hope he can just keep the car and himself out of trouble and not make enemies.
Kacar : I think Blaney will do fairly well in his first ever Cup start. Main reason is that he is driving a Team Penske Ford which have been fast basically every race this year.
Brincks : If he can get a top 20, it'll be a good day. Blaney is a great racer and he'll be in what has been possibly the best equipment this year, so a top 10 should not be out of the question.
Hull : I think that Ryan Blaney is easily one of the most talented young guns out there. I think he will do great! Even if he doesn't, what is there to lose? He will get to learn a lot about handling a Cup car, and will get to learn how to race against the big boys. He will do great no matter what. I guess I am bit biased since I am a fan of his.
Tiongson : I can see Ryan Blaney getting a solid top-15. No doubt, that boy knows how to wheel a NASCAR vehicle and has shown excellent potential to be a true star in this sport. Just gradual baby steps for this young gun and I'm sure our old buddy Emma will be hooting and hollering about her kid brother rocking the NASCAR scene!
Question 4
Clint Bowyer re-signed with MWR this week. Do you think the stress of a contract year is what has held his team back so far in 2014? Do you think he'll be re-focused and back on track this weekend?
Clement : I do think he will be re-focused this weekend! Now that he has a multiyear contract, he has more stability in his career and therefore can focus on the racing itself.
Hobbs : I do not think that has kept the 15 team back. In my mind, there was no doubt that Bowyer would be re-signing with MWR and no one even made a big stink about it. Now, if you are Carl Edwards and Greg Biffle, and your contract is up and everyone is talking about it, that is a case when it could get to the entire team or even organization. I think for the 15 team, like I have said before, is that they are still recovering from last year. Who knows; maybe 3 cars is better for MWR than 2 cars is.
Kacar : It being a contract year is not why he has yet to win this year. It has more to do with the fact that it seems that the MWR team as a whole is a little behind the other top Cup teams. Signing a new contract will not fix that issue.
Brincks : I don't think that contract talks hinder a driver's ability on the track. With that said, Bowyer has to be happy to know his place in NASCAR is solidified for the next few years. MWR and Toyota in general have gotten off to a somewhat slow start, especially when compared to Kenseth's torrid start last year. The next 6-8 weeks will tell us a lot about not only Bowyer, but Toyota in general.
Hull : I personally think that Clint is the type of person who doesn't get stressed out about anything. He is the guy who jokes about everything. It's probably just been bad luck for him at this point in the season. He will probably get back in the swing of things here soon. Kansas has proven to be a good track for him, being that it's his hometown track. Every driver has a year or two that they have bad luck, and not the season they were hoping for. Clint is a great driver, so no matter what, good things will come his way.
Tiongson : It has to help that Bowyer's gotten his contract all squared away because now, he can focus on the task at hand and that's driving the wheels off his No. 15 car. It wasn't an uberly big time distraction but it's probably nice to have that dark cloud out of his sights. Now he can think about that bid for a Chase spot and not find himself in the quagmire of a mess he was in during the 2010-'11 season.
It's a lady first on TPF, cause Shelby Parrack is back, leading the Track Talk train while the caboose now has Clement and Hull looking to move forward. Here's a look at the updated points standings amongst the TPF panelists as we head into Saturday night's race at Kansas!
1) Shelby Parrack - 314 points
2) Rob Tiongson - 311 points (1 win)
3) Ashley Hobbs - 291 points (1 win)
4) Matt Kacar - 277 points
5) Nick Brincks - 255 points (1 win)
6) Tie: Ashley Hull/Courtney Clement - 0 points
We know you're all waiting to see our picks and we can't blame you - so without any further delay, here's our race picks for the 5-Hour Energy 400 at Kansas!
Tiongson : Alright, I'm still sticking with the 24 team but why not? Gotta think with his performances on the intermediates that Jeff Gordon and his Axalta team are going to eventually score that first win of 2014 so I see it happening at Kansas....under the lights, no less!
Kacar : Going with Jeff Gordon.
Hobbs : With only 3 races at Kansas in the spring, Jimmie Johnson and Matt Kenseth are neck-and-neck with their stats with Kenseth pulling ahead thanks to a victory. When we look at Kansas overall, Johnson bests Kenseth in average finish and both have 2 wins. For me and my statistics, the tie breaker comes with performance in 2014; with that, Kenseth has outperformed Johnson and that is my reason for picking Matt Kenseth to go to victory lane in the first Saturday night Kansas race.
Clement : My pick this weekend will have to be Matt Kenseth. He's won on this track previously and he's been doing very well this season so far!
Brincks : Last year, Matt Kenseth was the driver to beat on the mile and a half tracks. This year, no one driver has dominated the win category at these tracks, but Joey Logano's been up front at every one. I like his chances to get win #3 this week.
Parrack : My race pick for this weekend in Kansas is (no surprise) Carl Edwards! One of these weeks that I pick him he's bound to win! I am 100% sure that no one else wants to win at this track more than Carl Edwards. This is like his personal Daytona 500, hopefully he can finally get to VL at his "home" track!
Hull : My pick to win this weekend is Carl Edwards. I hope I don't jinx him by picking him!
There you have it, race fans! The TPF crew has spoken and given their thoughts on round 11 of the NASCAR season. How about you? What do you think are the biggest storylines heading into Saturday night's race at Kansas? And who is your favorite to win the 5-Hour Energy 400? Tweet us now @ThePodiumFinish and tell us now! Thank you, Nick, Matt, Shelby, Courtney, and Ashley (both of y'all) - let's go racing, girls and boys! And this piece is for a wonderful, amazing girl - Krys, you make me smile!