Dover is called "Bristol on Steroids," with 24 degrees of banking that will absolutely feast on Gen-6 racecars. Which driver will make like Tyler Florence and conquer "The Monster Mile?"
After racing in the Windy City to kickoff the playoffs and dabbling in the cool New Hampshire scenery last weekend, the NASCAR Sprint Cup Series finds itself parked where Wayne and Garth of Wayne's World fame were just in...Delaware. Dover International Speedway isn't as ordinary as the two famed Saturday Night Live characters make Delaware sound, as it's a feisty, angry 1-mile concrete beast that's a self-cleaning track. With steep 24 degree banked corners and straights that are nine degrees, there's rarely a moment where the drivers have a reprieve behind the wheel. Constantly racing at angle, it's about as physically demanding of a track as there is on the circuit, so it's not atypical to hear a driver say that they're "falling off their chair."
The Chase has somewhat taken on the impression that it's a two-three horse race with Joe Gibbs Racing's Matt Kenseth and Kyle Busch seemingly having a stranglehold for the points battle in Cup with Hendrick Motorsports' Jimmie Johnson not too far behind. Have the playoffs already been decided with just three contenders? Well, personally, not so fast, but #TeamTPF has some unique perspectives on that matter, which we'll discuss about in our race preview for Dover.
Toyota seems to take well to this track in terms of the manufacturer of choice at Dover, with June's race seemingly dominated by the fast Camry teams of Martin Truex, Matt Kenseth, Kyle Busch, and Denny Hamlin. However, their motors didn't have the endurance to make it to the finish, sputtering their way to the garage area past the halfway point or in Hamlin's case, finding the wall with a cut tire. Ultimately, the Chevy SS's prevailed, with Tony Stewart marching to the win, with Juan Pablo Montoya and Jeff Gordon completing the podium sweep for General Motors.
Will Sunday's race take on the same complexion or are we seeing a typical Dover event with sheet metal and motor carnage in the garage area? Or is it another fuel mileage drama in the making? We'll find out in the next 24 hours. For now, let's have #TeamTPF's Matt Kacar (last week's winner from NHMS's race picks) lead the way with this week's four "Trending Topics" questions for our panelists, which are yours truly, Jessica Tow, Shelby Parrack, and Nick Brincks! Let's get 'er done, team!
Question 1
With the news that NAPA is leaving MWR at the end of this year because of what they did at Richmond, how hard will it be for MWR to totally recover from the fallout of what they did at Richmond?
Tow : There is no question that Michael Waltrip Racing faces a tough road ahead. NAPA was a pinnacle sponsor for the team and has been involved in Michael Waltrip's racing endeavors since the beginning of his NASCAR career. With NAPA out, I am interested to see who could fill such a large void. NASCAR is a sport that is all about business, sponsorship, and marketing.
If a sponsor as influential as NAPA decides to pull out of their sponsorship contract due to unforeseen questionable actions by the entire team, which sponsor would want to be known as the one to fill that void? There is that...and then more than anything I am most intrigued by the circumstances surrounding Martin Truex Jr. and whether or not he will stay at MWR or leave the team entirely. I guess the bigger question here is: if Truex Jr. decides to move on to another opportunity, who would take his vacant seat at MWR and which sponsor would want to associate themselves with a team that (for all intents and purposes) has a target on their back? In the end, it is going to take some time but I am positive that Michael Waltrip Racing will find a way to recover from the events that took place at Richmond.
Parrack : I think only time will tell on this, as the big factor will be if they can find sponsor ship for the No. 56 car for next year. If they can't, I don't think they will be able to recover from this for quite a while.
Brincks : Thankfully for MWR, 5 Hour Energy will return as a sponsor next season. Aaron's already confirmed that they will be back too, so these two announcements are good news for Michael Waltrip and company. I think they will turn out just fine, I'm hoping that Truex is able to land somewhere competitive or MWR find new sponsorship for him because he's the one getting the raw end of this deal.
Tiongson : ​They overcame their ominous start from the 2007 Daytona 500 and their latest chapter with the Richmond controversy will be one that's going to be brought up as often as the Gordon versus Bowyer feud that everyone seemingly wishes for each weekend. MWR will overcome this latest struggle but it may come at the expense of losing Martin Truex Jr., who certainly won't stand idle if a good opportunity comes up for him in anticipation of the 2014 season.
Question 2
After 2 Chase races, Matt Kenseth and Kyle Busch have finished first and second in both races. Is it safe to say that the Gibbs team has supplanted Hendrick as the dominant team in the Cup Series?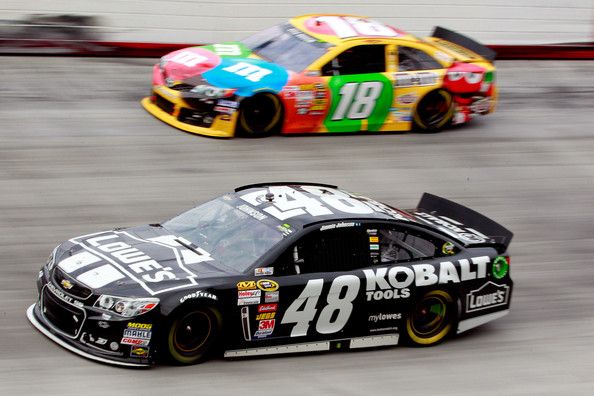 Tow : While Joe Gibbs Racing has had a remarkable season and a remarkable start to this year's Chase, I am not certain that they have entirely supplanted Hendrick Motorsports as NASCAR's most dominant team. Hendrick's teams have a way of silently creeping and staying consistent while other teams reap the benefits of being in the spotlight. At this point, it is too early to count Hendrick out; I have three words for you: Jimmie and Chad.
Parrack : I think it would be fair to make that claim, but I still think it would be absolutely foolish of anyone to count that 48 team out for anything. They will always be that team that always gets the job done in my mind, as annoying as it may be.
Brincks : Until they win a championship without Tony Stewart, Joe Gibbs Racing is still behind Hendrick Motorsports. If Denny Hamlin was running competitively, I'd be willing to say they could be the best team in NASCAR. But he isn't, so I won't. Hendrick put all 4 cars in the Chase this year, after NASCAR added Jeff Gordon, so that is very impressive. But no one other than Johnson has shown they're capable of the championship this year. Gibbs has two very good shots at the championship. If Kenseth or Busch can win the Cup and all three Gibbs cars win races make the Chase next year, I'd consider them the new top dog in NASCAR.
Tiongson : Not so fast but JGR could be closing the gap quite a bit on Hendrick. I'll admit, they've been chipping away at Hendrick's dominance within the last three-four years, but I think a title by either Matt Kenseth or Kyle Busch this year would validate their claim to being the top dog team of NASCAR. Until they've figured out the Chase, it's still a game meant for Hendrick to win but that doesn't mean the other teams like Gibbs, Childress, Penske, or Roush-Fenway can't compete at all.

Question 3
Matt Kenseth has 7 wins this year which is more then he has in the last 3 years at Roush combined. What do you think Jack Roush is thinking right about now? Think he regrets letting Kenseth leave now?
Tow : I would like to believe that Jack Roush is excited and happy for Matt Kenseth's success with Joe Gibbs Racing. However, as an owner, I am sure it is tough to see your former driver achieve such success with another team. It is what it is; drivers change teams all of the time. One cannot look back, they can only look forward. Jack's entire focus should be on his current drivers and their respective contentions in this year's Chase.
Parrack : I don't think it was a matter of regret considering we heard Matt never gave Jack a chance to "fight" for him. He's probably thinking Matt's making his team look pretty darn bad right about now though. And coming from a Roush fan, I'm feeling the same way!
Brincks : There is no doubt in my mind that Joe Gibbs Racing is a better team right now than Roush Fenway Racing is. And considering the fact that Kenseth made the decision to leave Roush after last season, Jack can't really be kicking himself for letting him go. In the short run, Roush Fenway got the short end of the stick in last year's silly season. Kenseth and Logano are both having their best years ever, in their first year with new teams, and Stenhouse has run mid-pack most of the year.
Five years from now, Roush will have a championship contender in Stenhouse Jr. while Gibbs will be looking to replace a retiring Matt Kenseth. Gibbs, Penske, and Roush all added quality drivers this year and Kenseth happens to be making the most of it. Roush simply isn't as good as Gibbs right now and Kenseth is showing that. Roush should be more disappointed in his organization's performance, not Kenseth's decision to leave.
Tiongson : In the short run of things, sure, it's going to make Jack Roush cringe some like a guy or girl whose ex is living it up happily in the days "after it all." Ultimately, he'll be happy to have a young, fresh roster who'll contend for years when Childress has the Dillon boys and Hendrick has Chase Elliott in one of his Cup cars. As of now though, sure, can you blame him if he's beside himself for seeing Kenseth having a career season?

Question 4
Last week's Nationwide race was on ESPNnews because of all the college football that ESPN and espn2 were broadcasting. Does this show that ESPN really doesn't care about NASCAR now that we know they wont be back once their NASCAR TV contract ends?
Tow : Now this is an interesting question and thought. Hmm...while I do not want to believe that ESPN purposely switched NASCAR coverage to ESPNnews because of situations regarding their broadcasting contract, it sure sounds reasonable. I personally was disappointed because I am not subscribed to ESPNnews with my current cable package.
Everyone should know by now that NASCAR is one of America's top spectator sports, although college football sure has a strong following. In the end, with the Championship race only weeks away, ESPN should have continued their Nationwide Series coverage on either ESPN or ESPN2 so that those with cable could watch the outcome of the race. That is all there is to it.
Parrack : I think that is a safe assessment. It certainly shows where their priorities are. Being from Canada, we have TSN and TSN2-- and we have our fair share of "mishaps" with programming issues. I feel bad for all that were affected with this nonsense. Hopefully they smarten up so you all don't miss any more!
Brincks : This race had been scheduled to be on ESPNEWS all season long, so I don't think it's a case of ESPN giving NASCAR the shaft upon knowing they won't be back in 2015. I was most concerned though, with their lack of effort in the broadcast. Other than Ricky Craven's insight, it was a forgettable broadcast. Marty Reid was awful once again, and I won't miss him when ESPN's done.
They were visibly short on cameras as many incidents weren't replayed as extensively and from more angles as most races would have shown. On the Cup side at least, I consider ESPN's coverage to be much better than Fox and TNT. They are in no way perfect, but as a whole, NASCAR on TV needs a major overhaul. Hopefully, that's something we'll see in 2015 with NBC hopefully breathing some fresh air into their coverage.
Tiongson : Not necessarily, but just imagine the uproar that would happen if the Cup race fell under the ESPNews banner instead? I can relate to this situation, because in the 2001 season, our local FOX affiliate decided to still show Boston Red Sox games on Sundays instead of the NASCAR race during the FOX portion of the season. It was very annoying and to say the least, it made for a certain "disconnect" situation when the networks did that. It's a business but it doesn't mean the fans are going to like it all the time.
Before we get to this weekend's race picks, let's take a look at the Chase for the TPF Cup!
Matt Kacar - 90 points
Rob Tiongson - 72 points
Shelby Parrack/Nick Brincks - 69 points
Jessica Tow - 56 points
Alright #TeamTPF, let's go for the gold! Who do you think will win the AAA 400 at Dover International Speedway?
Kacar : Going with Jimmie Johnson. His best track and needs win to close gap to Kenseth.
Tiongson : Looks like Matt and I are on the same page here with Jimmie Johnson. Why not? I can't help but think of how he was pretty much on the verge of winning in June before the controversial restart ruling that dampened an otherwise sparkling start to the 2013 season. With the new restart rule, I've gotta think that the black and white 48 Lowe's Kobalt Tools Chevy will be the machine to beat with Johnson and the HMS boys as the team to beat.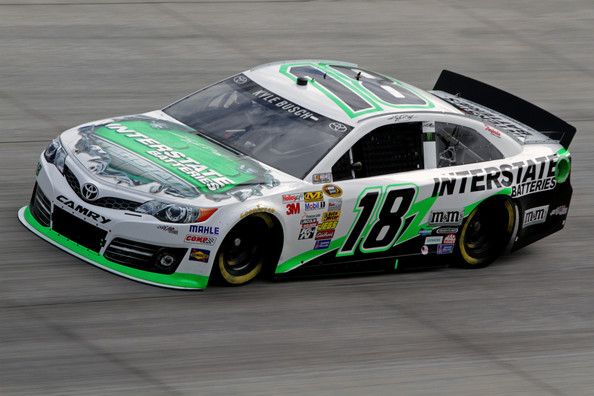 Tow : When it comes to Dover, Jimmie Johnson may have the best driver rating and Jeff Gordon may have the stats to beat, but my pick is going to be Kyle Busch. In 17 career starts at the Monster Mile, Busch has two wins, eight top-five finishes and 11 top-10 finishes. In the June race held at the track earlier this year, he started third, went on to lead 150 of 400 laps, and rallied to a fourth place finish. Johnson may be knocking on the door, but Busch will be the one to beat this weekend.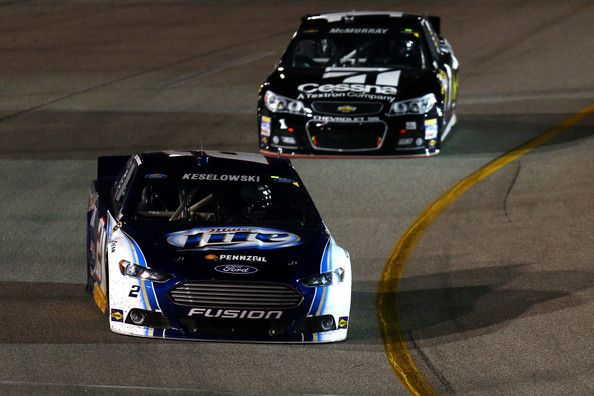 Parrack : My race pick for this weekend is Brad Keselowski, this weekend marks a year since his last win. I think it would be pretty incredible for the 2 team to pull it off!
Brincks : I'm going out on a limb this week, but I'm picking Jamie McMurray. He has 2 top fives in the 3 three races, has scored the 8th most points over the last 10 races, is starting 7th, and had one of the best cars here in June before debris punctured his radiator. He's been a Chase spoiler in 2009 and 2010, and he'll add 2013 to that list. It could very possibly happen this week.
And that wraps up this week's edition of Track Talk, and as always, I want to thank Matt, Jessica, Shelby, and Nick for making this piece rock! Till next time, if you want in or have suggestions or comments about Track Talk, let us know what you think by tweeting us @ThePodiumFinish and using hash tag #TrackTalk!