After some of the most intense racing in NASCAR at last weekend's 400-lapper at Richmond, VA, the Sprint Cup circuit heads to the 2.66-mile Talladega Superspeedway for its annual spring date at the world's fastest closed circuit nestled in Alabama. White knuckle racing action is prevalent each lap on this premier facility, as the drivers negotiate around the 33 degree banked corners and the 18 degree tri-oval wide open at over 200 mph. While the drivers often play a game of a chess for the first portion of the Aaron's 499, when the lap count is under 20 on the scoreboard, that's when alliances are broken and some stock car shuffling is brought into the equation, with breathtaking maneuvers and more slicing and dicing than a cooking show on Food Network.
Ah, yes, that's when you put the high octane level up to a maximum, light 'em up, and the contenders separate themselves from the pretenders of the packs. The question is not so much how badly a driver wants it, but rather, if they'll hold it wide open or play it safe before the final laps. Often, it's during those decisive moments when a slight miscalculation can result in catastrophe, with carnage filling up the track. Sometimes, it produces close calls, especially when it's for the win. A unique feature with this speedway is that its start/finish line is located just after the tri-oval, which has created some memorable upsets. From Ron Bouchard clever pass for the victory over Cup champions Terry Labonte and Darrell Waltrip to David Ragan and David Gilliland's clever Front Row Motorsports 1-2 finish last spring, the underdog moments are many to recall.
Although some racers are coming off an eventful weekend at Richmond, those who felt wronged during last Saturday night's race won't exactly think of revenge quite yet. Instead, they'll focus on an important task at hand - to win and punch their ticket into the Chase for the NASCAR Sprint Cup battle. Who will come home and hoist the new Freedom Trophy on Sunday? Before we delve into our picks, the hardy Track Talk panelists of Ashley Hobbs, Nick Brincks, Matt Kacar, and Shelby Parrack talk with yours truly about the Trending Topics of the Talladega race week right here on TPF!
Trending Topics by Rob Tiongson
Question 1
Casey Mears and Marcos Ambrose duked it out in the garage area after the race at Richmond, resulting in Mears getting a black eye from a good hook by Ambrose. As a result, both got fined for it. Do you think that NASCAR did the right thing or should more or less have been done with their fisticuffs at "The Action Track?"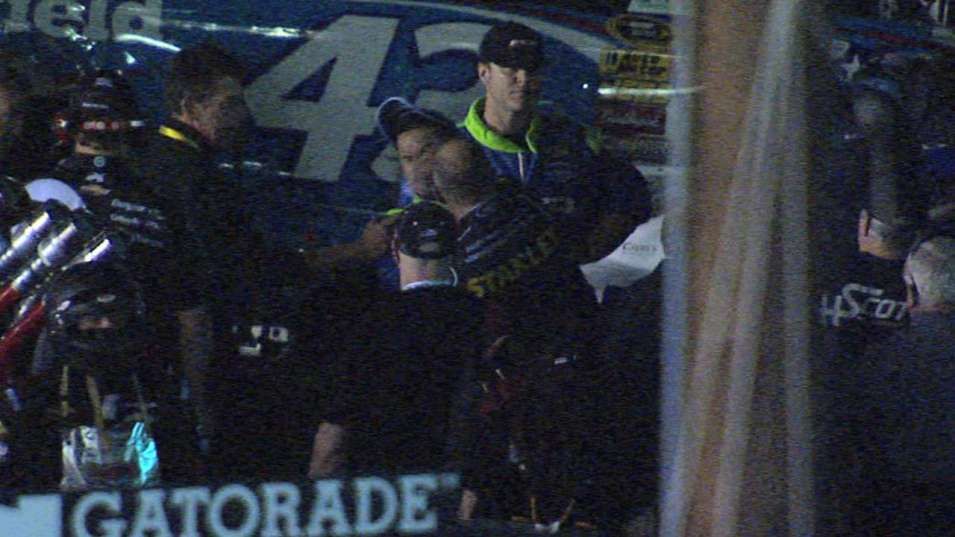 Hobbs : NASCAR was 100% WRONG in stepping in! NASCAR has been all about "boys have at it" and the moment a punch is thrown (and landed in this case) they feel they must interject. How are the drivers supposed to show emotions and" have at it" when they really cannot do that without looking over their shoulder to see if it will cost them something? I love both of those drivers (Mears and Ambrose) and it is highly uncharacteristic of them to fight; they have no reputation of it and that alone should have told NASCAR to back off. If anything, the NASCAR head honchos could have spoken with them about it, verbal warning you might say. If drivers are habitual offenders of going after each other through the season, that is when NASCAR needs to step in; not after a single incident. Just another NASCAR fail and them wanting to police everything. The emotion is what makes our sport so awesome but NASCAR stepping in is what makes NASCAR not awesome to outsiders.
Brincks : It's hypocritical for NASCAR to penalize Mears and Ambrose, because we all know secretly they love the attention it's brought to the sport. If punches were being thrown every week, it may have needed to be addressed, but they are not. This is the first legitimate driver-on-driver punch in many years. This fine essentially means "Boys, have at it" is over and drivers will have to hold back true emotion, which means the fans lose.
Kacar : Well I am glad they did not suspend Ambrose for punching Mears. Personally I would not of even fined either Mears or Ambrose. My bet is if it was not caught on camera no fines or probation would of been handed out.
Parrack : Personally I didn't see the need for a penalty. I knew one was coming but I feel like NASCAR strives for drama in this sport and when it is given and we get excitement from drivers they get penalized for it. Which in return is why we don't see it very often. It's definitely not "Boys Have at It" that's for sure!
Question 2
NASCAR recently announced its next roster for its "Next" lineup. Which racer are you most excited with on the list?
Hobbs : I am not well versed in this to actually give an opinion, but I shall do my own homework! (Ed.'s Note : At least she's honest!)
Brincks : I'm excited to see what Kenzie Ruston can do. I'm all for women in NASCAR and it would be nice to see them get there based on skill and good results, not marketing. Maybe Kenzie can do just that.
Parrack : Hands down; Brandon McReynolds. Since I began watching NASCAR in 2008, I have been following Bmac, be it in ARCA, K&N and even the Nationwide series! He is extremely talented and the one thing I love about him is that he hasn't been "handed" anything just because of who his father is. He's worked and earned a spot in the Next Class! I cannot wait to see what the future holds for him. I'm also really intrigued by Cale Gale, Erik Jones and Ben Rhodes in what they will show us!
Question 3
It looks like we may see the return of Juan Pablo Montoya in a NASCAR ride, particularly with Team Penske. How do you suppose in his brief comeback to the Sprint Cup ranks?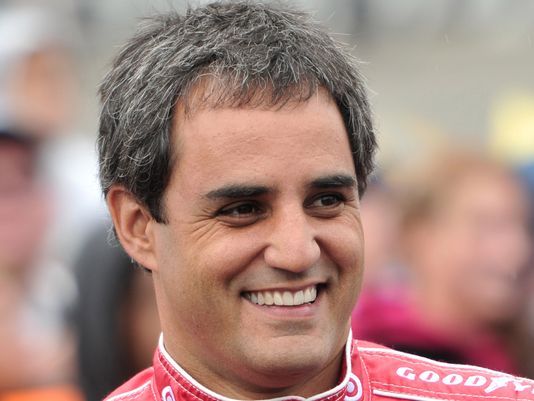 Hobbs : He will do like he has done every other year; just ok. Granted he is coming back for the Brickyard 400 so he may make some noise there, but not Michigan. I do know that the jet dryers will be on high alert for both races though (yeah, I had to go there but y'all were thinking it too!). The flip side is that he will be in better equipment than his tenure at Ganassi so that could make him perform that much better, especially since Team Penske seems to really be on their game this season.
Brincks : It's safe to say that Team Penske is one of the best, if not the best team in NASCAR right now. For two races, Montoya will have elite equipment, and he's so good at Indy in anything with four wheels. I wouldn't rule out an Indy win at all.
Kacar : I think it is good to see JPM in a couple of Cup races this year. He definitely has unfinished business at Indy and with the way Team Penske has been running, he could end up winning that race.
Parrack : I think it will be exciting, as it's always nice to see drivers come back to the series. I know a few fans of his who will be very happy about it! And common, Juan always brings excitement to races whether it be good or bad!
Question 4
We're heading to Talladega, where we've seen two strategies utilized over the years: we've seen those who'll race flat out for 188 laps and those who'll sit back and race in the back until the final 30 laps. Which strategy do you think is the best one for the win at the world's fastest track?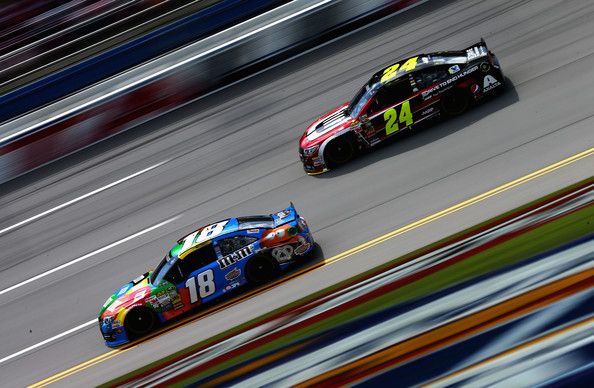 Hobbs : There is no good strategy for Talledega as every one you can possibly have can easily bite you in the butt. However, if you are out front, the chances of you running into a wreck are slim (unless you are wrecked from behind or have some mechanical malfunction); if you are at the back, the likely-hood of you running into a crash that is in front of you goes up as well as you being a part of the wreck. Those who "play it safe" and make their own little pack at the back and just "ride around" are just boring. But clearly you have to run somewhere so I am running up front seeing what my car can do and testing scenarios through the race when I feel it is safe and good to do so!
Brincks : Seven drivers already have wins to their name, so I expect at least those seven to go all out, all day. For those without wins, I wouldn't be surprised to see them ride around during the early portions of the race. I hope the "go all out all day" strategy wins the race, but the guys that lay back will still have a great shot to win and that's fine. Almost anyone can win this weekend and no matter what strategy is used by everyone, I'm excited to see it all play out.
Kacar : The best strategy is the one that gets you to Victory Lane. I think laying in the back till like 20 laps to go is racing scared but if that's what they think will get them to Victory Lane, then it is their right to do that. However, I don't think many plate races have been won with that strategy.
Parrack : Well from past experience with my driver Carl Edwards, neither has worked! He's hung out in the back with teammate Greg Biffle and it didn't work, and he's also raced up near the front and it didn't work. So I would have to say that it's a luck of the draw kind of deal, whichever they choose to do, luck has to be on their side for it to work out!
No punches or grabbing will happen here! Instead, let's show the fans the updated points standings amongst the TPF panelists heading into the Aaron's 499 at Talladega!
1) Rob Tiongson - 305 points (1 win)
2) Shelby Parrack - 299 points
3) Ashley Hobbs - 285 points (1 win)
4) Matt Kacar - 267 points
5) Nick Brincks - 250 points (1 win)
Yours truly is back atop the points standings, but remember, it's all about the wins! One of us could be looking at our second win of 2014 or our first of the season. Are you ready for the race picks to be revealed? Alright, well here they are!
Tiongson : Gotta go with the points leader Jeff Gordon here. He's got himself six wins at this facility and might make it lucky seven on Sunday at Talladega!
Hobbs : With the way Dale Earnhardt Jr. took control at the Daytona 500, he is a clear choice, as say the statistics. However, this one time, I am going against my own statistics and saying Jeff Gordon will grab that win he has been so close to getting this year and finally wrap it up and maintain his points lead!
Brincks : It would be easy to go with Jeff Gordon or Dale Earnhardt Jr this week, and I really like Jr's chances, but I'm going with an underdog and will say another David slays Goliath on Sunday. It was Ragan last year, it could be David Gilliland this year. I'll go with Gilliland for the win.
Kacar : Going with David Ragan.
Parrack : My pick this weekend for Talladega is Carl Edwards. As I stated above his strategy has never worked here in the past, and a win for him here is long over due after his 2009 incident, he needs some redemption and luck!
There you have it, race fans! The TPF crew has spoken and given their thoughts on round nine of the NASCAR season. How about you? What do you think are the biggest storylines heading into Sunday's race at Talladega? And who is your favorite to win the Aaron's 499? Tweet us now @ThePodiumFinish and tell us now! Thank you, Nick, Matt, Shelby, and Ashley - let's go racing, girls and boys!